With the S&P 500 surging, it's an appropriate time to reevaluate our portfolio risk strategy.
The risk analysis in this article for the S&P is designed to help those with exposure to equities including those invested in the SPDR S&P 500 Trust ETF (NYSEARCA:SPY), better manage their portfolio risk. I'm not a financial advisor nor am I making a specific price recommendation.
Please bear in mind, there are a myriad of factors that affect equity markets and this article only focuses on the charts, momentum and some key levels in price.
S&P 500 Weekly Chart: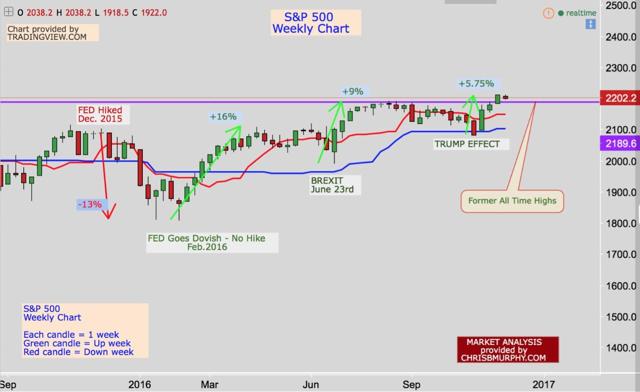 Click to enlarge
In looking at the Weekly chart for the S&P 500, we can see the biggest market moving events for the past year were the result of market events like Fed action or lack thereof; and geopolitical market events like Brexit and the Trump election.
With the upcoming Fed meeting on December 14th, we're likely to get a rate hike and a possible bearish knee jerk reaction. How deep of a pullback will largely depend on the Fed statement following the meeting. Market participants will be scouring the statement for any clues as to the number of rate hikes we can expect next year.
S&P 500 Weekly Chart with MACD added: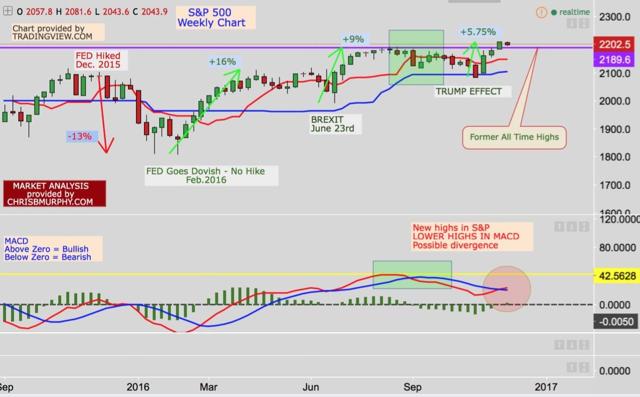 Click to enlarge
If the S&P continues rallying and MACD fails to break the highs from the summer (green highlighted box on MACD), we would have divergence signaling waning momentum.
In fact, we already see MACD is currently lower (highlighted red circle) than the MACD high from last summer when the S&P posted all-time highs in price; which we've now broken.
Any down week for the S&P would likely mean we'll close with a lower high on MACD and a higher high for the S&P. This divergence where the price goes higher while the indicator does not, can signal the rally may be losing steam.
For review, divergence means market prices go one way, while MACD either stalls or goes the opposite way. Divergence can, but not always, signal a lack of momentum behind the price move. Just bear in mind, with long-term charts, MACD can signal divergence for days if not weeks before market prices reflect the momentum indicator.
For the market to avoid divergence, we want to see the S&P make new highs while the indicator makes new highs as well.
The daily chart of the S&P tells us that we may have some more room to run before a pullback.
S&P 500 Daily Chart with MACD and RSI added: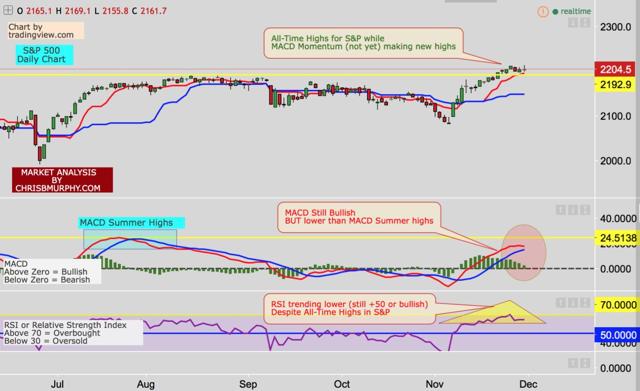 Click to enlarge
Key points on the Daily chart:
Despite all-time highs, MACD has not broken its all-time high set in the summer which indicates waning momentum. However, the move is NOT over until MACD is below the zero line.
Please bear in mind, future rallies may be more choppy and volatile as a result of the waning momentum which increases the likelihood of your stops being triggered.
RSI hit 70 (overbought) and retreated. However, it's still above the bullish 50 level and has not yet turned significantly lower.
All this leads to a possible pullback in the short-term, however since the indicators remain rather bullish, it's possible the S&P may make another run higher even after a pullback.
If a pullback occurs, we want to watch MACD and RSI to determine if the indicators remain bullish or if they collapse lower; indicating a stronger correction is possible.
Why S&P 2050 is a key resistance area for possible retracement:
S&P 500 4-Hour Chart: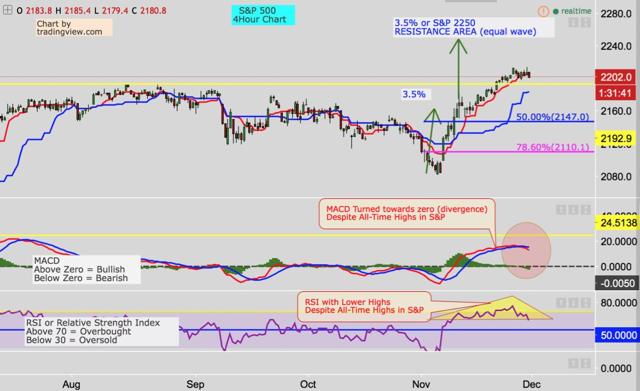 Click to enlarge
The 4-Hour chart is still relatively long term, but it's helpful to use to confirm the trend on the daily and weekly charts.
Key points on the 4-Hour chart:
As you can see on MACD, the moving average lines have crossed and begun to turn lower. (see chart)
RSI is making lower highs despite the S&P higher high (yellow triangle) but still is bullish as it's above 50 (blue line on RSI).
Some market traders believe rallies like to move in equal waves and in extrapolating from the rally since the election, an equal wave can be calculated which ends at the 2250 area. This would likely correspond to a fair amount of sell orders (take-profit orders) in that region. (green arrows)
The Fibonacci retracements show where a possible pullback could take the S&P whereby any retrace above 2147 (the 50% level) would be considered shallow.
However, any retrace beyond the 78% retracement line of 2110 would be bearish and would likely result in an increased risk of a deeper correction.
Key takeaways & risk management tips:
Watch the 2110 zone, or beyond the 78% retracement since it increases the risk of MACD going below zero and RSI below the 50 level; both would be bearish.
MACD is bullish on the 4-hour and daily chart, however, the weekly chart will likely show divergence if we have a pullback in the coming weeks; indicating waning momentum.
Watch for a daily close above 2250. We don't want to see lower highs on MACD and RSI during that time. Perhaps tighten stops in this region in the event momentum starts to fade.
Fed Meeting: As we draw closer to December 14th, from a purely risk management standpoint, it may make sense to lessen exposure or employ hedging policies in the event we get an increase in volatility.
By watching momentum and the key levels outlined here, we can better manage the upcoming market-risk events.
Good luck.
Disclosure: I/we have no positions in any stocks mentioned, and no plans to initiate any positions within the next 72 hours.
I wrote this article myself, and it expresses my own opinions. I am not receiving compensation for it (other than from Seeking Alpha). I have no business relationship with any company whose stock is mentioned in this article.