China Takes Key Step Toward Reducing Banking System Risk
Last week, China (NYSEARCA:GXC), through its Banking Regulatory Commission ("CBRC"), has taken aim at reining in the risk in its financial sector through the regulatory targeting of off-balance-sheet activities. Given the organization's current regulations were formed in 2011, many of the current enactments have become antiquated based on current regulatory arbitrage strategies that have worked themselves into the fold.
Firms normally participate in the practice of shedding liabilities or assets from their balance sheets to keep leverage ratios low as to avoid violating debt covenants (for more standard EBITDA-driven business models) or to keep capital ratios and other provision requirements in check. Commercial banks when feasible exploit loopholes in the regulatory framework to sidestep regulations unfavorable to their business practices. Examples can include financial engineering, transference of lending origination, reclassification of assets and/or liabilities, and modification of existing contracts or transactions.
The CBRC's goal naturally is to reduce the incentives to engage in regulatory arbitrage to diminish the pre-existing risks within the Chinese banking system. The growth in the country's shadow banking activities has signaled that the country's current regulatory system is not very efficient in keeping the near-totality of its banking sector under the umbrella of an effective regulatory framework.
The CBRC has taken to expanding its set of definitions as to what qualifies as an off-balance-sheet transaction to keep up to date with the most recent regulatory arbitrage tactics. It has also acknowledged business types that engage (or may engage) in off-balance-sheet activities that were not previously covered, such as agency collection and payments, non-guaranteed investment/wealth management funds, and principal and agency transactions. The expansion of such businesses and affiliated products has facilitated the spread of financial intermediaries (i.e., shadow banks) that formulate credit within the Chinese banking system but lack oversight from the country's regulatory system. A growing body of financial institutions that have the capability to circumvent existing laws generates concern regarding potentially elevated levels of systemic risk within the broader financial system.
Since the end of the recession in the US in Q2 2009 to Q1 2016 (the latest official data point), China's non-financial sector corporate debt has increased by 38.9% annualized.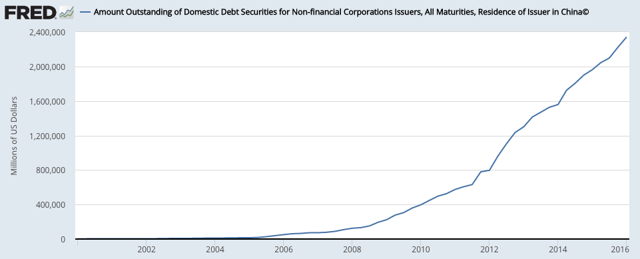 Click to enlarge
(Source: Bank for International Settlements; modeled by fred.stlouisfed.org)
A graph showing annualized real GDP growth (red line) versus non-financial corporate debt growth (blue line) displays the massive amount of credit expansion that has occurred relative to organic growth in the country: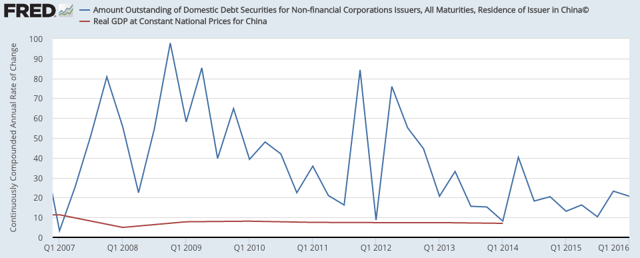 Click to enlarge
(Source: Bank for International Settlements; modeled by fred.stlouisfed.org)
Unregulated financial activities within China are estimated at approximately $8.7 trillion as of year-end 2015, about 80% of China's GDP. Assuming a linear trend, the Chinese shadow banking industry could be valued as high as $9.3 trillion based on a GDP estimation of around $11.6 billion for year-end 2016. Approximately 77% of all Chinese wealth management products, specifically, are non-guaranteed (i.e., they don't guarantee a specific level of profit) and can legally be offloaded from the balance sheet of the distributing financial institution (Source: China Banking Wealth Management Registration System report). Wealth management products are typically offloaded from the bank's balance sheet to avoid having them cut into capital ratios, even though they generally imply a return guarantee for the particular product. The Chinese legal framework treats guaranteed and non-guaranteed products separately, given the greater scrutiny that is naturally subject to products that prescribe a return guaranty.
Moreover, the CBRC now stipulates that financial institutions must maintain risk-based capital on impairment losses on off-balance-sheet assets to better capture the actual credit risk of the institution. Write-offs allow financial institutions to "clean house" with respect to underperforming loans, low-return assets, uncollected receivables, corporate restructuring costs, and other such moves that allow a bank to report higher returns on capital and heftier profit margins.
The increased disclosure requirements of off-balance-sheet activities (that will accompany the new regulatory pact) will accordingly affect banks with greater concentrations of offloaded assets and liabilities. Smaller institutions are more likely to be affected as a whole relative to larger banks, given the lower degree of integration, operational flexibility, and compliance costs that generate greater levels of risk to the business as a whole. Banks that specialize in the issuance of wealth management products, where risk offloading is a key business practice, will be disproportionately impacted.
Even so, the CBRC's new regulatory framework fails to provide ultimate clarity on key matters. Addressing the rapid expansion of shadow banking activities is a general positive to the Chinese banking sector, but a few such matters will need to be further deliberated:
The capital ratios, reserve requirements, credit conversion factors, and other numerical details that specify the new intended degree of regulatory pressure being exerted;
how each bank will be individually affected given the risk limitations and management of off-balance-sheet activities are set and approved by each institution's governing board; and
which entity adopts the credit risk associated with off-balance-sheet assets (the offloading bank or the shadow financial system).
Whatever the case, effective policy measures that reduce the expansion of unproductive debt expansion are genuinely needed. The IMF defined China's loans that are "potentially at risk" to measure $1.3 trillion - roughly 12% of GDP (as of 2015 year-end), or 15.5% of all Chinese commercial lending capital. The IMF defines "potentially at risk" to mean that borrowers can liquidate assets to service their debt and banks are afforded the right to collateral recovery and asset seizure to avoid financial loss. A reasonable loss ratio estimation of 70% would come to $900 billion or around 53% of China's Tier 1 capital holdings. Chinese regulators currently allow domestic commercial banks to securitize 50 billion yuan ($7.4 billion) worth of poorly performing loans to offload bad credit from their balance sheets.
Broader Level Significance
Managing risk in the financial system is important given excessive lending, or credit expanding at a faster pace than GDP, is not sustainable over time. Eventually, economic downturns will ensue if not managed appropriately, usually once some internal or exogenous shock disrupts the ability for borrowers to repay the debt accumulated.
China's aggregate amount of credit - especially in the corporate sector (57% of China's debt mix, according to IMF statistics from year-end 2015) - has expanded to the point where credit freezes that fail to remain isolated can have global repercussions given the modern-day influence and scope of the Chinese economy. Measures that can accordingly work to rein in unproductive credit expansion, proactively single out struggling enterprises, tighten lending standards, and boost capitalization requirements, among other potential measures, are a step in the right direction.
Compounded by the recent slowdown in global trade, partially abetted by aging demographics in the developed world (people consume less as they get older), the risks in the Chinese financial sector are asymmetrically skewed to the downside. Shorting Chinese financials (NYSEARCA:CHIX) is probably not the best move, as the sector can continue to grow for the time being in light of an expanding middle class and the fact that its economy is still growing at 6.7% year over year. But given the burgeoning level of credit growth in the country's economy, it's reasonable to stay on the sidelines when looking at the Chinese banking sector generally.
Disclosure: I/we have no positions in any stocks mentioned, and no plans to initiate any positions within the next 72 hours.
I wrote this article myself, and it expresses my own opinions. I am not receiving compensation for it (other than from Seeking Alpha). I have no business relationship with any company whose stock is mentioned in this article.