Every week after the EIA releases its Weekly Petroleum Status Report, I download its updated files, consolidate them, and ultimately link them to a simple excel dashboard file which you can download for free at Excel-Data-Junkies.com. Open it up and follow along below, then let's discuss it in the comments section below. For a methodology review take a look the intro "Data Download"
Headline: Total Petroleum Stocks Up 0.5M Barrels
Five weeks ago, it looked like total petroleum stocks were crashing having shed 42M bbls in the prior eight weeks for a burn rate of just over 5M bbls a week. Today, it appears that petroleum stocks have stabilized, at least for now, having increased nearly 10M bbls in the last five weeks.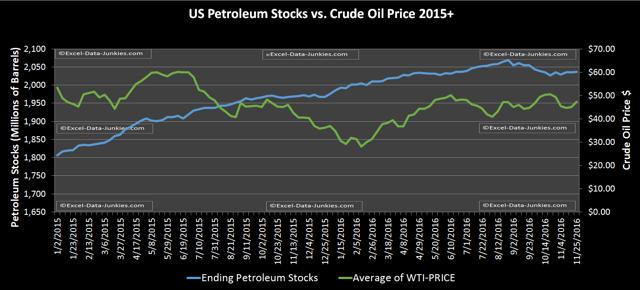 Click to enlarge
OPEC Cuts 1.2M bbl/d
Of course, the real headline of the week is that OPEC claims it will reduce production by 1.2M bbls a day for the first six months of 2017. Let's pencil it out to see how this will affect US petroleum stocks going forward. 1.2M bbls a day works out to about 8M bbls a week, and just for fun, let's assume when it all nets out it ends up reducing US crude imports by 2M bbls a week.
Total petroleum inventories currently stand at 2.036B barrels while the average before 2014 was 336M bbls lower at about 1.7B barrels. It may be that the new normal is now closer to 1.9B barrels, leaving us with a 136M bbl surplus. If the market is currently more or less balanced, OPEC's cut should burn through the US surplus in about 16 months. That's definitely a start, but doesn't look very impressive at first glance. The truth is that it will probably be February before we start to see any evidence of these cuts in the inventory numbers, so stay tuned to my weekly updates!
For The Bulls:
The OPEC deal cutting production by 1.2M bbls a day for the first six months of 2017 is about as bullish as it gets considering a lot of people thought there wouldn't be a deal at all. Globally, this deal should start pulling down global inventories down by about 100M bbls a quarter. If we see evidence of this drawdown occurring and OPEC quotas being adhered to by the middle of the first quarter of 2017, it should set the stage for $60+ oil (NYSEARCA:USO).
What The Bulls Are Dreaming About Tonight:
Global petroleum stock drawdowns
Russian cooperation
For The Bears:
Ignoring OPEC for a minute, with inventories at this level, any week that isn't a draw should be seen as bearish. Gasoline demand growth looks like it is stalling out after nearly a year of solid year-over-year growth and it isn't likely to be helped by $50+ oil. Add to that another week of steadily increasing US production, and the fundamentals are bearish.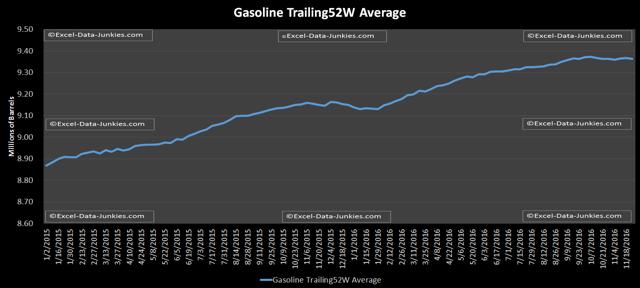 Click to enlarge
But obviously we can't ignore the OPEC deal because it happened, and crude prices are now back over $50 on the hope that OPEC finally has the will to be an effective cartel. Its 1.2M bbl/d production cut should materially reduce the glut in global petroleum inventories next year. What could go possibly wrong? Historically, betting against what OPEC says is a pretty safe wager, and this round is likely no different. If we get to spring and global inventories are not declining and OPEC quota cheating is apparent, testing $30 is a distinct possibility.
What The Bears Are Dreaming About Tonight:
OPEC cheating
Shale drillers hedging on the spike
Gut Feeling:
As for the fundamentals, nothing has really changed. US petroleum stocks are just below record highs and are 64M bbls over where they were last year at this time. If you believe OPEC, the price of oil is headed past $55 and on to $60 in a few quarters. If you don't believe OPEC, oil is headed under $40 once the deal falls apart in the first quarter. For now, I would expect oil to stay around $50 until January when all eyes will be counting the tankers coming out of Saudi Arabia.
Disclosure: I/we have no positions in any stocks mentioned, and no plans to initiate any positions within the next 72 hours.
I wrote this article myself, and it expresses my own opinions. I am not receiving compensation for it (other than from Seeking Alpha). I have no business relationship with any company whose stock is mentioned in this article.