Natural gas prices are moving higher, despite no bullish weather updates and relatively weaker weekly supply/demand figures.

Click to enlarge
January natural gas contracts are $3.50/MMBtu and that's been our forecast for where natural gas prices should be in the long run. This obviously presents several issues for both natural gas traders and E&P investors. So what's next?
Before we delve into our thoughts, here's what some of the traders we talked to have expressed. Natural gas prices for the winter months are mostly pricing in a pretty bullish outlook. Here's where they trade at:

Click to enlarge
Just several weeks ago, the entire 2017 curve came under pressure trading for less than $3/MMBtu, and like animal spirits charging ahead, prices are now back and stronger than before.
This presents several issues for the traders we talked to. Some of them sold positions during the November sell-off, and most of them don't want to take an outright bet on higher natural gas prices. One innovative trade idea that was recently shared with us was a bet on the spread difference between January 2017 and April 2017 to widen. The trade essentially entails that there could be a price spike in January, and the move will largely be in the front months (January and February) vs. the later months (March and April). The trade makes a lot of sense as traders could feel overly bullish when storage figures drop below the five-year average come January, and push near-term prices higher than the later months.
Whatever the case may be, most traders aren't willing to take an outright bullish bet on prices. We agree. We do expect natural gas prices to move above $4/MMBtu for an extended period of time (eight to 12 months) in 2017 to incentivize additional natural gas production, but a move to $4 won't be much of a gain from the current price level. Traders have to be aware of the risk/reward when it comes to the trade, and like animal spirits, the pathway to the end may not be as smooth as you would like it to be.
As for natural gas producers, we remain very bullish on them with our position already disclosed to everyone. The difference here between buying a natural gas producer vs. betting on the futures outright is the operating leverage effect. For example, an increase from 3.50 to 4 might just be 14%, but for the natural gas producer, that could be a 30%-plus increase in cash flow. Obviously, operating leverage plays both ways and when natural gas prices fall, cash flow drops at the same level of magnitude in the other direction.
Overall, animal spirits are playing a big role in driving prices up today. We think the risk/reward favors owning E&P producers vs. betting on the futures outright. If you can come up with a spread trade like the one we listed above, it could pay off, but there are big risks to making spread trades and all traders should be aware.
Lastly, HFI Research launched a new premium daily that's still in the beta phase. This update encompasses a much more detailed analysis of the natural gas fundamentals along with any weather updates. If you are interested, you can sign up here.
Eight- to 14-Day Outlook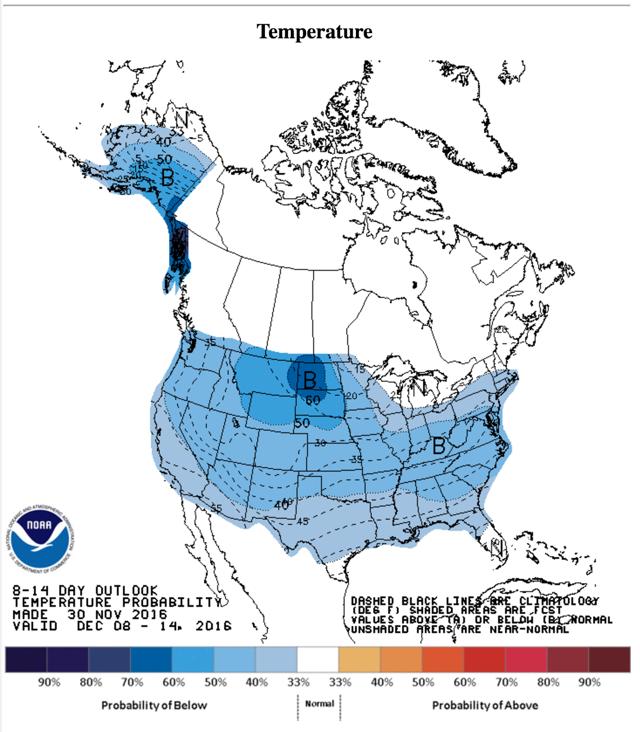 Click to enlarge
Disclosure: I/we have no positions in any stocks mentioned, and no plans to initiate any positions within the next 72 hours.
I wrote this article myself, and it expresses my own opinions. I am not receiving compensation for it (other than from Seeking Alpha). I have no business relationship with any company whose stock is mentioned in this article.