The price of oil continues its momentum higher and is trading over $51.

Click to enlarge
Going into the OPEC meeting, we stood firm on our belief that a deal was possible and that, as a result, oil prices would move above $50 and approach $60 by year-end. Here's what we said: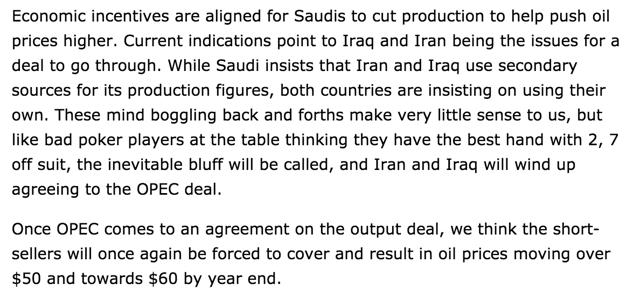 Click to enlarge
The above excerpt was part of the many articles we've written in the last two weeks that demonstrated our belief that an OPEC deal was possible. The price action we are seeing now is just the reactionary response we expected from a deal being in place.
So, with OPEC agreeing to cut production, what should traders and investors expect next? Well, there's still the December 9 meeting with non-OPEC producers. OPEC has already said that Russia will contribute 300k b/d of the 600k b/d non-OPEC cut. The recent news release also points to Oman agreeing to cut production by 4.5%.
That said, most sell-side analyst reports we read today remain cautious around the OPEC deal. Some have analyzed historical OPEC cuts and published figures on how much OPEC usually overproduces. While other analysts remain downright skeptical and point to OPEC violating the agreement altogether. Whatever the case may be, most sell-side analysts remain bearish on the prospects of an OPEC cut, and consensus remains wary.
Our thoughts on the OPEC deal are that it was more of a perception changer than a fundamental driver. Our variant perception has been that the global oil market is already in a deficit, despite what the IEA and OPEC lead you to believe. A simple illustration is that the total 2015 U.S. crude storage build was 104 million bbls, while the 2016 YTD build is 32.994 million bbls. The difference is quite staggering, and if the IEA is correct that current oil markets are oversupplied by more than 1 million b/d, we sure aren't seeing that anywhere in storage. Here's a more visually appealing demonstration of the storage build: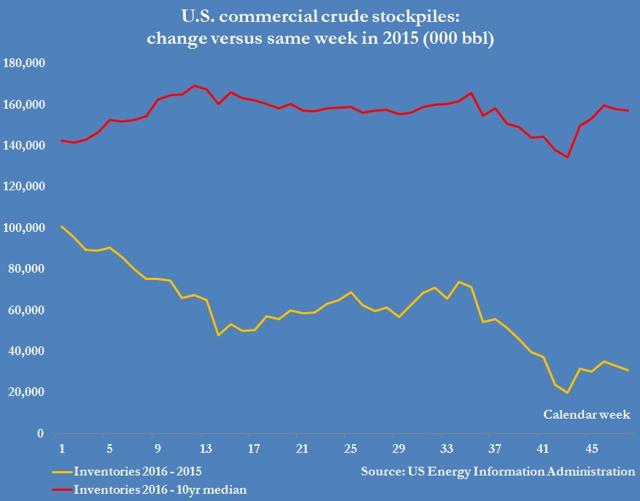 Click to enlarge
We will be writing a more detailed piece this weekend going over our thoughts on where the OPEC deal leads the oil markets and how storage will look like in 2017. We remain very bullish on oil prices going forward and believe that this OPEC deal is the starting catalyst to the incoming oil bull market. Our view has been very non-consensus and goes to show why variant perception investment analysis is important. If you are interested in reading our outlook, you can sign up here.
Disclosure: I/we have no positions in any stocks mentioned, and no plans to initiate any positions within the next 72 hours.
I wrote this article myself, and it expresses my own opinions. I am not receiving compensation for it (other than from Seeking Alpha). I have no business relationship with any company whose stock is mentioned in this article.