Facebook's (NASDAQ:FB) acquisition of Oculus Rift has been one of the reasons I'm so bullish about the company's prospects. I've written articles in the past that detail the enormous potential that Facebook can claim through Oculus Rift, which you can read about here.
At the time of this writing, Facebook's stock is falling yet again, this time by a margin of 3%. While I believe this is partially due to a rotation of funds out of tech and into banks and energy, there is evidence that the move is supported by some dismal data from SuperData. It is tracking product categories and speculates that VR is not selling as well as previously estimated. It has revised its estimates and believes that the holiday shopping season will see shipments a few million units lower than expected. Please reference the chart provided by Statista below to see how the numbers play out.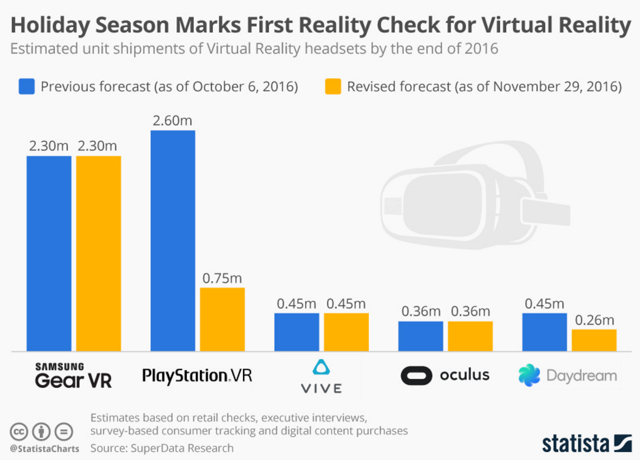 Click to enlarge
As you can see, Sony's (NYSE:SNE) PlayStation VR is selling horrendously according to the data. Sony's headset is now expected to sell a dismal 30% of what was originally speculated. However, one can see that the Oculus Rift has maintained its prior guidance and is slated to sell 360,000 units. So while some view this report as overall weak demand for VR headsets, I see this more as a weakening of a major Oculus Rift competitor.
While PlayStation VR hasn't received as much press as the Oculus or HTC's (OTC:HTCKF) Vive headset, I was concerned that it would be a major contender in the battle for VR superiority. This all had to do with the price and initial consumer demand. In order to function, Oculus Rift's headset requires a high-powered computer that costs over $1,000. Add this to the cost of the headset itself, and consumers are looking to pay around $2,000 for the experience. On the other hand, PlayStation VR functions with PlayStation 4, which 40 million people worldwide already own. Therefore, the cost to buy the headset and experience virtual reality through PlayStation VR only costs around $400 for most people. Even if people have to purchase a PlayStation 4, the total cost is still half of the Oculus Rift's hardware.
Secondly, virtual reality is initially believed to be embraced primarily by hardcore gamers then expand to the general public. I was concerned that PlayStation's gaming focus and low price point would allow it to take a huge early lead in market share. I firmly believe that virtual reality will become a "winner take most" scenario, so market share is incredibly important to the companies involved. The data shows that PlayStation VR may not be as big a threat as I had imagined, which is incredible news for Facebook.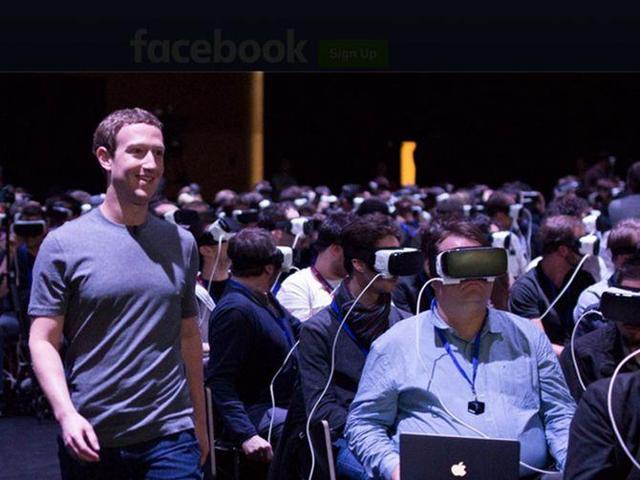 Click to enlarge
Final Thoughts
Interpret the data as you would like, but I believe that this reinforces the notion that VR will be a showdown between the Vive and Oculus Rift. PlayStation VR is certainly not out of the picture just yet, but it seems to have dramatically dropped off. Virtual reality has the potential to create long-lasting, enormous revenue streams for the winners in the category. While it is not Facebook's core business at the moment, it is one of the catalysts propping up the company's PE ratio and could very well decide the fate of Facebook's future.
Author's Note: I encourage you to follow me as I cover a wide variety of current topics, with a special interest in the technology, retail, and entertainment industries.
Disclosure: I am/we are long FB.
I wrote this article myself, and it expresses my own opinions. I am not receiving compensation for it (other than from Seeking Alpha). I have no business relationship with any company whose stock is mentioned in this article.