According to a report by Coughlin Associates, the annual shipping capacity of the magnetoresistive random access memory [MRAM] market is expected to grow from 240 TB in 2014 to between 15 PB and 35 PB in 2020. During the same period, the researcher expects revenues for the industry to grow from $300 million to between $1.35 billion and $3.15 billion by 2020. The recently listed Everspin Technologies (Pending:MRAM) is counting on this high-growth industry.
Everspin's Offerings
Chandler, Arizona-based Everspin was founded in 2008 to deliver MRAM products. Its MRAM solutions offer a non-volatile type of memory that retains information even in the absence of power with the speed of random access memory. Traditional semiconductor memory technologies store data in the form of an electrical charge, whereas the MRAM technology stores it as a magnetic state. Thus, MRAM devices are able to retain mission-critical data even in the event of power failure.
Everspin's products read and write data at speeds on par with most dynamic RAM (DRAM) and static RAM (SRAM). Everspin offers MRAM solutions with different densities ranging from 128Kb to 64Mb. Its solutions are thus utilized by customers across multiple industries including industrial, automotive, transportation and enterprise storage companies that leverage its products to design high-performance, power-efficient and reliable systems without the need for bulky batteries. Everspin is a pioneer in commercially available MRAM solutions. Since its founding, the company has shipped more than 60 million MRAM units to its more than 600 customers, which include names like Honeywell (NYSE:HON), Nikkiso, Siemens (OTC:SMQFY), Airbus (OTCPK:EADSY), Hyundai (OTC:HYMPY), Broadcom (NASDAQ:AVGO), Dell (NYSE:DVMT), IBM (NYSE:IBM) and Lenovo (OTCPK:LNVGY).
Everspin's Financials
Everspin earns revenues through product sales and licensing and royalty services. But despite the high growth in the industry, Everspin's own growth has been rather muted. For the year ended December 2015, Everspin's revenues grew a modest 6% to $26.5 million. For the six-month period ended June this year, revenues grew an even slower 1% to $12.9 million. During the same period, Everspin has continued to suffer losses. Net loss increased from $10.2 million in 2014 to $18.2 million last year. For the six-month period ended June this year, it racked up losses of $10 million. The losses are attributed primarily to investment in research and development as nearly half of its workforce is engaged in R&D activities.
Everspin might be a pioneer when it comes to commercializing MRAM solutions, but it is surely not the only one in the market. The high growth of the industry is attracting bigger players like Infineon (OTCQX:IFNNY), Fujitsu (OTCPK:FJTSY), Honeywell, Intel (NASDAQ:INTC) and Toshiba (OTCPK:TOSBF) which are making their presence felt. Other smaller players like silicon-valley company Crocus also is a formidable competitor. Crocus has a much bigger footprint and has received $360 million from investors including the Russian Government's RUSNANO. Crocus has also entered into partnerships with players like IBM, SkanTech, and Spintec to improve product technology.
Everspin was venture-funded till October this year. It had raised $80.3 million in seven rounds from investors including Draper Fisher Jurvetson, EPIC Ventures, GLOBALFOUNDRIES, Lux Capital, New Venture Partners, Sigma Partners and Western Digital Capital. Its last round of funding was held in January 2015 when it raised $29 million at an undisclosed valuation. In October this year, Everspin went public and raised $40 million by selling shares at $8 each. Soon after listing, the stock touched a high of $9.99. But it hasn't had a strong showing since. The stock is currently trading at $7.23 with a market capitalization of $91.6 million.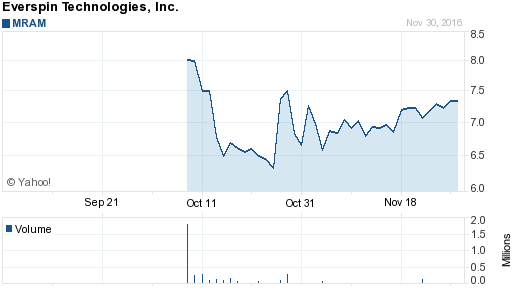 Editor's Note: This article covers one or more stocks trading at less than $1 per share and/or with less than a $100 million market cap. Please be aware of the risks associated with these stocks.