While gold investors close the books on the worst month for gold since 2013, something very interesting happened over in the Chinese market. Chinese buyers stepped up and bought the most gold in months.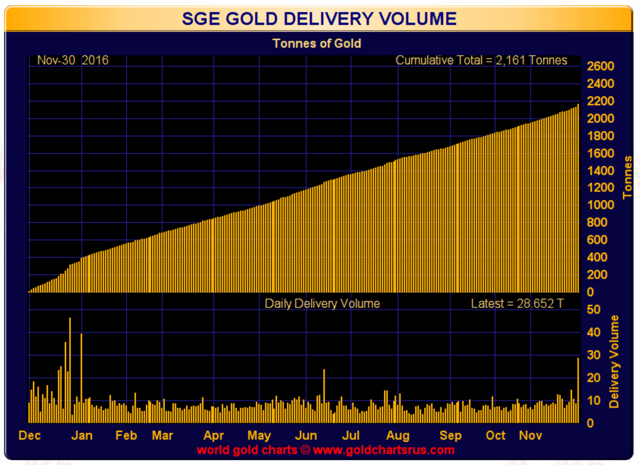 Click to enlarge
Source: Gold Chartsrus
As investors can see, solid buying emerged in China as evidenced by Shanghai Gold Exchange (SGE) deliveries of over 28 tonnes … for the DAY. While we do tend to see buying during the last day of the month, this was unusual and the biggest buying that we have seen since December 2015 when gold was under $1100 per ounce.
That is not the only bullish gold-related news going on right now in China. If we take a look at premiums for gold on the SGE, they have been rising with the drop of gold in November and now are at their highest sustained levels for quite some time.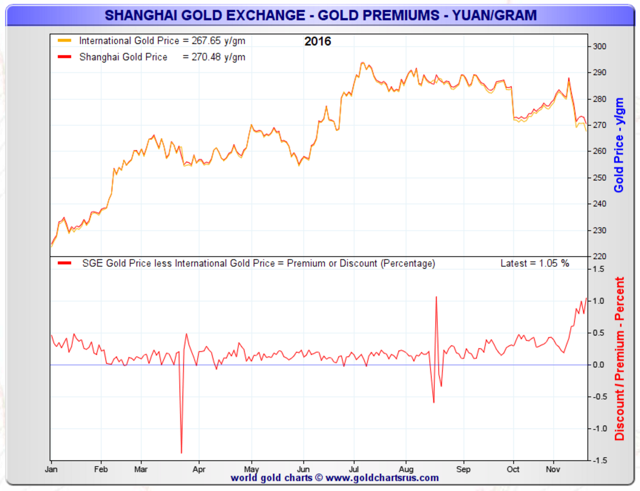 Click to enlarge
Source: Gold Chartsrus
Chinese gold premiums are now above 1% compared to the international price, which clearly shows sustained physical buying in China.
Moving over to India, we see premiums have also been rising.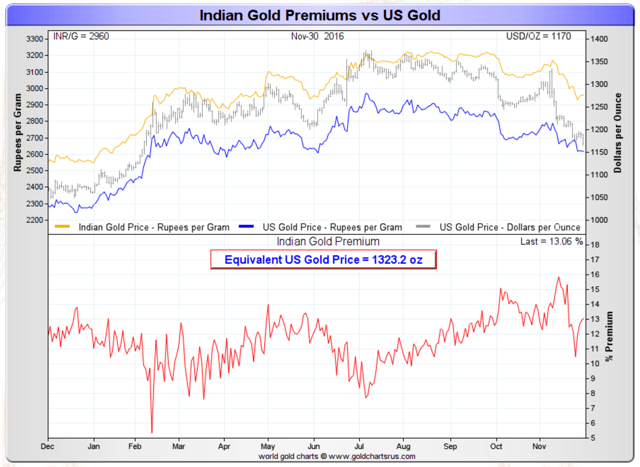 Click to enlarge
Source: Gold Chartsrus
This suggests to us that some of the initial liquidity crunch that the average Indian citizen was facing due to Modi's demonetization, is subsiding as premiums return to more normal levels. Obviously, it is still a volatile situation in India so we will have to keep monitoring that, but it does look like Indians are buying gold again.
Why Is This Important for the Gold Bulls?
November's drop in gold wasn't due to physical sellers, but rather, investors selling ETF and paper positions after building them up for months. This was signified best on the night of US elections as gold rocketed over $1350, only to drop under $1300 the next morning. That is clearly speculative, paper longs buying and selling due to short-term factors and moves in gold.
But since then up until today, the paper and ETF gold markets have been very bearish as funds unload gold holdings and speculators abandon futures positions. One of two things can stabilize the gold markets as (1) speculative traders change their attitudes to become bullish or (2) physical gold demand starts to soak up physical supplies of gold. Right now, it doesn't look like there is any catalyst to change the attitude of speculative traders (other than possibly a surprise in markets due to the upcoming Italian referendum), so the key will be the physical markets.
The fact that we are seeing some strong buying now in China despite rumors of major capital outflows is good news for gold bulls. It is also something that can change the attitudes of speculative traders to once again be positive on gold.
Conclusion for Gold Investors
There are a number of major events upcoming for gold investors including Friday's jobs report, Sunday's upcoming Italian referendum, and the Federal Reserve meeting in a few weeks. With physical demand seeming to come back in China and India, we feel the downside should be fairly limited as physical buyers are buying now to support gold and if it moves lower we expect even stronger buying.
That means that even if the above-mentioned catalysts are gold-negative, we don't expect a major drop in gold. But if one of these events surprises investors negatively (or positively for gold), then we expect a large move up as traders are already positioned quite negatively and right now their attitudes on gold is very biased to the bearish side. Thus, we expect the physical gold market will no longer be a drag on the gold price and we have one of those situations where it's a bit of an asymmetric trade in gold as people expect bearish news. We think this is a good time for investors to start loading up on physical gold and the ETF's such as the SPDR Gold Trust ETF (NYSEARCA:GLD), ETFS Physical Swiss Gold Trust ETF (NYSEARCA:SGOL), iShares Silver Trust (NYSEARCA:SLV). As we said last week, we are warming up to miners as their valuations have come down quite a bit and quality miners with economic reserves should do well if we see a turnaround in the gold price.
Disclosure: I am/we are long SGOL, SIVR.
I wrote this article myself, and it expresses my own opinions. I am not receiving compensation for it (other than from Seeking Alpha). I have no business relationship with any company whose stock is mentioned in this article.