After an eight-month hiatus where I did not see much (personal) merit in tracking the underwater driller stocks, I am back (cue collective yawn)! My writing has always been a formalization of my personal investment research. To the extent that the industry may finally be able to start looking forward in a positive way, it is newly interesting (to me)!
While I do not necessarily believe OPEC will be able to stick to any promised production cuts, I do think there is consensus among all producers that "something has to be done". There is also a consensus among the major oil companies (Exxon (NYSE:XOM), Royal Dutch Shell (RDS.A, RDS.B), etc.) that reserves need to be replenished, albeit at economically "correct" prices. Therefore, almost two years to the day after OPEC decided not to defend oil prices and accelerated the descent in oil and share prices, there is a reasonable expectation that something approaching equilibrium could return to oil prices and, by extension, underwater drilling contracts.
In the past, I have tracked and written about (and sometimes invested in) Atwood Oceanics (NYSE:ATW), Diamond Offshore Drilling (NYSE:DO), Ensco (NYSE:ESV), Noble Corp. (NYSE:NE), Rowan Companies (NYSE:RDC), Transocean (NYSE:RIG) and Seadrill (NYSE:SDRL). In taking a fresh look at the industry, I decided to start with risk. As the chances of a drilling recovery are uncertain, and the stock prices of all major participants "cheap" vis a vis a recovery scenario, I would like to hedge my bets by considering incremental investment in the least risky industry players.
My research took me to bond yields, which are a proxy for risk; after all, stockholders get all the gains, and the best bondholders can do is collect a coupon and receive "par". Using 2020 (or the closest bond) maturities, I compared the current, recent and high (yields) of the major drillers.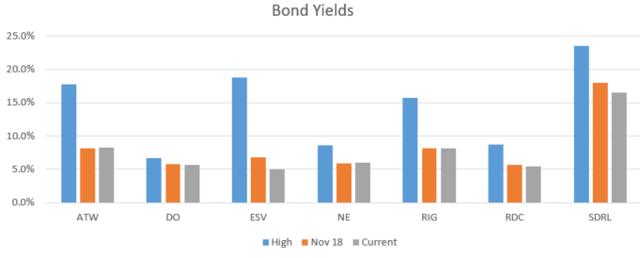 Click to enlarge
(Source: FINRA via Morningstar)
Ensco, as measured by bond yield and supported Market Capitalization as a percent of Enterprise Value (or Debt/Equity), is the least risky of the major drillers. The ESV 2021 bond yields 5.0% (down from 6.8% in mid-November). Way back in March 2015, I praised Ensco's "Conservative 'Midwestern' Values" in the early stages of the downturn. As a firm believer in the power of corporate culture, it appears the firm did indeed take a conservative approach to the downturn, and as such, is well positioned to benefit from improvements in the contracting cycle. Diamond Offshore and Rowan have also performed very well on the yield-as-a-proxy-for-risk index, with yields in the mid-5% range. Noble Corp. also performs fairly well with a 6.0% yield. By way of comparison, the average US issued junk bond yield is currently 6.3%.

Click to enlarge
By contrast, Transocean, which has the largest market cap and backlog, is considered risky with an 8.2% bond yield, comparable to ATW. Seadrill continues to be considered (by the bond market) a prime candidate for default, with a 16.5% bond yield.
With the exception of Seadrill, all the major drillers continue to have available credit and, with the exception of Atwood, backlogs in excess of their market cap.
As I consider investing new money in the underwater driller space, mitigating risk is as important as potential return. In fact, when I invest, evaluating the downside is as important as considering the upside. The OPEC's (a group of scoundrels and cheaters) "word" does not carry of lot of weight for this investor. Therefore, while I am newly optimistic that a period of rational ($55-65/barrel) prices will ensue and drilling will begin to be contracted, I am not completely convinced. Therefore, evaluating staying power, dry powder and overall financial strength continues to be highly important. I encourage those considering "dipping a toe" in the underwater driller waters (pun intended) to consider risk as well as reward.
Disclosure: I am/we are long ESV, SDRL.
I wrote this article myself, and it expresses my own opinions. I am not receiving compensation for it (other than from Seeking Alpha). I have no business relationship with any company whose stock is mentioned in this article.