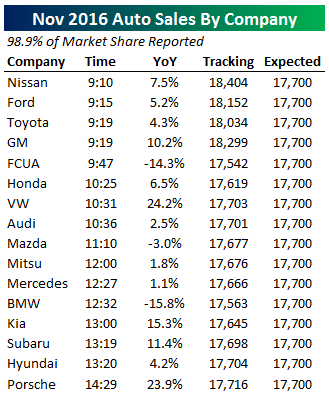 Early numbers from the auto industry are showing solid sales numbers for the month of November, improving on last month's sales pace (per the BEA) of 17.91 million units at a seasonally adjusted annual rate. So far, just three companies (Nissan (OTCPK:NSANY), Ford (NYSE:F), and Toyota (NYSE:TM)) have reported sales, and all are showing respectable mid-single digit YoY sales gains (which are not adjusted for selling days). By our math, auto sales are tracking a beat versus estimates of a bit more than 200,000 units SAAR (which adjusts for both seasonal buying trends and the number of sales days in the month). The highest sales pace of the current economic expansion came one year ago, when SAAR was reported at 18.3 million units. Depending on how things go for the rest of the day, that record may fall. Even if it doesn't, the auto industry looks to have firmed markedly over the last few months.
Update 1 9:54 AM EST: While General Motor (NYSE:GM) reported a solid quarter which boosted our tracker above 18.2 million SAAR, Fiat-Chrysler (NYSE:FCAU) laid a massive egg, delivering -14% YoY sales versus -9% expected by analysts. As a result, our tracker has collapsed down to 17.54 million SAAR - a huge drop for a single company. However, with Fiat-Chrysler composing almost 15% of the industry, large misses from the company can drive big changes. We'll continue to update our tracker throughout the day as more companies publish their numbers.
Update 2 10:38 AM EST: Fiat-Chrysler's terrible sales month wasn't enough to keep our SAAR tracker down for long. Strong reports from Honda (NYSE:HMC) (though slightly below estimates) and VW (OTCPK:VLKAY) (receiving a favorable base effect from last year's diesel scandal sales plunge) have pushed our tracker back to just above estimated sales volumes with a bit less than 80% of the market reported. Other than FCAU, the industry as a whole has delivered pretty strong sales for the month of November.
Update 4 2:25 PM EST: Smaller automakers delivered mixed results later in the reporting day, as BMW (OTCPK:BMWYY) delivered brutal results but Mazda (OTCPK:MZDAY), Mercedes, Mitsubishi (OTCPK:MMTOF), and Hyundai (OTC:HYMLF) were about in line with the industry sales pace. Both KIA and Subaru delivered strong performances, making up for BMW's weakness. Overall, with over 98% of the industry reported, we are tracking a 17.70 million SAAR, exactly on expectations entering the day. As we noted above, those estimates would have been beaten were it not for a horrible showing from Fiat-Chrysler. Overall, the auto industry looks to be on respectable footing in terms of unit volume.
Final Update 2:42 PM EST: We had previously said the above update would be our final one, but Porsche announced a record-setting month of sales that took total SAAR tracking to 17.72 million SAAR; therefore, we'll close out our tracking here with that figure included and 98.9% of market share reported.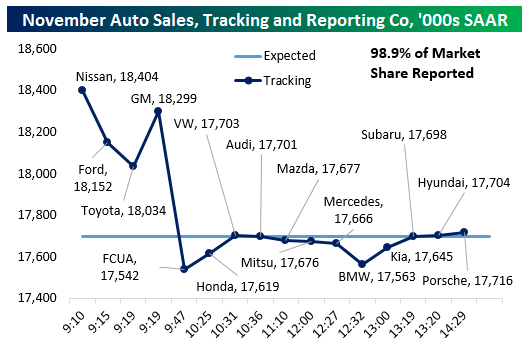 Editor's Note: This article discusses one or more securities that do not trade on a major U.S. exchange. Please be aware of the risks associated with these stocks.