SodaStream International (NASDAQ:SODA) nose-dived 17% Wednesday disappointing Wall Street. The key concern was unit sales of soda makers. Analysts seemed disappointed by a meager 8% growth of soda makers in the fourth quarter. On the conference call, however, management clarified a major share of orders sold to distributors transpired in the third quarter and several U.S. retailers were sold out prior to the end of the year. Please review below the reasons I'm bullish on SodaStream.
Core Reasons to Remain Bullish On Soda Stream
Soda is technically strong. Soda is currently in a well-defined three month uptrend. The earnings disappointment drove the stock to the bottom of the current trend channel creating a buying opportunity. The uptrend was not violated.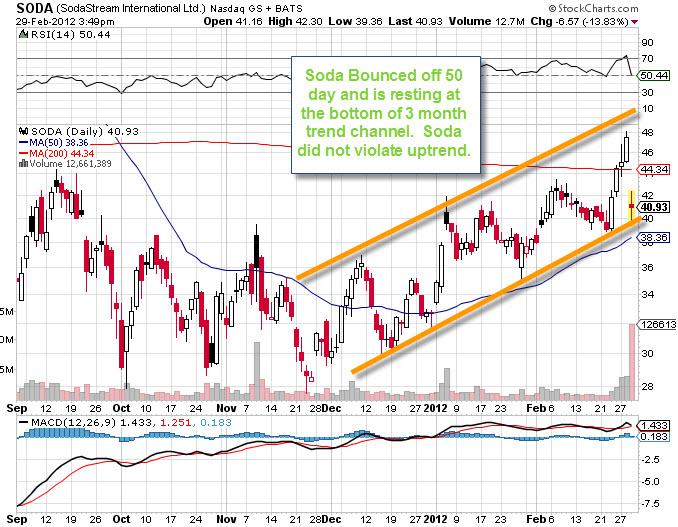 Click to enlarge
Chart provided by Stockcharts.com.
Soda's management has an ambitious growth plan for 2012 and reiterated guidance.
Soda plans to continue to expand its reach in the U.S. by obtaining new U.S. retailers throughout 2012. Soda signed up 9,500 new U.S. retail locations in 2011, over twice the amount of new accounts in 2010.
Soda plans to go international as well by entering the Indian and Brazilian markets as well as other South American countries.
Soda plans to expand shelf space at existing locations, to include expanding locations where consumers can exchange their CO2 cartridges.
Soda plans a continued focus on advertising. Soda is planning new national TV spots and will build on spots aired during last year's holiday season on CNN, FOX and CNBC for example.
Soda plans on entering new products into the market. New products include an electric version of the soda making machine which will be introduced in the second half of 2012. New stainless steel bottles and flavors are also scheduled to be introduced this year.
Soda plans to delve into unconventional sales channels by making its machines available to restaurants, offices, and hotels. I like this out of the box thinking.
A 38% rise in the sales of CO2 carbonators and flavors underpins the fact that the machines are being used and not collecting dust in a corner. This means people like the product. Word of mouth advertising may help the company greatly.
Management exudes confidence in full year 2012's guidance. CEO Daniel Birnbaum sees full-year adjusted profit of $44 million on revenue of $370 million, besting Wall Street expectations. "Looking ahead, we continue to invest in product innovation and strategic partnerships, consumer education and brand building, retail and geographic expansion, and capacity increase ahead of demand," said CEO Daniel Birnbaum. "With these key components in place, we look to 2012 and beyond with great anticipation."

Conclusion
The stock ascended curtly prior to earnings which may have exaggerated the sell-off. I saw this as a buying opportunity in the stock and picked up a quarter position today. I believe the 15% sell-off was a huge overreaction and the company had a valid explanation for the deficiency as well as a great plan for 2012 growth. With consumers getting their income chewed up by high gas prices, I see cost saving devices like SodaStream's machine coming into vogue. Additionally, I liked management's confidence. The fact they did not lower guidance is a testament to their conviction.
If you are looking for a high beta speculative growth play to add to your portfolio, Soda fits the bill. But remember, this is a high beta stock and is exposed to volatile moves. I would layer in to the position a quarter at a time over a month long period and place a stop loss order. My price target is $60, but it won't get there in a straight line.
This article is for informational purposes only. Use this as a starting point for your own due diligence and research methods.
Disclosure: I am long SODA.