Executive Summary
Despite recent signs of progress in Europe, most investors realize that large, developed markets (DM) have yet to address fully their long-term structural issues: Debt, deficits, deleveraging and the accompanying slow growth. Many are naturally turning to emerging markets (EM) as a source of growth - and arguably even stability. Yet, despite their historical growth rates and new-found fiscal virtue, most EM equity markets remain volatile compared to their developed counterparts - albeit to a lesser extent than in the past. This leaves the question of how to best adjust exposure to emerging markets.
Historically, emerging market returns relative to developed markets have been driven by four factors:
Economic growth. Faster growth - both local and global - generally favors emerging markets over developed.
Investor sentiment. Improving sentiment, even from low levels, supports emerging market relative performance.
Credit conditions. Improving monetary liquidity, as measured by contracting credit spreads, has historically favored emerging markets.
Relative valuation. Emerging markets traditionally perform best following periods when their valuations were at a significant discount to developed markets.
Currently, while global economic growth is likely to remain anemic, and potentially even decelerate in 2012, the other factors modestly favor emerging market equities. To the extent the situation in Europe does not degenerate into a full-blown crisis, even a modest improvement in liquidity and sentiment would be supportive of EM stocks.
There are many ways to implement this trade, but we would favor using a regional or country allocation rather than a broad emerging market exposure. Specifically, we would monetize our EM positions in a manner that allows us to overweight Latin American and Asian emerging markets at the expense of emerging Europe.
"It gets late early out there."

Yogi Berra
One of the most frequent questions we heard from investors in the spring of 2011 was, "is it too early to get back into emerging markets?" In retrospect, the answer was clearly yes. Despite all the long-term positives, with inflation still accelerating and risk appetite set to plunge, last year was not the right moment to overweight EM equities. Between April and December emerging market stocks underperformed developed markets in seven out of the nine months, a period that included two truly awful months: Nearly 6% underperformance in September and another 4% in November.
2012 is off to a different start. Through the first 10 trading days of the year, emerging markets advanced more than 6%, versus less than 3% for developed markets. All of which begs the question, should investors now be adopting an overweight to EM? And if so, how?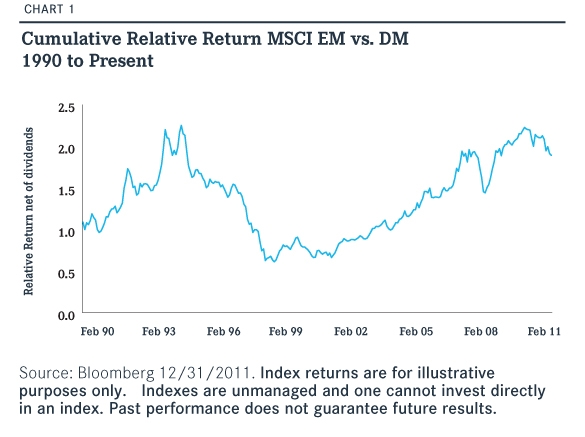 Our answer to the first question is a cautious yes. Part of the argument is long term. While the ride has often been rocky, strong secular growth has generally supported EM relative performance (see chart 1). Over a longer time frame - the past 20 years - emerging market equities have outperformed developed market equities by roughly 40 bps a month, not including dividends. Even after accounting for the volatility, simply remaining long emerging markets versus developed markets has produced modest, but reasonable risk-adjusted returns over the past two decades.
That said, as investors were reminded last spring, despite stellar long-term performance, there have been extended periods in which EM stocks have trailed developed markets. The most recent stint of underperformance has actually been fairly mild when compared to the late 1990s, when emerging markets generally trailed developed markets for a five-year period.
Given the potential for prolonged bouts of underperformance, we have tried to focus on those periods when emerging markets outperformed developed, as well as the macro environment that generally characterized those regimes. While style timing is an inexact science under the best of circumstances, at least historically there have been several factors and conditions that have generally favored emerging market stocks. For investors looking to time their exposure to EM equities, we would suggest focusing on these four factors.
For a complete discussion of risks and other important information regarding this content, please go here.
Disclosure: I have no positions in any stocks mentioned, and no plans to initiate any positions within the next 72 hours.