Another absolutely stellar day for SiriusXM (NASDAQ:SIRI) was completed on February 29th, 2012. Share price shot up in early trading, opening after a high volume pre-market at $2.25 and quickly catapulting to $2.28. From there the stock traded a solid base throughout the day, ending with a large volume spike to close at $2.26. Volume? Very high. 93,896,455 Shares were traded in today's session.
This was yet another day of confirmation that SiriusXM has traded into a new range. This is territory that has not been seen since July of 2011. That's 8 months ago, folks.
I don't think anyone can argue with the 5 day chart here :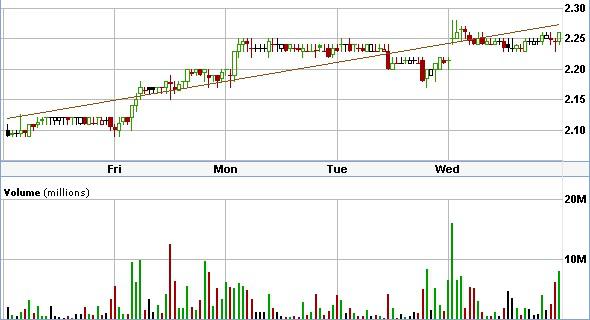 Click to enlarge
That chart just screams what I have been trying to communicate since becoming an author when the share price was around $2.10, and long before that as a commenter. If you need proof of this, look no further than here, here, and here. Take a moment to read those three articles if you have not. There is very good info within them.
Monday's breakout has been confirmed and is stable now after two days of closing above $2.20 resistance. I do not see any reason that we will not go up from here on Thursday. There is one major piece of news due to come out that will likely catapult us further this week.
That news is February auto sales. Demian Russian of Satellite Radio Playground outlines expectations quite well in his article.
Of course, there are those who will tell you that auto sales numbers are already "baked in" to the current share price. Do yourself a favor. Don't listen to them. I heard the same thing back in January and what happened on February 1st? SiriusXM advanced 2% on the actual numbers themselves. Be ready for a jump again. This time, though, be ready for something a bit bigger.
We are currently already in a bull run, and this has much to do with speculation of just what might happen when Liberty (NASDAQ:LMCA) is freed of their restrictions on March 6th. Brandon Matthews has been screaming on his informative site Satwavespro for months, saying "Wake me when we're close to $2.40!" which he has had as a short term target since early January. Well, it's almost time to wake him up and tell him he was right.
Take a look here :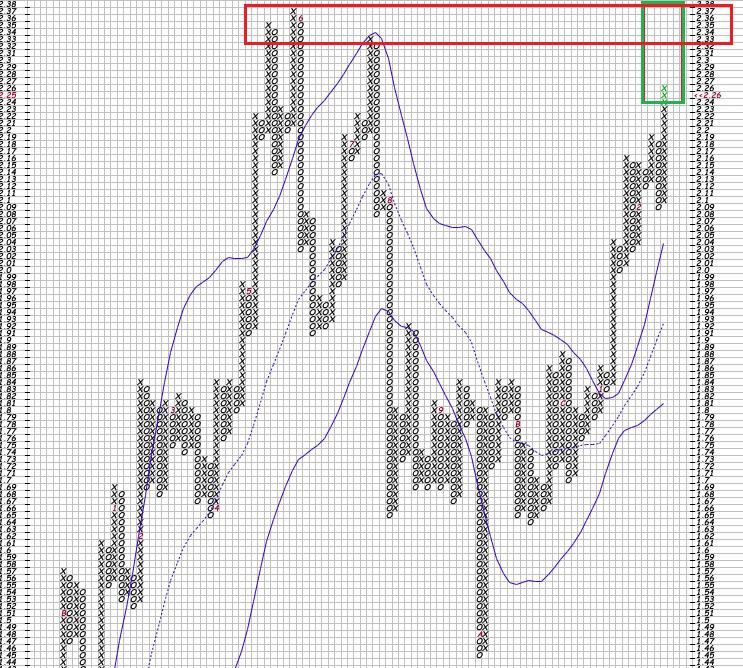 Click to enlarge
This is a Point and Figure chart which is very useful for observing supply and demand, as well as determining resistance levels. Notice the boxes I added. The green box on the right covers the vertical rise from today's close of $2.26. The red horizontal box carries over the resistance points from May to July of 2011. This is our next area of resistance, with $2.35 right smack in the middle.
You can listen to the noise of those hoping to argue about SiriusXM's conservative guidance or you can choose to ignore it because you are smarter than that. You know there are other things going on here which carry far greater importance right now, and you know that this is the big moment that every SiriusXM investor has been waiting for for years since Liberty took that 40% stake.
I'm sticking my neck out. $2.35 by the end of Friday. I think we may even hit it Thursday, if not at least $2.33.
I am "all in" and have been since Friday February 24th, and I am not yet seeing any reason to take money off the table. As a matter of fact, if I had money that wasn't on the table, I'd be making sure I got it on there, and quickly.
Disclosure: I am long SIRI.
Additional disclosure: I am long SIRI March $2 call options.