Investors in First Solar (NASDAQ:FSLR) are taking yet another hit as the solar module manufacturer is testing its December lows again. First Solar ended the day 11% lower to $32 a share after it announced a surprise loss for the final quarter of 2011 and lowered its full year 2012 outlook.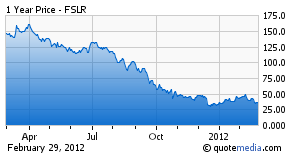 After setting lows of $30 in December shares have rebounded to $50 in the beginning of February. However, in the last three weeks, shares have fallen some 35% after Germany announced another cut in solar subsidies and as a result of Wednesday's announcement.
Fourth quarter results
Revenues for the final quarter of the year came in at $660 million which is down 34% compared to the third quarter, however, it is up 8% on the year.
The company announced a surprise $413 million net loss after it needed to write down goodwill, took a provision for restructuring costs and warranties related to flawed equipment. Not taking these "one-off" items into account, the profit came in at $1.26 which is below analyst expectations of $1.53 per share.
For the entire year of 2011 revenues came in at $2.8 billion which was at the lower end of the guided range. The company reported a full year operating loss of $69 million as a result of a disastrous final quarter.
2012 Guidance
As recent as December 2011 the company expected 2012 revenue to come in at $3.7-$3.9 billion. The company has now lowered the range by $200 million to $3.5-$3.7 billion which still represents 13% revenue growth compared to 2011.
It continues to expect operating income of $425-$450 million or $3.75-$4.25 per share. Analysts were expecting the company to actually increase its revenue guidance to $4.1 billion for 2012 and were anticipating earnings of $7.40 per share.
Strategy
First Solar sticks to its strategic choice to move from subsidized large scale projects into unsubsidized utility focus projects. It continues to develop its cadium tellirude technology which is much less energy intensive, thereby more cost efficient.
First Solar's cost advantage has been completely eroded away in a short time period as Chinese manufacturers have seen polysilicon prices collapse by some 90% and in the meantime have received state-subsidies from the Chinese government. Furthermore, sovereign states in Europe have aggressively cut back on solar subsidies in order to restore their budget balances.
Medium term uncertainty
First Solar still expects to become independent of subsidies as soon as 2014. The road to subsidy independence will be very uncertain as unexpected losses due to warranty provisions have raised concerns about the medium term strength of the company. Fortunately, the company has no outstanding debt. For long term believers in the solar industry willing to accept a lot of uncertainty in the near and medium term, this might be an interesting entry point.
In the meantime, I will stay on the sidelines.
Disclosure: I have no positions in any stocks mentioned, and no plans to initiate any positions within the next 72 hours.