Hedging Costs Jump For GLD After Bernanke's Testimony
Federal Reserve Chairman Ben Bernanke moved the commodity markets with his semiannual Humphrey-Hawkins testimony on Tuesday, which didn't offer any promise of further quantitative easing in the near future. Bloomberg reported that Comex gold futures for April delivery fell $91.40, or 5.1 percent, to $1,697 on the day. The gold-tracking ETF SPDR Gold Trust (NYSEARCA:GLD) fell by 5.31%, to close at $165.29. Hedging costs for this ETF jumped on the day as well.
Coincidentally, prior to the conclusion of Chairman Bernanke's testimony on Tuesday, we happened to note on Twitter how inexpensive it was to hedge GLD with optimal puts:
Portfolio Armor @PortfolioArmor

Cheap to hedge $GLD against a greater than 20% drop between now & September - 0.8%. Longs should consider it. pic.twitter.com/5Cb1148x

29 Feb 12
By the end of the day, the cost of hedging GLD against the same decline from its end-of-day price was 1.17% as a percentage of position value -- still inexpensive on an absolute basis, but a 46% increase in hedging costs from the 0.80% cost before Bernanke's testimony.
After Bernanke's Testimony: Hedging Precious Metals ETFs
Chairman Bernanke's testimony had a similar effect on silver prices Silver futures for May delivery slumped 6.9 percent to $34.64. In the article we linked to above, Bloomberg noted that silver futures for May delivery dropped 6.9 percent to close at $34.642. The iShares Silver Trust ETF (NYSEARCA:SLV) dropped 6.36% on the day to close at $35.55. The table below shows the costs, as of Wednesday's close, of hedging SLV and several other silver and gold ETFs against greater-than-20% declines over the next several months, using optimal puts.
A Comparison
For comparison purposes, I've added the Market Vectors Gold Miners ETF (NYSEARCA:GDX) to the table. First, a reminder about what optimal puts are, and a note about decline thresholds; then, a screen capture showing the current optimal puts to hedge the SPDR Gold Trust ETF , as of Wednesday's close.
About Optimal Puts
Optimal puts are the ones that will give you the level of protection you want at the lowest possible cost. Portfolio Armor uses an algorithm developed by a finance Ph.D. to sort through and analyze all of the available puts for your position, scanning for the optimal ones.
Decline Thresholds
In this context, "threshold" refers to the maximum decline you are willing to risk in the value of your position in a security. You can enter any percentage you like for a decline threshold when scanning for optimal puts (the higher the percentage though, the greater the chance you will find optimal puts for your position). I have used 20% decline thresholds for all of the names here.
The Optimal Puts for GLD
Below is a screen capture showing the optimal put option contract to buy to hedge 100 shares of the SPDR Gold Trust ETF against a greater-than-20% decline between now and September 21st. Note that this is a different contract with a different strike price than the one shown in the tweet above. Also note that, to be conservative, the app calculated the cost based on the ask price of the optimal puts. In practice, an investor can often purchase puts for a lower price, i.e., some price between the bid and the ask (the same is true of the other names in the table below).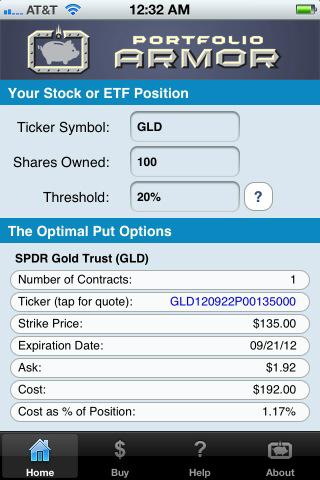 Hedging Costs as of Wednesday's Close
The hedging costs below are as of Wednesday's close, and are presented as percentages of position values.
| | | |
| --- | --- | --- |
| Symbol | Name | Hedging Cost |
| GLD | SPDR Gold Trust | 1.17%* |
| IAU | iShares Gold Trust | 2.12%** |
| SLV | iShares Silver Trust | 6.23%** |
| SGOL | ETFS Physical Swiss Gold | 3.46%* |
| SIVR | ETFS Physical Silver | 6.13%* |
| GDX | Market Vectors Gold Miners | 3.88%* |
*Based on optimal puts expiring in September
**Based on optimal puts expiring in October
Disclosure: I have no positions in any stocks mentioned, and no plans to initiate any positions within the next 72 hours.