In October of 2011, I wrote an article on Seeking Alpha recommending Apple (NASDAQ:AAPL) as a screaming buy if it was ever near $400.00/share. Whether it was purchasing the stock or call options, it just seemed like a logical move to make.
I am not the type of trader who likes to get overly pumped up about a particular stock. It is just not the way I am programmed to trade. I prefer short-term trades to capture profits quickly and then move on to the next one. But Apple is a different story. Back in October 2011, I was confident that the company would smash its January 2012 earnings estimates out of the park. It did. I am equally confident that the same will happen next quarter, as well.
If there is a company that is hitting on all cylinders more than Apple right now, I do not know what company that is. As is common with Apple, expect another huge run-up before its next earnings announcement.
The question should be, is Apple going to see a major pullback from these levels? While I expect certain days where the stock will trade down significantly (as has happened a couple of times in the last two weeks), this will only be temporary.
Really what this does is flush out the weak hands, so to speak. How many people bailed on Apple recently when it was tanking on those two days especially? Many. In my opinion, days when Apple is trading in the negative present an opportunity. This is especially the case when a decrease of more than $10.00/share has happened.
Currently, Apple is trading at $535.41/share. The 52-0week range is $310.50 - $528.50.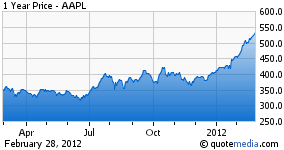 | | |
| --- | --- |
| 52wk high: | 535.41 |
| 52wk low: | 310.50 |
| EPS: | 35.11 |
| PE: | 15.00 |
| Div Rate: | N/A |
| Yield: | N/A |
| Market Cap: | 499.2 B |
| Volume: | 21.41 M |
What is even more remarkable about Apple is that the stock is still cheap! With a price-to-earnings ratio of 15.24 and an earnings-per-share of 35.14, this is still one of the best deals around.
| | |
| --- | --- |
| Market Cap (intraday)5: | 499.20B |
| Enterprise Value (Feb 29, 2012)3: | 460.05B |
| Trailing P/E (ttm, intraday): | 15.24 |
| Forward P/E (fye Sep 24, 2013)1: | 11.28 |
| PEG Ratio (5 yr expected)1: | 0.64 |
| Price/Sales (TTM): | 3.83 |
| Price/Book (mrq): | 5.44 |
| Enterprise Value/Revenue 3: | 3.60 |
| Enterprise Value/EBITDA 6: | 10.12 |
Balance Sheet
Total Cash (mrq):
30.16B
Total Cash Per Share (mrq):
32.34
Total Debt (mrq):
0.00
Total Debt/Equity (mrq):
N/A
Current Ratio (mrq):
1.58
Book Value Per Share (mrq):
96.60
Cash Flow Statement
Operating Cash Flow:
45.31B
Levered Free Cash Flow:
26.06B
New money is also coming into Apple. Everybody wants part of the action. This will almost definitely result in more volatility, but do not be deterred. Apple still represents value that has been unseen in years. It is not too late to enter or increase a position. If I am wrong, I want everybody to call me out on it.
The current beta co-efficient on Apple of 0.92 is a bit misleading. Anyone who has watched how this stock has performed knows it is moving more than the average market does right now. This will also result in large price swings. The weak hands will fold, the bold and confident will flourish.
My recommendation is to either hold your current position, add to it, or initiate one. I will be adding to my current position by purchasing January 2013 $590.00 call options. I fully expect this stock to be above $650.00/share by this time, if not much higher.
If you have any questions, please leave a comment or e-mail me. Thanks.
Disclosure: I am long AAPL.