Written by Giorgio Ferrero, Oxen Group Contributor
Daily Data: Industrial Select Sector SPDR (NYSEARCA:XLI)
XLI is the SPDR Industrial ETF that trades well known industrial stocks. Since I've already covered XLP and XLE, I thought it appropriate to search the Feb-Apr option expiration date returns of the top 10 holdings in XLI. As usual, my goal was to find any seasonal return patterns for us to exploit in the 10yr Feb-Apr option expiration time frame. The company's covered are General Electric (NYSE:GE), Caterpillar (NYSE:CAT), UPS (NYSE:UPS), United Tech (NYSE:UTX), 3M (NYSE:MMM), Union Pacific (NYSE:UNP), Boeing (NYSE:BA), Honeywell (NYSE:HON), Emerson (NYSE:EMR), and Deere (NYSE:DE).
The results of my finds are as follows:

The table above shows the absolute best/worst returns for the top 10 holdings in XLI. Based on the 10yr best/worst returns, I have estimated the max high/low price of each stock for Apr'20. This is not to be understood as to where I think the stock will go by Apr'20 but instead where I do not think the stock will go by Apr'20. In order for any of these stocks to reach my estimated max high/low prices on Apr'20, investors would have to show an unprecedented about of buying/selling to break the 10yr max return range.
To save you time, I added the average return to the worst return (highlighted below). This column will help you identify which stocks performed the best relative to their drawdowns during this period.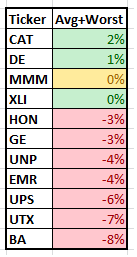 For trade ideas I would strongly suggest looking at the tickers in the green having positive Avg+Worst return characteristics. As you may conclude CAT and DE have been the outperformers among these 10 companies shown.
Suggested Trade: John Deere
John Deere, the capital goods company that is best known for building green tractors for farmers just beat EPS estimates by 4.83% on Feb'15th. Revenue estimates were also surpassed by 4.15%. The company, accordingly, gave a positive outlook for 2012 by saying farm machinery sales would increase by 10, and 18% for forestry and construction equipment. After earnings, UBS defended shares of John Deere; however, a day later, Wells Fargo downgraded the stock on Feb'16 to "market perform" from "outperform" citing cash flow concerns. Wells Fargo dropped the price target from a potential high of $96 to a potential low of $90. Based on the technical data above, I think John Deere will perform quite well for the next two months regardless of this downgrade. In fact, with an estimated max low of $88.15 for Apr'20 the shares are a buy right now! As attractive as the Apr'20 87.50/85 bull put spread looks, I tend to trade conservatively. I believe the lower strike spread should be initiated since we're in a period where the market may decline soon. Unfortunately, DE does not have a low beta (1.5) and a market downturn could hurt the stock. Based on the estimated max high/low for Apr'20 and technicals suggesting strong support at $80/share I suggest the following trade: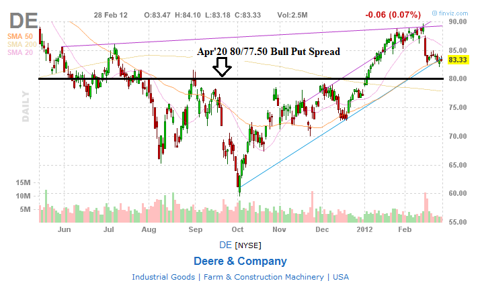 Suggested Trade: DE - Sell Apr'20th 80/77.50 Vertical Put Spread (Bull Put Spread)
(Sell 80 Put/Buy 77.50 Put)
Size - 6.8% of Giorgio's Corner Portfolio Size = (3 Spreads)
Entry: Sell Limit: 0.60
Stop Loss: 1.30
Exit Price: 0.00
Max Return: 31.57%
(Note: Return calculation does not include commission; Max Return is calculated as Return at Risk based on my entry not Return on Margin)
We may enter this trade soon as I really like the risk reward of this trade. Currently even the Apr'20 77.50/75 bull put spread is paying 19.04% over this 2 month time frame.
Charts are from Finviz.com
Disclosure: I have no positions in any stocks mentioned, but may initiate a long position in DE over the next 72 hours.
Additional Disclosure: I do not own any investments in GE, CAT, UPS, UTX, MMM, UNP, BA, HON, EMR, or DE. I own long shares of BIDU. I'm short shares of VXX, TVIX, GLL, GOOG and ZSL. I own bear call spreads on SPY, VXX, GLL, and ZSL.