There were several controversial articles written a couple weeks ago with titles that all said basically the same thing: "The Smart Money...... is selling Sirius XM (NASDAQ:SIRI)". However, when you actually looked at the list of "sellers" you see that many were actually buyers. One of the first articles that caused all these spin-off stories was titled "Sirius Stock Gets Dumped by Wall Street Bigwigs":
Here is a list of some of the more notable hedge fund investors and what they did with their Sirius XM positions during the fourth quarter: (the hedge funds listed below cumulatively added 18.7 million shares during the quarter).

Steven Cohen, SAC Capital Advisors -- The hedge fund, run by Steven Cohen, slashed its stake by nearly 75%, selling 19.9 million shares. That left him with a stake of just over 3.5 million shares as of the end of December.

Asian Century Quest Capital -- Asian Century Quest Capital isn't one of the more well-known hedge funds, but this Asian-oriented investment manager more than tripled its stake in Sirius, acquiring 14 million shares. That increased its stake to 20 million shares.

Asian Century is a New York-based hedge fund that primarily focuses on Asian equities, so adding a huge position in Sirius is noteworthy for the company.

George Soros, Soros Family Fund -- George Soros' family fund had a tiny position in Sirius, but did sell all 34,300 shares it had in its portfolio.

Soros has retired from running other people's money, and now manages family investments only.

John Thaler, JAT Capital -- John Thaler's hedge fund has been known to love high-flying growth stocks, so the reduction of his stake by 30.5 million shares is something of interest to note.

John Griffin, Blue Ridge Capital -- Blue Ridge Capital, which seeks absolute returns by using a long/short strategy, initiated a massive position in the stock, purchasing 55.4 million shares.

Paul Tudor Jones, Tudor Investments -- Paul Tudor Jones, one of the most experienced investors on Wall Street, added 1.95 million shares to his Sirius position, bringing it to just over 2 million shares.

Ken Griffin, Citadel Advisers -- Ken Griffin, the famed hedge fund manager of Chicago-based Citadel Advisers, cut his stake in Sirius by nearly two-thirds, selling 2.2 million shares. That left him with 1.1 million shares at the end of 2011.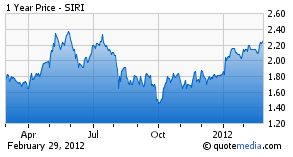 For those of you that regularly read Sirius XM articles, you already have seen that list, and commented accordingly on many of the articles. The funny thing is that of the seven people listed, only four sold Sirius stock, and three of the investors on the list actually added stock to their positions. It is amazing to me that many other readers looked at the different article titles and assumed that the list contains only "Big Wigs" that sold Sirius stock.
Now there is a new idea circulating that maybe Liberty Media (NASDAQ:LMCA), a 40% owner of Sirius XM might be teaming up with "partners" who are buying the company secretly and will later sell to Liberty, so that they can secretly increase their share to 51%. If this is true, we need to look at who is buying Sirius, not who is selling. According to Barrons.com these are the top institutional and mutual fund owners of Sirius and the changes made in their position during the 4th quarter:
Mutual Funds That Own SIRI

| Name | Shares | Change |
| --- | --- | --- |
| American Funds Growth Fund of America | 95,340,000 | 0 |
| Hartford Capital Appreciation Fund | 52,316,200 | 0 |
| Vanguard Mid Cap Index Fund | 44,804,134 | (769,783) |
| Vanguard Total Stock Market Index Fund | 44,756,333 | +1,314,754 |
| Fidelity OTC Portfolio | 43,645184 | (839,200) |
| PowerShares QQQ Trust | 42,920,885 | +4,539,201 |
| American Variable Insurance Series GF | 41,250,000 | 0 |
| Vanguard Extended Market Index Fund | 26,453,160 | (885,708) |
| Hartford Capital Appreciation HLS Fund | 23,436,730 | (1,109,345) |
| CREF Stock Account | 12,957,743 | (422,016) |
Institutions That Own SIRI
Name
Shares
Change
Wellington Management Co. LLP
205,500,161
+83,497,727
The Vanguard Group, Inc.
161,638,764
+1,250,465
Capital World Investors
137,640,000
0
BlackRock Fund Advisors
128,683,249
+7,113,408
TPG-Axon Capital
108,500,000
+30,977,800
Fidelity Management & Research Co.
60,379,319
+21,282,859
State Street Global Advisors
56,414,981
(2,544,266)
Blue Ridge Capital Holdings LLC
55,374,141
+55,374,141
INVESCO PowerShares Capital
Management LLC
41,752,187
+1,195,364
JP Morgan Asset Management, Inc.
38,266,921
+10,095,149

+ the number of shares added Q4
(the number of shares sold Q4)
The other thing to notice on the charts above is the large amount of shares held by these top 20 owners. And when you look at Wellington adding 83,497,727 shares, Fidelity adding 55,374,141 shares, and TPG - Axon Capital adding 30,977,800 shares, it makes those four sellers in the above article look really small. George Soros selling 34,300 shares is newsworthy? Really? Compared to Wellington adding almost 84 million shares?
These additional shares brought Wellington to over 205 million shares, which is also over 5% of Sirius XM shares. Any of these top owners could be "silent partners" with Liberty. However, the ones who are not would be very protective of their shares if there were to be an unfriendly takeover. As I have said before in another article, I think John Malone is too smart to take on the problems associated with an unfriendly buyout.
Could this fear of a buyout be the reason for the millions of shares that have been sold recently by Sirius insiders? This is taken from a Seeking Alpha article on insider trading (see insider selling link below):
Monday, three insiders filed SEC Forms 4 indicating that they exercised options and sold the resulting 8.45 million shares for $17.8 million, with the large majority of the sales by President James Meyer (7.07 million shares) and EVP Dara Altman (1.09 million shares). This is in addition to the sale of 9.55 million shares that we reported just last Friday, so that in total insiders have reported selling 24.9 million shares in the last two weeks. In comparison, insiders reported selling 25.7 million shares in the past year.
Two things come to mind concerning these insider sales. The first most widely accepted reason is a perceived buyout by Liberty. This does not mean that these people know of a buyout for sure, but rather are covering their positions in case there is one. Obviously, if there is a buyout and Sirius stock were converted to Liberty stock, an option on Sirius stock might get complicated. There are some who will jump in and say that it would not be a problem. But I know from my personal experience of owning Liberty stock, when they announced changes in the stock symbols etc. due to a reorganization of their assets, I sold.
The second thing that comes to mind is these upper level Sirius managers may be sending Liberty a message. That message being that they do not plan to stay with the company if there is an unfriendly takeover. They might want their money ready to go, rather than stuck in some Liberty can of worms. Note that I say MAY. I have no information at all on the subject and this is pure conjecture.
As far as Mel's plan to sell half of his shares beginning in April. My first thought is that he thinks the stock price will be higher in April than it is now. And something that I did not know came out in the article mentioned above about insider selling:
Furthermore, even automated trades made under 10b5-1 have some informative or predictive value due to loopholes in the rule that, for example, allow the insider to cancel the trading plan without any penalty or legal liability. So, the insider could set up a 10b5-1 trading plan before they have inside information (for example, from a quarterly report and guidance) while retaining the option to later cancel the plan based on the inside information. So, in effect, the execution of an automated trade also carries some predictive value as insiders retain the option under the existing rules to cancel their trades without penalty or legal liability.
In other words, Mel can cancel his plan to sell his shares at any time. This gives him the best of both worlds. He can sell part of his stock (or not) depending how things are going with the stock price or a potential buyout by Liberty. As I have said in numerous articles in the past, "My money is on Mel". So I will continue to stay bullish on Sirius XM.
In summary, these Sirius shares in the tables above were purchased in the last quarter, and they are the most recent numbers available to the public. However, considering that the stock is up right now on high volume, we must all open our minds to the fact that the "real smart money" investors are still buying right now.
Disclosure: I am long SIRI.