In the biotech sector, it's rare to find a stock that doesn't feature clinical risk, provides cash-supported downside protection, has attractive drug optionality and a management team with a track record of returning value to shareholders.
We think Maxygen (NASDAQ:MAXY) is one such stock that deserves to be examined by most investors.
We have split our analysis into two articles. This first part discusses Maxygen's history, the company's current drivers and the contingent payment it may receive from Bayer Healthcare (OTCPK:BAYRY). In our second part, we examine the company's G34 drug, our valuation estimates based on a downside, base and upside scenario, and our conclusion.
History
Having originally gone public in 1999, Maxygen was unable to develop a series of blockbuster drugs as some of its initial investors had envisioned. Finally, in 2006, Lazard was hired to explore a sale of the company, but through the sale process, MAXY's board of directors realized that the more attractive value proposition would be to steadily monetize the company's various disparate assets, and brought in new CEO Jim Sulat to do that.
Over the next several years, MAXY steadily streamlined its collection of assets.
In July 2008, MAXY sold its hemophilia program assets to Bayer Healthcare for a $90 million upfront payment and a potential additional payment of $30 million if certain milestones are reached.
In September 2008, MAXY licensed its autoimmune asset MAXY-4 to Japanese pharma Astellas (OTCPK:ALPMY) in exchange for a $10 million upfront payment, potential future milestone payments, royalties and $10 million of committed funding for the program. On March 17, 2011 Maxygen announced Astellas was exercising its option to purchase the JV developing MAXY-4 for $76 million.
In May 2009, the Company gave biodefence company Cangene Corporation (OTCPK:CGNOF) a license for MAXY-G34 for the treatment of acute radiation syndrome (ARS) for a nominal upfront payment and up to a $30 million contingent license fee payable upon successful government contracting. The company also spun off its equity stake in Codexis, a biocatalyst business that now trades under CDXS. Management has also repurchased shares and paid out special dividends in order to return capital to shareholders.
Maxygen Today
Fast-forwarding to today, much of MAXY's assets have been monetized. Two remaining assets remain that can provide incremental value. At today's stock price, we believe that MAXY's equity holders will get their capital back even if these two remaining assets fail to be realized.
Before discussing the two remaining sources of incremental value for MAXY, let's summarize the cash-supported downside for the stock. In the table below, we add the liquid assets MAXY is currently carrying on its balance sheet, comprised of $160.7 million of cash and $2.2 million worth of stock of Codexis, and subtract MAXY's balance sheet liabilities and $8 million of estimated wind-down costs. Note that the $5 million if estimated wind-down costs are purely our own estimates.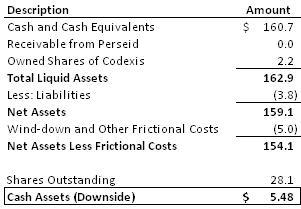 As we can see, MAXY appears to be worth at least $5.48. Compared to the current stock price of $5.51, that implies a downside of only 1%.
MAXY-VII
The first source of incremental value is Maxygen's MAXY-VII drug. As discussed previously, Maxygen sold the MAXY-VII drug to Bayer in 2008 for a $90 million upfront payment and a potential contingent payment of $30 million. That $30 million payout will occur if Bayer initiates a Phase II trial of MAXY-VII. The drug was designed for hemophilia patients who need factor VII to facilitate blood clotting when they have a contusion or a bleed. Novo Nordisk (NYSE:NVO) sells the only Factor VII drug in the world called NovoSeven and it generates more than $1 billion in sales per year. Maxygen's formulation is an improved form of Novoseven.
The compound was featured in Bayer's ASH presentation and below is commentary from a September 30, 2010 Bayer press release:
A phase I human study with the modified FVIIa product, BAY 86-6150, for effective treatment of bleeds in hemophilia patients with inhibitors was completed successfully. The goal of the study was to demonstrate increased thrombin burst generation and reduced clearance. A pivotal phase II/III study is in preparation now and may start in the next months. If the clinical program is successful, it would enable effective therapy for patients with inhibitors to FVIII or FIX.
We believe payment is likely and would equate to more than $1/share.
In our next part, we will discuss Maxygen's G34 drug, valuation and our conclusion.
Disclosure: I am long MAXY.