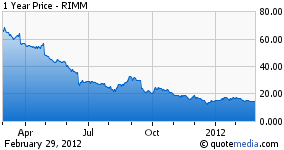 Research in Motion (RIMM) may have lost a lot of market share to Apple (AAPL) and Android in the U.S. market, but it is a force globally. It has a plan and if it executes it successfully, it should expand as a business globally and increase market share over the next couple years. Don't count it out just yet.
Research In Motion Limited designs, manufactures, and markets wireless solutions for the worldwide mobile communications market. The company, through the development of integrated hardware, software, and services, provides platforms and solutions for seamless access to time-sensitive information, including email, phone, short messaging service, and Internet and Intranet-based applications and browsing. Its products and services principally comprise the BlackBerry wireless platform, the RIM Wireless Handheld product line, software development tools, and other software and hardware. The company's BlackBerry smartphones use wireless, push-based technology that delivers data to mobile users' business and consumer applications. Its BlackBerry smartphone portfolio includes BlackBerry Bold series. (Description taken from Yahoo Financial Profile of Research in Motion)
If, as an investor, you have followed Research in Motion at all over the last year, you are not new to the fact that it has been dropping all through 2011 as Google (GOOG) and Apple cannibalized its market share bit by bit. Sterne Agee analyst Shaw Wu asserts in a research note:
"Our supply chain feedback is that BlackBerry continues to lose momentum to iOS and Android while Windows Phone appears to be gaining some traction. The company's higher-end BlackBerry phones, like the Bold 9900 and the Torch 9800 "are doing relatively better," but that demand for the rest of the line appears to be "below plan."
RIMM is losing ground in the United States as its U.S. smartphone market share dropped to 16 percent in the three months through December from 19 percent in the previous quarter. At the same time, Apple's share rose to 30 percent from 27 percent and Android's climbed to 47 percent from 45 percent.
Yet something interesting occurs when you leave the country. I went to Jamaica for work and discovered that everyone down there wants a Blackberry -- not an iPhone nor Android -- a Blackberry. BlackBerry demand has held up better in markets such as the Netherlands and the U.K. It has a larger market share in Europe, Aisa, the Middle East, and Latin America.
While RIM made its name by targeting Washington politicians and Wall Street bankers, Europe's portion of its sales has increased to about a third, said Matt Thornton, an analyst at Avian Securities LLC in Boston. ""The brand is still stronger in Europe than it is here."
There are two things RIMM will have to do well to keep its global market from being eaten away like it has been here.
New Version of Playbook Tablet
Known for serious, work handsets as compared to sleek Apple or Android smartphones tailored for Internet-on-the-go lifestyles, RIMM set out to rev up its BlackBerry and PlayBook lines with a tactic from Apple's winning playbook -- sexy, entertaining software applications.
BB10 Strategy
The company is focused on catching up to the 4G cellular movement that's seeing "LTE" networks deployed, by having a better phone that will attract customers: RIMM's strategy is focused on launching the BB10 platform on smartphones later this year in time for the rest of the world's LTE deployments. RIMM believes that BB10′s multi­threaded kernel will be a powerful point of differentiation against the numerous Android 4.0 phones, iPhone 5 and Lumia's that are likely to be in the market at launch date. RIMM is focused on innovating on the platform side, as well as the services side, but is also focused on developing a device that can attract customers by itself.
BlackBerry is the top prepaid smartphone or top smartphone overall, reeling off the Netherlands, the U.K., Spain as well as Saudi Arabia, Kuwait, the United Arab Emirates and South Africa. In order for it to keep market share and expand globally, it will have to compete neck and neck with iPhone and Android and it will have to hold its own. Research in Motion's success will continue to come in the global market, not the U.S. market.