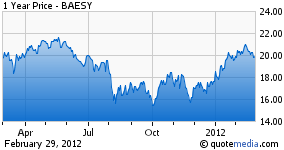 The reduction of U.S. defence spending is likely to start making an impact on all U.S. arms manufacturers, the next few years. The odd one out -- BAE Systems PLc (OTCPK:BAESY) -- has gradually diversified away from just military hardware kit to military services related activities which already accounted for 49 percent of sales in 2011.
Short introduction to the industry
The five largest global arms manufacturers generated total sales (including non arms sales) of $152bn in 2010, accounting for 37 per cent with sales of arms reaching $441bn in 2010 according to new data on international arms production released today by Stockholm International Peace Research Institute (SIPRI).
The top slots were unchanged from 2009 with U.S. firm Lockheed Martin (NYSE:LMT) the biggest, generating total sale amounting to $35.7bn in 2010 with 78 percent thereof generated by arms sales, British group BAE Systems at number two (2010 sales: $32.9bn; 95 per cent arms sales as share of total sales) and U.S. Boeing (NYSE:BA) ($31.4bn; 49 per cent), Northrop Grumman (NYSE:NOC) ($28.2bn; 81 percent) and General Dynamics (NYSE:GD) ($23.9bn; 74 percent) following.
2010 growth rate of 1 percent was significantly lower than in 2009, when it was 8 percent, which a spokeswoman of SIPRI believes was probably "not due to the financial crisis but rather because of the withdrawal of foreign troops from Iraq and the subsequent expected decrease in related equipment sales".
"The data for 2010 demonstrates, once again, the major players' ability to continue selling arms and military services despite the financial crises currently affecting other industries,"
To the extent arms makers are affected by economic swings, many are late-cyclical as they have long delivery times and long-running contracts with governments.
So how is BAE Systems faring?
Europe's largest defence contractor BAE Systems is the maker of such high quality equipment such as Challenger tanks, Tornado jet fighters, Astute class submarines and Queen Elizabeth-class aircraft carriers
Earlier in February it announced a worse-than-expected drop in sales, hit by reduced defence spending in the U.S.A. and the U.K. Headline sales fell by 14 percent in the 12 months ended December 31st, 2011, as defence spending fell in its largest markets, the United States and Great Britain.
The fall in sales in 2011 was mainly down to lower vehicle orders from the U.S. Army as it pulled out of Iraq and the loss of some contracts, and delays in changes to the contract to supply additional Typhoon fighter planes to Saudi Arabia.
Overall sales fell from £22,27bn (approx $35.2bn) last year to £19,15bn ($30.3bn) in 2011 due to a number of factors, including the lower level of selling and maintaining combat vehicles in the Land & Armaments business - sales at the unit fell 30 percent to £3.1bn ($$.9bn) last year - as the U.S. reduces its presence in Iraq and Afghanistan, as well as the impact of the UK government's spending review. BAE also experienced a delay in securing some of the contract changes to the Saudi Typhoon programme.
Earnings before interest, taxes and amortisation, excluding one-time items, fell almost 8 percent to £2.03bn ($3.2bn). The EBITA figure was slightly better than some analysts' forecasts of £1.9bn ($3.0bn).
Pre-tax profit was little changed at £1,493m ($1.8bn) from £1,453m, as BAE benefited from lower finance costs. Net profit of £1.24bn ($1.96bn) was up from £1.05bn ($1.6bn) in 2010 as operating costs fell 14 percent, while basic earnings per share (from continuing operations) increased from 27.9 pence to 37 pence.
BAE has raised its final dividend by 7.4 per cent to 11.3 pence from 10.5 pence last year, going ex dividend on 18 April and payable on 1 June,taking the total payout for the financial year to 18.8 pence.
2012 prospects and beyond
As the spending squeeze facing governments on both sides of the Atlantic is unlikely to slow anytime soon, BAE still expects earnings to recover in 2012 despite defence markets remaining tough.
Short term outlook, as per BAE Systems' Final Results announcement: "Whilst little sales growth can be expected for the group in 2012 in the current market conditions, modest growth in underlying earnings per share is anticipated."
BAE has become increasingly dependent on international business due to reduced defence spending in the U.S.A and the U.K. Also, the actual business mix is changing with BAE increasingly relying on its services business, which already accounted for 49 percent of sales in 2011.
BAE expects to conclude negotiations with Saudi Arabia over the price for remaining Typhoon jets in 2012, and an accord may include additional Hawk orders, according to Chief Executive Ian King.
The successful conclusion of negotiations about the key Saudi Arabian fighter-jet contract would underpin modest earnings growth this year.
King also confirmed that Eurofighter remains in the running for a multibillion-pound contract from the Indian government, even though New Delhi has chosen France's Dassault Aviation, the maker of the Rafale fighter jet, for exclusive final talks.
Electronic warfare to BAE's rescue!
According to PwC some $60bn has been spend on cyber security in 2011, worldwide, and this is expected to grow at a rate of 10 percent for each of the next three to five years.
Governments, companies and individuals are under threat of cyber attacks from terrorists, foreign intelligence agencies, organised criminals and bedroom hackers. It has been estimated that cyber crime cost the UK economy £27bn a year and rising.
Cyber security and intelligence is clearly one of the few areas of the defence industry where developed world governments are not cutting back, instead increasing their budgets.
BAE Systems recognised early on the shift in modern warfare from defence hardware to defence software when it spend more than $500 ($790) to acquire Detica in 2008 and it has spend the same again on four follow-up acquisitions during the last two years, meaning that its cyber security division now makes up more than 7 percent of sales while profits were up by 30 percent to $218m.
Importantly, during 2011, BAE's cyber security division generated approximately 50 per cent of its business in the commercial sector.
BAE Systems believes the division could double in size during the next three to four years. This year the division is expected to grow by as much as 10 percent.
Disclosure: I am long OTCPK:BAESF. We run the Dividend Income Portfolio, which owns a shareholding in BAE Systems Plc, purchased when the shares were historically undervalued as per our valuation methodology