By Tim Kildaze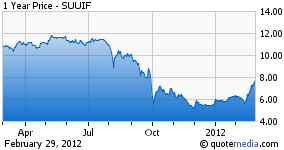 Superior Plus Corp.'s (OTC:SUUIF) downfall was driven by an all-too-familiar theme: too much debt.
After trading north of $14 last spring, the stock went into freefall and ended up near $5.50 by December. Much of this nose dive was driven by slashing the company's ever-important dividend, cutting it first in February, and then slashing it in half at the end of the third quarter.
Though it hurt, Superior Plus felt like it had no other option. At the end of 2010, the company's debt to earnings before interest, taxes, depreciation and amortization was 6.1 times. That figure started falling last year, but not fast enough, and management, including recently appointed chief executive officer Luc Desjardins felt an aggressive campaign against this leverage was needed.
After slashing the dividend to repay money owed, estimated total debt to EBITDA in 2012 is pegged at 4.6 to 4.8 times, and the company has a target of 3.5 to 4 times.
"We are intently focused on our debt and debt management and our capital structure," chief executive officer Wayne Bingham said on the company's recent quarterly earnings call.
For a while, investors were terrified that more dividend cuts could come, but they appear satisfied with management's latest assurances that the current distribution is stable. "There is no plan to reduce the dividend," Mr. Bingham said. "We are extremely comfortable with the 50 per cent payout ratio."
Feeling more confident, investors have tepidly started buying back in, and the stock shot up 20 per cent in February.
Aside from debt, the new CEO is reviewing each of the company's business lines -- from propane distribution to construction products -- to churn out higher profits. The company has also introduced a shareholder rights plan just in case any of its rivals or strategic buyers want to pounce when Superior Plus's stock price is so low.
Overall, the company said it is working on building a "customer centric" focus throughout the firm, and there is all this talk about increasing efficiency. For example, the trucks today are used on average of eight or nine hours, and the new CEO believes than can be utilized more than that.
Still, Superior Plus has had to restructure somewhat, and its construction products division, facing a weak U.S. housing market, had to endure a restructuring charge last quarter. The firm also said it will conduct "a comprehensive review of talent to ensure Superior can execute its business plan."