By Parke Shall
News continues to break about Macy's and the potential quest to get the company monetized. As the story progresses, we update our analysis and reiterate that the company has significant upside from here. Today, we want to explain why shares have 30% upside and will likely find themselves in the $40 range before all is said and done.
On Friday, news broke early in the morning that Hudson Bay may have approached Macy's (NYSE:M) with a potential take over offer. This news came after it was reported earlier in the week by the New York Post that CEO Terry Lundgren was looking to potentially sell the company instead of relinquishing control of the Board of Directors. WSJ had the scoop:
Canada's Hudson's Bay Co. has approached Macy's Inc. about a takeover, people familiar with the matter said, as the biggest U.S. department-store chain grapples with disappointing results and restive shareholders.
The NY Post article stated that Lundgren considered an outright sale of the company versus the alternative, which would have been letting activist investor Starboard Value wage a proxy fight and potentially get representation on the board. We wrote early last week that we were confident that this was a "win/win" for Macy's shareholders, as either one of these scenarios would result in price appreciation from near 52 week low levels around $30.
We believe that Macy's will wind up going in one of these two directions, possibly sooner than most people think.

1. If the company does get put up for sale, it is hard pressed to engineer a scenario where they cannot command a significant premium to today's market price, given the estimates for its real estate.

2. If Starboard Value gets board representation, they are going to work to unlock the real estate value in a method that they deem fit, a action that will likely also administer significant upside to shares.

With the stock trading near 52 week lows and the company's asset-based unchanged from Starboard's original presentation where they put a value on Macy's of over $100 per share, we think that regardless of which two scenarios winds up happening, Macy's stock is heading significantly higher. We bought stock and calls at our office this morning.
The details on the Hudson Bay potential takeover approach were few and far between. Nobody was able to report a price that the company may have considered and several reporters went back-and-forth about whether or not Hudson Bay, a company with very little cash and a significant amount of debt, would even be able to finance the deal.
As you can see from the chart below, Macy spiked early in the morning and then sold off slightly heading into the end of the session.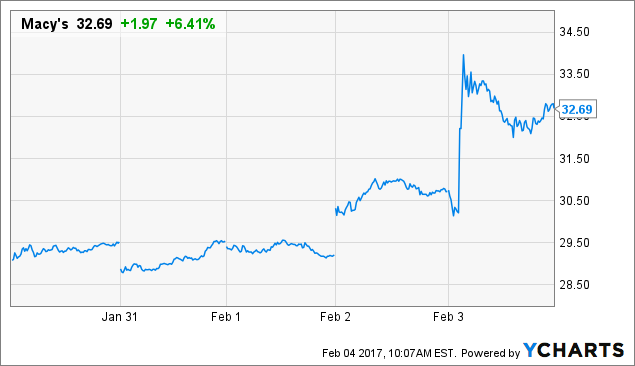 The purpose of us writing today is to reiterate our sentiment from early in the week last week. We think that the news breaking of this Hudson Bay takeover bid is a positive for several reasons, regardless of whether or not Hudson Bay can actually get a deal done.
The first reason it was a positive is because it shows interest. The one thing that doesn't seem to be in dispute about this report is that Hudson Bay is, in someway, interested or considering a bid or a joint venture with Macy's. Even though the interest was described by WSJ as "preliminary", that doesn't matter. This tells us that there is at least some interest out there and that there is likely going to be a bid for the company available one way or another, although pricing remains the big unknown.
The second reason that this is a positive for the Macy's case is because there have now been two headlines about a potential sale that have crossed the wires last week. This should alert anyone else with the slightest bit of interest in Macy's to the fact that the time to move is now.

Those that read us know that we have been critical of some buyouts in the past. Notably, we have given grief to companies like Yahoo! (NASDAQ:YHOO) and Pandora (NYSE:P) who have either made a mess of trying to sell themselves or have had botched take over bids altogether. Macy's is a completely different scenario and we look at Macy's as a real commodity that is going to generate some actual demand, now that it has been reported that they are looking to sell.
It is true that the state of brick-and-mortar retail is in secular decline. That would cause many people to shy away from this scenario. People are going to, perhaps wrongly, assume that because Macy's is in brick-and-mortar retail that they are not going to be worth what they are currently trading at and that there is no way that they could command a premium to that price in a sale or joint venture situation.
This is where we completely disagree. Despite the fact that it is in brick and mortar retail, the company's real estate portfolio, valued at between $15 billion and $20 billion gives it a real foundation of tangible assets to rest on. In addition, Macy's is one of the most iconic brands not only in retail, but in America. The name itself has value and is different from brands like Sears, as Macy's has somewhat of a connotation of upscale to its name. We think that owning the name itself also likely has some appeal to bidders.
Finally, we can't forget that the company is still hugely profitable right now and that, despite lowering guidance over the last year, still generates cash and has a relatively manageable debt load. When trying to debunk a potential sale, you have to look at the balance sheet of the entity that may be acquired. Often times, companies with a significant amount of debt that are burning cash are unappealing targets for takeovers despite rumors sometimes surfacing. Macy's has appeal to a potential buyer.
Let's look at the valuation. Right now Macy's has an EV of about $17 billion, which essentially would give you the core cash generating business for free if you were to acquire the company simply for its real estate. On an earnings basis, the company trades at a modest 10x forward earnings now, even after the 10% spike in the price on Friday. The company also trades at just 5x its CFFO over the ttm period, which was about $2B. An acquirer could buy for the real estate here and essentially get several years of decent cash generation as a call option kicker for free.
Using an extremely conservative DCF model, we have modeled out the next 5 years of FCF for Macy's, assuming terrible attrition and an 8% discount rate. There's at least $2.3 billion (about $7.70/share) in additional value to M from its cash flow stream going out 5 years. If we model out 10 years, with slightly less attrition and a discount rate of 6%, there's an aggressive case to make for there being more than $12/share in value from the company's cash flow stream. We think this value would allow a bidder to propose a premium to the company's current valuation and still offer numerous scenarios where an acquirer could make significant sums of money after dealing the company's real estate.
What a purchaser looks for when buying a company like Macy's is the ability to extract value from the company that is in excess of what they pay for it. With Macy's iconic brands, its portfolio of real estate assets and its years of cash generation that it has left, we think this is a very doable task and we think this will give Macy's appeal to a potential acquirer. We also think that the conservative nature of the company's valuation as it stands now will easily allow Macy stock to appreciate closer to, and eventually above, $40 in the event of any buyout or real estate joint venture transaction.
Disclosure: I am/we are long M.
I wrote this article myself, and it expresses my own opinions. I am not receiving compensation for it (other than from Seeking Alpha). I have no business relationship with any company whose stock is mentioned in this article.