The idea of buying low and selling high was probably the first investing lesson you learned. And what quicker way to find a low stock than scouring the 52-week low list?
Before you think about buying companies nearing their lows, be aware that the 52-week range is an arbitrary time frame not built around something with statistical significance - but it comes from the psychology of trading. Stocks often trade lower and lower for years before reversing, which might make buying 156 week lows a more sensible choice. Don't forget the second half of the adage to 'sell high'; we surely don't want to buy low and sell even lower. Lastly, when shopping for discarded items in the discount bin you need to be prepared to hang on and take a loss while sentiment attempts to turn around.
What are some stocks trading near lows worth considering?
DeVry (NYSE:DV) - Getting a good education is tough and investors with DeVry have also had a tough year watching share prices peak around $65 and then watching them fall to half that a couple months back. Is now the time to buy DeVry?
Over the past few months the earnings projections for 2012 and 2013 have dropped. But if you compare this against the current share price we have decent value with a price-to-earnings ratio of 10. How does this stack up historically? Look back over a decade of trading and the price-to-earnings ratio in the indicator box underneath - until 2010 the lowest PE was roughly 20.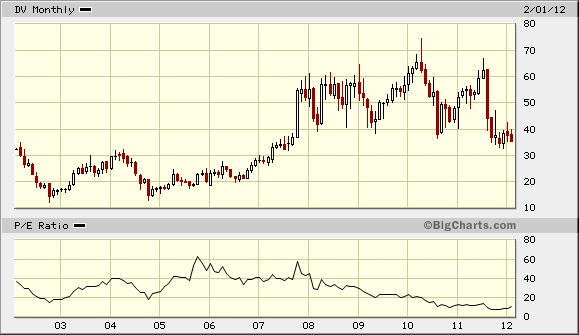 Granted, they had higher growth prospects back then but I find a PE of 10 acceptable on a relative (revert to the mean) and absolute basis. Boost the dividends with a 50% payout ratio and give a 5% yield while we wait on zero growth prospects. Give us an 80% payout and turn this into a high-yielding dividend stock and watch the investors return to the table. What is up with less than a 1% yield based on an 8% payout ratio?
The long-term price action is a little more alarming with the trend still being downward. We are testing a support level at $35, which might make it a good time to take a small nibble but my gut tells me we will see the $30 - $32.50 range (or lower) before we get a big upside. I like DeVry and think it is a buy over the next 3 - 6 months but don't buy it like a drunken sailor either.
A word of caution: if large negative earnings surprises with further downward estimates give this a forward PE ratio of 15 or higher with $30 share prices - bail. At a forward PE of 10, I am interested based on the possibility of what they might do with earnings (as in dividends), but caution is still warranted.
Exelon Corporation (NYSE:EXC) - I am a fan of utilities in general due to their defensive nature, strong yields and historical performance over the past decade. Is Exelon a utility company worth our investment dollars as it trades down from a $45 high near the annual lows of $39 per share? Before we go any further we should consider dividend consistency and payout ratios since 2005.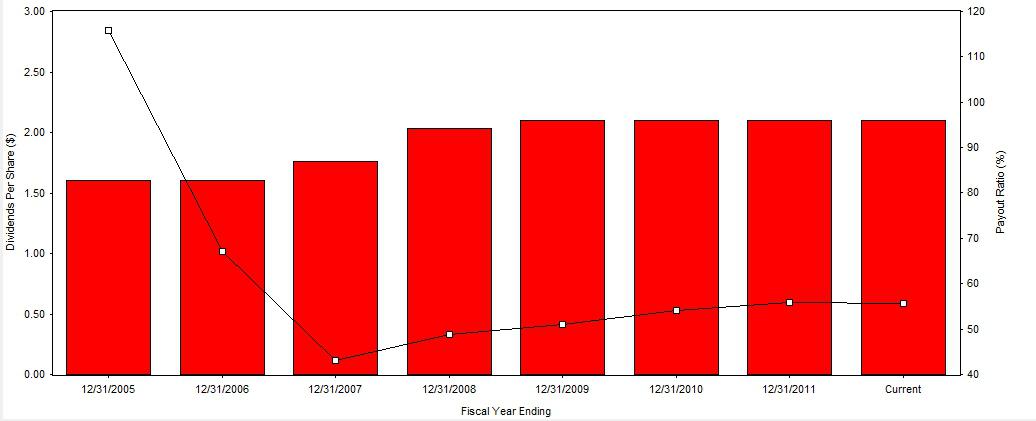 The chart above displays the relatively low payout ratio of EXC for a utility company with a 5.4% yield. This is head and shoulders above the average sector yield of 3.4% as reported by the iShares Dow Jones U.S. Utilities Sector Index Fund (NYSEARCA:IDU). However, earnings are taking a bit of a dip and are forecast to go below $3 EPS next year. Nonetheless, EXC has the ability to hold the dividend at $2.1 at a higher payout ratio. There is room to play here.
Price action isn't pretty as shares have been trying to hold their ground at $39 for the past month and a half. My take on this stock is to take regular bites out of it over the next year - possibly buying in waves every 3 months. Based on the future earnings expectations I would like to buy around $30 or less, which would give this an earnings yield of 10% annually (e.g. 6% in dividends and 4% for share price) but who knows if it will go that low. I suggest buying some now and be prepared to possibly increase your position at lower prices.
Monster Worldwide (NYSE:MWW) - I'm not entirely sold on the idea of making money through online advertising as my article highlighting the danger of Facebook's IPO reveals. The problem with MWW is that it has not proven long-term stability in either revenue or earnings. Annual operational cashflow is likewise all over the board. Look at it on a per-share basis since 2007:
2007: $2.09/ share
2008: $1.87/ share
2009: $0.37/ share
2010: $0.77/ share
2011: $1.23/ share
With both trailing and forward PE in the 15 - 16 range I simply can't see the case to buy this now. While you cannot compare this with LinkedIn (NYSE:LNKD) - which I wouldn't buy and hold either - some investors might be looking at the forward PE ratio of 80 and the $87 price tag of LNKD and feel that MWW is a trading at a steep discount.
The difference is that LinkedIn is all the rage in the business community right now and is garnering much attention as a hot IPO with rocketing memberships. As a price action trader I'd almost be tempted to 'play the ranges' on LNKD with a possible fade right now and buying on the channel bottom, which is also a support level around $70.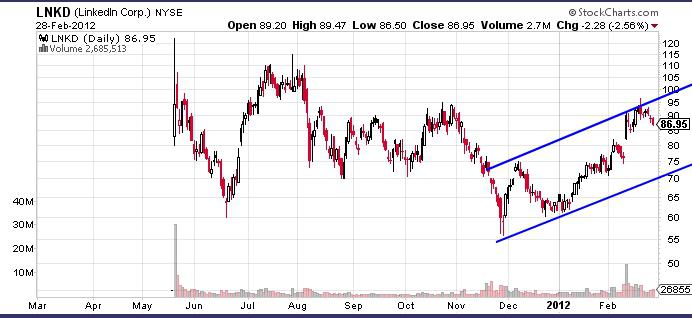 On the other hand I find the prospects of MWW to be frightening with lower prices with the only bright spot being the psychological support of $6.25 - $6.50, yet I need to see some fundamental pressure if I am to take a high risk position in an online business with volatile earnings.
(Click charts to enlarge)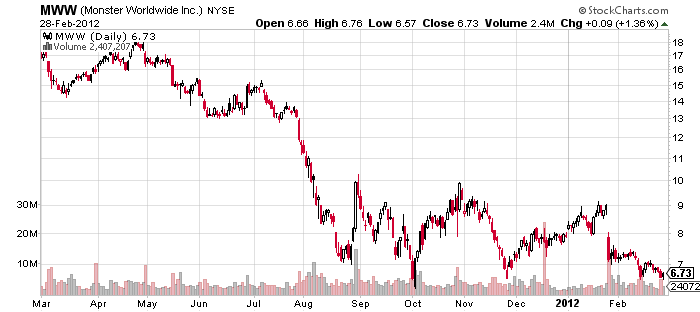 I'm passing on MWW and considering short-term trading action on LNKD over the next few months. Yes, there are some good buys in the 52-week low list if you trade with a critical eye and are willing to cut your losses when wrong.
Disclosure: I have no positions in any stocks mentioned, and no plans to initiate any positions within the next 72 hours.