Background
When I first became interested in BDCs, I thought that Apollo Investment Corp.'s (NASDAQ:AINV) debt-based investments would provide a more stable income and a bit of protection (by comparison to an equity-filled BDC) in case of adverse market conditions. After all, bond holders get paid before shareholders. According to my records, Apollo paid me $0.52 per quarter from my 2007 purchase until it was halved in 2009, then in October of 2009 set to $0.28 per quarter; its next-announced quarterly dividend is $0.20. While the share price unhappily dropped significantly from its end-of-2007 levels, similar fates befell a number of companies over the period of the crash. It's easy to complain about this performance, or the share price, but some perspective is in order. For example Apple (NASDAQ:AAPL), which toward the close of 2007 kissed $200 for the first time, traded under $80 after the crash - and it wasn't even a financial:
(Click charts to expand)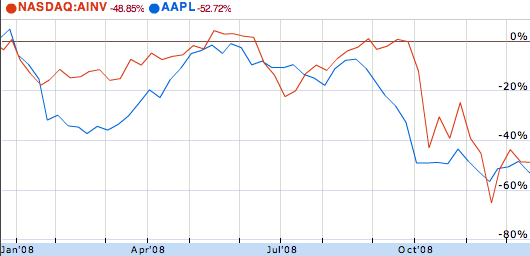 Thus, the 2008 crash affected stocks broadly, well beyond those associated with the income-unverified home loans that set off the landslide. In the general sell-off, stock prices provided a poor source of information regarding the quality or prospects of the underlying businesses, making other measures of performance essential for the assessment of companies' management and financial performance. Due to the combination of the recent implementation of FAS 157 and the skepticism of markets in the value of illiquid private companies and their debt, not just Apollo but all the BDCs seemed to have suffered terribly in terms of their asset value per share. Value per share caused a particular crisis at American Capital (NASDAQ:ACAS), where tangible asset covenants required the company to have assets exceeding the levels assigned by the market; suddenly, the company faced not only a NAV collapse (without a market for illiquid little portfolio companies, and in a general environment that punished illiquidity, what values would FAS 157 permit?), but in addition a NOI emergency: all the company's debt began charging default-rate interest overnight due to the breached net asset covenants (notwithstanding consistent, timely payment). During the first quarter of 2009, American Capital traded as low as $0.59 per share on fears that its FAS-157-driven negative earnings proved it couldn't support its defaulted debt and the company's entire portfolio was headed into a forced sale on the steps of a bankruptcy court.
Meanwhile, Apple - which suffered a near-identical price drop as the Apollo Investment - gained share in the PC market and continued to build new stores with outstanding sales per square foot, while selling a cellular telephone the global demand for which promised at least a few more good years of strong global growth. General Electric (NYSE:GE), owner of the nation's #6 sub prime mortgage lender, was crushed with financial stocks even though much of its financial exposure was to better-vetted risks such as its own customers borrowing to purchase GE products with loans secured by the GE products. General Electric shares that closed 2007 near $40 traded in the teens, then below $10. Its slaughter can be viewed as similar to Apollo's: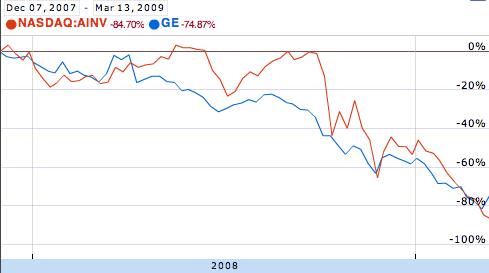 With all the post-crash opportunity on hand - and with much of investors' most recently deployed capital underwater with unrealized losses - one could hardly be faulted for wondering what opportunities to pursue. Stick with a stock that's down, but still has a dividend? (Even a reduced dividend?) Look for a stock even more pummeled, to benefit from outsized recovery? To follow Warren Buffett's maxim (to be greedy when others are fearful) while wary about being the next chump to buy the dying shares of a ruined company, one must develop an appreciation for the factors that make an investment attractive, and take care to migrate capital only into more-attractive opportunities.
And speaking of opportunity ....
Is Issuance Opportunity?
Apollo Investment Corp. wasn't the only financial company to issue equity issuance as part of an emergency rescue effort during the aftermath of the 2008 financial meltdown. Moreover, investors should certainly not view equity issuance as a stand-alone predictor of doom: worthy Warren Buffett issued shares of Berkshire Hathaway (NYSE:BRK.B) to enable a tax-free exchange in the completion of the Burlington Northern rail business, and Burlington Northern is providing record earnings (pdf) to Berkshire - and as unstoppable macro forces (e.g., population growth and its forces) drive demand for efficient rail transport, it will provide even more. American Capital Agency Corp. (NASDAQ:AGNC) has demonstrated for years that issuing new equity at prices above net asset value can grow earlier investors' NAV (without exposing them to pre-exit taxes at either the personal or corporate level; NAV accretion from over-NAV issuance isn't a taxable event!). American Capital Mortgage hasn't issued more equity yet -- but it will, duplicating its sister company's NAV-accretion strategy for the benefit of its shareholders and its manager, American Capital . Given that Apollo's shares (at this writing, last closed at $7.11) trade below the value of the company's net assets per share (last reported at $8.16), the effect of Apollo's practice of issuing near-market equity appears to be to dilute existing shareholders' right to receive the benefit of investments made with their earlier-contributed money. The track record of Apollo's NAV is in the wrong direction: the 2011 year-end NAV of $8.16 is well under its March 2011 NAV, which was north of $10.
During the economic collapse, we sort of expect companies to lose book value (unless you are Berkshire Hathaway, and grew it, but more on that in another part of this series). By contrast, one expects quality managers to generate asset growth when the market isn't in full route. For example, graphs generated by YCharts illustrate how American Capital (blue line) and its managed fund American Capital Agency Corp. (red line) have trended NAV strongly up since GDP turned positive in the end of 2009, whereas Apollo (orange line) has - despite the return of growth in the broader economy - decreased NAV per share and thus the capital from which each share's income is derived:


Including American Capital in this graph is unfair on two counts. First, unlike the other two stocks, it has not paid a dividend over the period depicted in the graph. Second, American Capital contains substantial equity investments, the "fair value" of which is more dramatically affected than the various categories of debt held by each of the three companies. The fairest comparison to be had in the chart is therefore between the two high-dividend-paying debt-holding investors, Apollo and American Capital Agency. The inclusion of American Capital Ltd. in the graph is to illustrate the scale of the outstanding performance at American Capital Agency: it has grown NAV like a company full of rebounding equity investments while at the same time providing shareholders with the double-digit dividend one would expect at a leveraged bond fund - all without the benefit of equity positions to buoy asset values as the markets recover. This performance is entirely due to the success of its manager, American Capital Ltd., which is also the manager of American Capital Mortgage Investment (NASDAQ:MTGE). Part of American Capital Agency's solid growth in assets per share is a result of repeatedly issuing new shares above net asset value - providing tax-free NAV growth to all the earlier shareholders.
Read Part II to see how Apollo's management is being overpaid for what it stands poised to deliver shareholders.
Disclosure: I am long AAPL, ACAS, AGNC, BRK.B, GE, MTGE.
Additional disclosure: I no longer have a position in AINV.