We all know the analysts love Apple (NASDAQ:AAPL), and how could you not -with the impressive gains the stock has been posting? There is no love for Microsoft (NASDAQ:MSFT) though. It was once the corporation to beat and the sure bet in the tech world. It has since been bullied by both Apple and Google (NASDAQ:GOOG), which have both taken their share of business away from Microsoft.
The search engine market has been dominated by Google, which holds the vast majority of search traffic. Recently, Microsoft has been steadily gaining market share, particularly in the U.S., with its Bing search engine. The more notable battle, however, has been going on between Apple and Microsoft for decades now.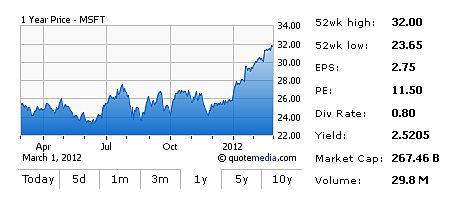 In the 80's and 90's people loved Microsoft and its stock price had huge gains from the mere few cents it first traded at. With all of the success, the software giant soon became a hated company and although it still continues to make money, it hasn't been able to impress Wall Street by posting dominating numbers like both Apple and Google. The stock price has suffered because of this and it has been somewhat flat over the past decade. It currently trades near $32, around its 52 week highs and well up from its 52 week low of $23.65. The stock is also near its median target price of $33. It has already made big gains and unless analysts revise their outlooks, we may soon see it being downgraded. So is there any room to move? Will Microsoft have legs or will it forever stay in the shadows of its rivals Apple and Google? More importantly, is it a worthwhile buy?
When considering whether or not to buy Microsoft it is important to consider not only the stock price and its chances of rising, but also the dividend yield. A company that pays a steady and healthy dividend can be an attractive investment for savvy investors. Having steady gains with low risk is a good way to increase investment yield. It's also a nice way to balance out a portfolio that holds riskier, more volatile stocks. In terms of dividends, Microsoft paid a trailing dividend of $0.72 (2.3%) and has a forward dividend rate of $0.80 (2.6%). The dividend payout has a 5 year average of 2% and it has been increasing with the steady earnings and revenue increases Microsoft has been posting. The company clearly knows how to make money, but that's not always what Wall Street looks for. Investors are all about finding that new wave to ride. Even if you are doing well, traders want you to do better.
Revenue for Microsoft is expected to come in at close to $74 billion this year, up about 5.7% from the just under $70 billion revenue it posted last year. Analysts expect revenue to continue to climb next year to almost $80 billion, which is a gain of about 8%. Earnings er share are expected to fall short of the company's estimated $2.76 with analysts predicting it to remain flat this year at $2.69 per share. This is likely due to new initiatives and investments made by Microsoft in order to establish itself as a big player in the growing smartphone market and also to regain market share in other areas like search engine and gaming. The company is actively working with Samsung (OTC:SSNLF), a leading electronics manufacturer, to develop and promote Microsoft products for the smartphone market. The company has often beat expectations though and analysts do have faith that the earnings will rise to $2.99 per share by next year.
In general, the outlook for Microsoft looks good as it is having success in adapting and being competitive in new markets. The company is a leader in Cloud Computing, which has more flexibility and lower costs, and it has also seen much success in gaming with its XBox products, particularly the hands-free, add-on Kinect which had record sales for an electronic device. The 60 day period saw 8 million units sold which topped both the iPhone and iPad. The product has also opened up a whole new realm of possibilities for the tech giant. Although Microsoft does have some failing products, it has adapted and reshaped itself to be innovative and get back into the lead. The company is now a dark horse that may come into some bigger payouts in the longer term once its new products and technologies start paying off. Currently, it is still providing a return on assets of almost 17% and a return on equity of nearly 42%.
With a valuation of around $230 billion and a market cap of $265 billion, the numbers might not make it seem like a good investment. Looking at the steady earnings and revenue increases along with the new products that Microsoft is developing, it seems the stock price will have some upside as a longer term investment. While holding onto it you can also reap the rewards of steady dividends.
Points to Consider:
Microsoft pays out a 2.6% dividend

Revenue and earnings continue to grow steadily

The company is investing in new technology and adapting to the new market

Microsoft has recently seen success with new products and continues to develop more

Target price is $33, but trades around $32
As always do your own due diligence, but if you are looking at a long-term investment that will give you some dividend return along the way, Microsoft is a stock to look at. The company has been underperforming for a long time now and seem set to break out soon with its new and innovative products being developed internally and in conjunction with other companies.
Disclosure: I have no positions in any stocks mentioned, and no plans to initiate any positions within the next 72 hours.