Once biotech companies have achieved FDA approval for their drugs, they become attractive to larger companies who are looking to increase sales and earnings. FDA approval provides the clearance to market and sell drugs in the United States. Larger pharmaceutical companies will look for new opportunities among the smaller biotechs as acquisitions or through licensing agreements.
Here's a look at a biotech company that has achieved FDA approval in January 2012 that should experience stock gains due to its newly marketed drug. Being acquired by a larger company would be a plus for its stock.
Vertex Pharmaceuticals (VRTX) had its drug Kalydeco approved by the FDA for a rare form of cystic fibrosis. Cystic fibrosis affects about 30,000 people in the United States. About 4% of those with CF (1,200 people) have the genetic mutation that Kalydeco is targeted for.
FDA Commissioner, Margaret A. Hamburg M.D. stated that Kalydeco is an excellent example of personalized medicine for a specific genetic makeup. This drug is a breakthrough therapy for those with cystic fibrosis because it is the first drug to target the defective protein that is the underlying cause of CF.
Since Kalydeco is considered an orphan drug because it affects a small percentage of the population, its cost is high. The cost of Kalydeco is $294,000 per year, so if 1,200 people were treated, sales for Vertex would total about $352 million.
Vertex has $968.9 million in total cash with $400 million in debt. It has an operating cash flow of $143.74 million.
Vertex has five upward earnings revisions for 2012 and 4 for 2013. These upward earnings revisions typically result in positive earnings surprises. It is expected to grow earnings annually at 176% for the next five years.
Vertex also has another FDA approved drug marketed as Incivek to treat chronic hepatitis C. About 300 million people are infected with hepatitis C worldwide. The company also has drugs in clinical trials to treat immune- mediated inflammatory disease, epilepsy, and influenza.
Click to enlarge: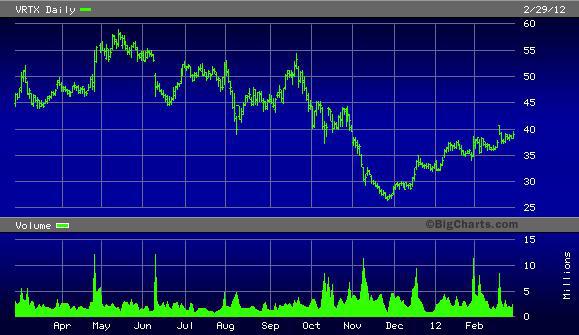 With two drugs currently being marketed, Vertex has good potential to grow earnings and its stock price at above average levels. It is currently an $8.19 billion mid-cap company that has the potential to grow into a large-cap company. It also has the potential to be taken over by a large pharmaceutical company that is looking to increase sales and earnings and hedge against expiring patents.
An investment in Vertex can be considered a contribution to those suffering from cystic fibrosis and hepatitis C. It is also an investment in research and development for future drugs.