Canada is an oil and natural gas exporter and a few weeks ago, the Bank of Canada (BOC) produced an analysis and outlook on oil production, demand and price expectations in their Monetary Policy Report. The BOC analysis has implication for those invested in crude oil ETFs like the United States Oil ETF (NYSEARCA:USO).
Although The Bank of Canada (BOC) left interest rates at the .5% level, the Canadian central bank provided insight into the economy of our trading partner to the north and the global commodity markets as well.
Commodity Prices & Oil
The BOC cited the underlying cause of the 15% jump in oil prices since their October report, due to in part the OPEC and other "oil producers to cut output to hasten the rebalancing in the oil market." - January 2017 Bank of Canada Monetary Policy Report.
Global Oil Outlook:
"The Bank still expects a significant drawdown in oil inventories in the second half of 2017, as demand growth is projected to outpace growth production." - January 2017 Bank of Canada Monetary Policy Report.
The BOC also is hopeful that oil should be "tilted to the upside in 2017-18, since prices are still below levels likely required to support medium-term market rebalancing."
The BOC goes on to say that upside is limited due to technological advances lowering production costs allowing U.S. shale production.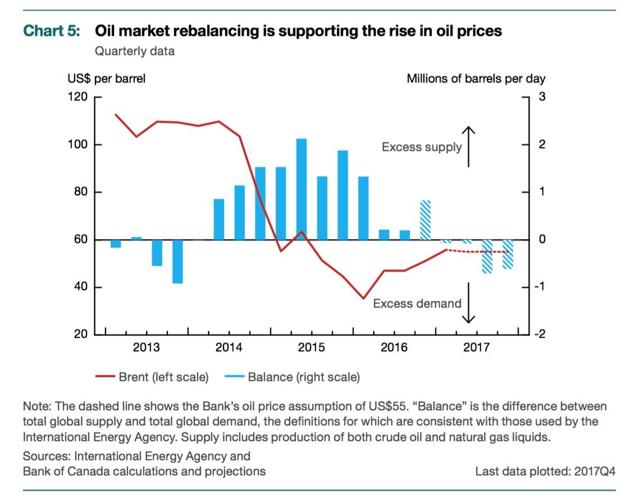 From the chart, oil market rebalancing should support higher prices according to the BOC. However, oil production levels are likely to increase even at the current prices of crude.
"Commodity-linked businesses reported the need to invest following often significant cuts over the past two years." - January 2017 Bank of Canada Monetary Policy Report.
It remains to be seen how much this new investment cost will impact the bottom-line of oil producers. However, business optimism is firming up. Bank Of Canada sees "further evidence of a bottoming-out of resource-related activity, with businesses tied to oil now expecting some sales growth following a period of decline." - Bank Of Canada Monetary Policy Report.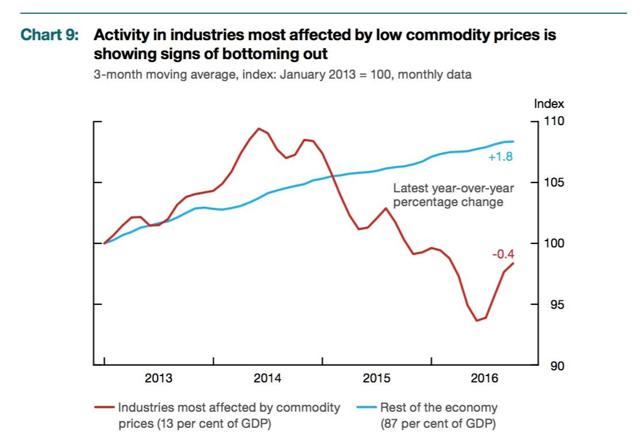 The chart below shows business activity in the oil and gas extraction industry has turned positive for the first time since early 2015.
The increased activity is positive for the Canadian economy and is consistent with the expected pickup in shale production in the U.S. as well.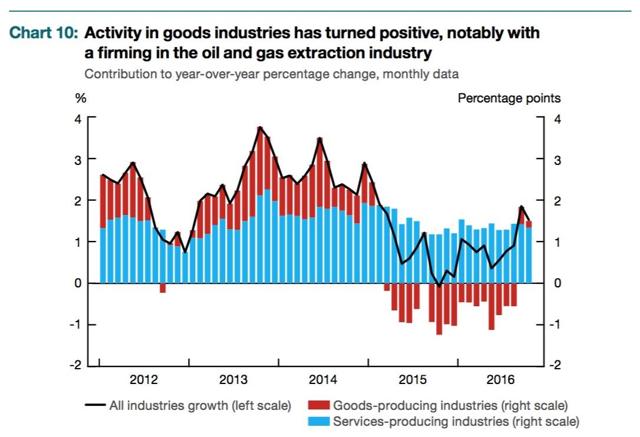 Sources: Statistics Canada and Bank of Canada calculations.
Commodity & crude oil outlook from the Bank of Canada:
The Bank of Canada sees possible upside risk to commodities since they've risen so much as of late, and also upside risk to higher oil prices.
"Oil-related capital expenditures have sunk globally over the past two years, raising the risk that future oil supply could be inadequate to meet demand. The degree of upside risk to prices will depend on a number of uncertain factors, notably ongoing efficiency gains in production at unconventional sources." - January 2017 Bank of Canda Monetary Policy Report, section (iii).
The "unconventional sources" that the BOC is referring to is U.S. shale production.
What's driving the markets:
Base metal prices and commodities have surged based on possible fiscal spending in the U.S. and stronger demand for steel in China.
Production cuts and 90% participation from OPEC and non-OPEC producers.
Going forward, the Bank of Canada is watching any news of U.S. infrastructure spending, any changes in China steel demand, and whether the OPEC and non-OPEC producers make good on their promise to cut production.

Final thoughts:
The BOC view is that oil prices may rise from current levels, but that increased investment in extraction and production are likely especially at higher prices. It remains to be seen how much of this expected increase in production will happen in Canada and in the U.S. and how crude oil prices will be affected.
What I'll be looking for is signs that business activity affected by low commodity prices, has bottomed out in Canada, and if that bottom will also apply to other oil producers.
China:
It's interesting that China was mentioned in the BOC report since it appears that recent political events have pushed China to the back-burner of the news cycle. It's quite possible China may be a wild card in determining oil demand and the drawdown of inventories.
It's hard to believe that the world's largest economy is a wild card, but if you recall, this time last year (near the end of February), the Fed had decided to hold off hiking rates in March of 2016 on concerns about China growth. What a difference a year makes. China's GDP is still recovering and nowhere near the good ole days of 10-12% annual growth.
Sure, the hard metals and commodity prices are rising due in part to China growth, but crude oil has seen been stuck trading sideways. If China growth surprises to the upside this year, crude oil bulls and U.S. shale producers will be smiling indeed since the China story has largely been overlooked.
President Trump and trade:
It's interesting that the BOC indicated that a Trump protectionist trade policy may stall business investment and would have "material consequences for Canadian investment and exports." The BOC went on to admit that any protectionist action has not been figured into their calculations for their global outlook. Perhaps the BOC is identifying another wild card to the oil outlook.
More to follow, if you like this article and would like to read more of my market analysis, please click the follow button to the right of my name at the top of this article.
Good luck.
Disclosure: I/we have no positions in any stocks mentioned, and no plans to initiate any positions within the next 72 hours.
I wrote this article myself, and it expresses my own opinions. I am not receiving compensation for it (other than from Seeking Alpha). I have no business relationship with any company whose stock is mentioned in this article.