I've heard great investors get greedy when others are fearful, so the generally fearful Snap (Pending:SNAP) IPO sentiment could present a buying opportunity for investors to potentially "get in" close to Snap's prior private round prices which should help offset many of Snap's well-documented investment considerations.
I previously covered my estimates of Snap's IPO filing range (I estimated around $15-16) and anticipated aftermarket trading range ($20-25) in a previous article. Snap filed a second amendment to its IPO S-1 filing with a proposed offering range lower than expected at $14-16 per share, valuing Snap at ~$18-20B, well below the $25B target supposedly pointed to by management and not a far uptick from Snap's Series F in May 2016 of $1.8B at an $18B post-money value.
Since Snap's initial S-1 filing, there has been resounding press coverage, the majority focused on Snap's downsides:
Slowing user base growth: 3.9% quarter over quarter in Q4:16
Significant and growing losses: $515M net loss in 2016, up from $373M in 2015
Valuation expectations: 44-50x trailing revenue multiple
Offering only non-voting Class A common shares
Rented infrastructure: Snap is completely reliant on Amazon (NASDAQ:AMZN) and Google (NASDAQ:GOOG) (NASDAQ:GOOGL) infrastructure and services to operate its product
Full competitive impacts unclear: Facebook's (NASDAQ:FB) Instagram has brazenly copied Snap's best features, shining light on the issue that Snap's value is not patented technology but a captive consumer base, which may or may not turn out to be fickle
Selling shareholders make up 28% of offered shares: Snap's two founders set to each gross $224-256M yet retain 89% voting power (more selling shareholder detail at the end of this article)
That's a lot of negativity to digest. However, I took a step back and asked, "If someone offered me the chance to invest in Snapchat at the same price that institutional investors like General Atlantic, Sequoia, T. Rowe, Lone Pine, Glade Brook Capital, and Fidelity invested at about a year ago (presumably after taking a deeper diligence dive of Snap's data and plans), would I take it?"
For analysis's sake, let's say Snap prices at $16 per share and comes out flat in aftermarket trading affording the chance to get in close to Snap's prior valuation: What do you have to believe to suggest it could get to $20+, providing an investor a 25%+ return on its way to becoming a $24B+ company?
What kind of revenue would support a $24B+ valuation under average valuations in the space? Publicly traded online media companies growing revenue at least 10% annually (i.e. GOOGL, FB, RATE, ZG, XOXO, NFLX, YELP) have average one-year forward revenue multiples of 3.5x to 5.5x (though can be above 9x). Assuming Snap eventually trades in this normalized multiple range, to achieve a $24B valuation Snap would need revenue of $4B to $7B. Snap will own ~1.5% market share by the end of 2017 with its $1.1-1.2B estimated revenue, and this base market share should grow organically by 30% from general market growth. Snap will also likely continue increasing market share. To get to $4B revenue, Snap would only need to increase its market share in 2018 to 3.5%, in 2019, would only need to get to 2.7% share, and in 2020, would only need to get to 2.0% share, or 0.5% more than it has at 2017 year-end.
From a bottoms-up revenue build, below is a revenue sensitivity illustrating what Snap's daily active users and average revenue per user on an annual basis would have to be to get to $4B+ in revenue.

When Snap gets to Twitter's (NYSE:TWTR) ARPU levels (should happen within the next 18-24 months), Snap would need (to get to $4B in revenue) 250M daily active users (DAU), which is 91M more DAU than it has today. Snap averaged adding 13M new DAU per quarter over the last four quarters, but only added a net 6M DAU in its last quarter, suggesting that, to get 91M additional DAU, it would take 1.8-3.5 years.
To summarize, if you believe Snap can continue taking market share close to its current rate of adding ~1.5% share every 12-18 months, Snap should own $4B in revenue by mid-2019. That would afford Snap a $20/share value by mid-2018. Similarly, if you believe Snap can quickly scale to Twitter or Facebook-level ARPUs (Snap's engagement stats suggest it should get somewhere in-between relatively quickly), then Snap only needs to add 40-90M additional DAU, which at today's net add pace would take 2-3 years, supporting $4B in Snap revenue visibility by mid-2019. Again, forward valuation on that would afford Snap $20+ price by mid-2018.
All this to say, if Snap stumbles out of the gates and hovers close to $16-18 in trading, I'd seriously consider rolling the dice on investment as it seems only a matter of time for Snap to grow into its originally targeted valuation closer to $20-22 per share. And let's not forget the benefits that come to those who invest before they know a company is a sure-fire winner:
Selling Shareholder Detail; Early VC Investor Coups
This latest amendment also detailed sales by selling shareholders, which I've summarized below: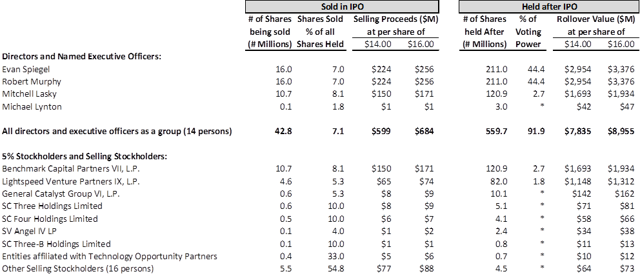 Big selling shareholder winners coming out of this IPO look to be co-founders Evan Spiegel and Robert Murphy, each looking to gross $224-256M by selling 7% of their total shares held, all without diluting any of their 89% voting power currently enjoyed. Evan and Robert will each retain $3.0-3.4B in share value (at $14-16 share value).
Snap's early investors looking to realize great IPO windfalls include Benchmark Capital (selling 8% of shares held for gross IPO proceeds of $150-171M) and Lightspeed Venture Partners (selling 5% of shares held for a gross $65-74M). Benchmark will retain shares with a value of $1.7-1.9B after IPO (at $14-16 share value) and Lightspeed will retain shares with a value of $1.1-1.3B.
As a friendly FYI of how much better your life would be as a Benchmark partner or investor, Benchmark's fund VII was a $425M fund raised in January 2011, which means that its IPO gross proceeds from Snap for sold shares will return 35-40% of its entire fund, with the retained value (at IPO offer prices - will likely pop) representing 4.0-4.6x the value of its entire fund. Snap alone will return Benchmark's fund VII by a total of 4.3x to +5.0x alone (27-30% IRR for an entire fund from a single investment). Lightspeed also doing well, with Snap looking to return 1.8x to +2.0x its Fund IX ($675M raised January 2012).
Looking forward to Snap's roadshow, which is said to kick off Friday in the Mid-Atlantic, with a target trading date of March 2. I look forward to seeing post-IPO trading to gauge how well my initial estimates track.
Disclosure: I/we have no positions in any stocks mentioned, and no plans to initiate any positions within the next 72 hours.
I wrote this article myself, and it expresses my own opinions. I am not receiving compensation for it (other than from Seeking Alpha). I have no business relationship with any company whose stock is mentioned in this article.