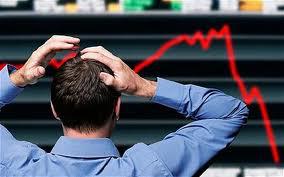 It continues to amaze me to see what the market has been able to do so far this year. It's hard to imagine that last year at this time investors were gearing up for the eventual crash of the market. Albeit it was a tad premature as the market didn't see its lows until the summer. But I can't help but think that this current euphoria should be close to its peak, right? It seems so far during the year each discussion regarding the Dow, S&P 500 and Nasdaq start with the words "record, new highs, all-time highs," and we often make decade-long comparisons. At what point should we start exercising some caution and for investors to start considering their positions? I think now is the time.
I will concede already that this view will not be popular. "I mean for Pete's sake Cameron, why spoil a good thing?" OK, I get that. My view of caution may not necessarily be better than that of the collective wisdom of the market what wants to send shares higher, but at some point the laws of physics (or for that matter), the laws of economics must prevail. The key to successful investing is extensive due diligence and this includes information that may not be entirely popular. With that in mind here are some stocks that I think should be looked upon with some caution.
I'm not suggesting that these stocks should be sold, only that investors may want to consider the "altitude" before jumping in. These are stocks that have produced significant gains so far on the year and are due for a slight pullback, if not a pause of some kind. After all, you don't want to be left standing with your hand on your head like our friend pictured above considering how hated some of the stocks are that we are about to discuss.
Sirius XM (NASDAQ:SIRI)
One of the hottest stocks on the market today continues to be that of Sirius XM. The satellite radio giant continues to show the level of resiliency unseen since last summer. With its close of $2.26 on Wednesday, the stock has now closed at its highest level since July 15 of last year when it closed at $2.33.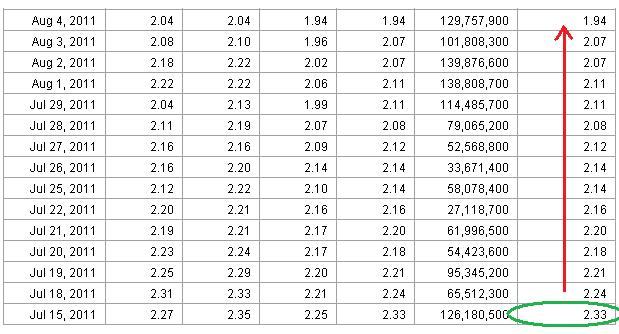 However, as you can see from the graphic above what followed were a series of profit taking as investors felt the stock had reached its (then) full potential - sending shares back below $2.00, a mark that it did not see again until this year, om January 5 (six months late). So the obvious question is what is the difference this time?
Well folks, the answer of that question is highly dependent on who you ask - because you will get a million different answers. Remarkably, all of them might be right yet all of them might be completely off the mark. The reality is, nobody truly knows for sure. The only thing that we know is that Sirius recently reported its earnings and what it reported failed to inspire any level of buying.
So the question is who buying this stock and why now? What has changed since two weeks ago when the stock had not moved? What did the company announce? More importantly, what didn't it announce? We have seen a rash of insider selling and the thought is that this could be leading to a Liberty (NASDAQ:LMCA) acquisition. Both sides have been silent on this issue which only fuels more speculation. We have noticed that the company's short interest has dropped recently by 10% which supports that recent surge in the stock.
Again, as I've said recently, the recent rise (to me) has been purely technical as there have been no fundamental change in the company to support the recent buying - transactions (by the way) that I don't think have been conducted by retail investors. Otherwise we would have seen this buying at much lower levels. So draw your own conclusions from that. If you are in the money on this stock, I suggest you take profits. As always, good luck.
Bank of America (NYSE:BAC)
Another hot stock happens to be one that continues to impress me yet continues to be loathed by the broader market. Bank of America has netted a remarkable 44% gain, and many (including me) are expecting more. In fact, I think the stock is going to $10 while there are others who are more optimistic and think it is going to $30. However, any sudden market pullback has the potential to send shares back toward the $6 level. For this reason, I think it is prudent for investors to take some money off the table.
For those who are in for the long haul, to truly consider the optimistic recovery for Bank of America, the best bullish case that I have read so far on the year comes from Fellow Seeking Alpha Contributor Spencer Knight, who offered from both a fundamental as well as a detailed technical perspective on why BofA has a bright 2012. Several weeks ago, during its fourth quarter earnings announcement, the bank gave investors many reasons to believe that a bright outlook for the year was indeed possible by reporting a profit of $2 billion for the quarter. It came after having posted a loss of $1.2 billion during the same period last year.
Its full year earnings arrived at $1.45 billion compared to a prior loss of $2.24 billion in 2010. For three months prior, the primary question surrounding the company was, can it execute its business effectively enough to make any money? Since that question has clearly been answered, the new question is, can it build on this momentum? I think that is what investors are waiting to see before pushing the shares higher. As great as the recent quarter was, it goes without saying that Wall Street always prefers trends. As hated as this bank continues to be, if you are in the money on this stock at the moment, it may be time to take some off the table.
Netflix (NASDAQ:NFLX)
Since starting of the year on fire, streaming movie giant Netflix has shown considerable signs of schizophrenia - basically, the stock does not know which direction it is going nor does it truly understand the realities of its situation. I predicted several weeks ago that the stock was heading to $100 and below. So far, it seems that is exactly where it is going. The only question that remains at this point is, how far below $100 will it go?
The stock has lost 15% during the span of two weeks on the heels of Comcast (NASDAQ:CMCSA), the top cable operator in the U.S., announcing plans to take Netflix head-on with its own Internet movie streaming service. Comcast's service is called Xfinity Streampix, and will offer a library of TV shows and movies. The service will be made available only to Comcast's cable subscribers. One that can also operate as a standalone service outside of the cable subscription package under programming agreements it has with some of the partners that supply it with shows and movies.
Streampix will come free with Comcast's top video packages and for an extra $4.99 a month in lower tiers while offering TV shows and movies from partners including Disney (NYSE:DIS), Time Warner (NYSE:TWX), Sony Pictures as well as from its own studio, NBC Universal. There is little doubt that Netflix was the king of online content. But content is not always enough as competition, innovation and costs are typically the drivers of any market. Remarkably, the stock is still up 60% on the year. If you are an investor in Netflix, there is no point in playing Russian roulette with your gains at this point. Lock them in now and wait to trade another day.
Research In Motion (RIMM)
For the year, another hated stock - Research In Motion - has now come back to the level where it started - this is after at one point it had gained 24%. Interestingly, the year started with much optimism that its inept executives would be ousted, though it came to pass, investors were left disappointed to realize that it will still be business as usual. Though the company has recently made a leadership change, there is evidence that maintaining the status quo will be its method of operation. RIM's stock may only be two quarters away from dropping below $10, absent any new attainable competitive strategy.
This morning (Thursday 3/1) analysts have started cutting ratings on the stock noting that the company is likely to guide lower than what RIM is currently projecting for the February quarter. In a recent report, Jefferies analysts Peter Mizek noted the following:
"We are cutting our RIM estimates and target based on our belief that there is a greater than 50% chance that RIM will negatively pre-announce the February quarter," he writes. "We believe sales of both RIM's low-end and higher-end phones continue to be challenged."
Misek says he continues to think Street estimates for the February 2013 fiscal year are too high: He now projects $1.87 a share, down from $2, and sharply below the Street consensus at $3.07. Misek maintains his Underperform rating on the shares, while slicing his target price to $12, from $15. The stock closed Wednesday at $14.17.
I have to agree, however I continue to think that Peter's target remains too generous and I suspect that the stock will continue to tread lower until reaching below $10 before the start of Q3 if not sooner.
Goldman Sachs (NYSE:GS)
It's hard to be any more hated than the above stocks. Then there is investment banking giant Goldman Sachs to show you how it's done. Truth be told, this continues to be one of the stocks I enjoy watching the most. Goldman Sachs is up 30% on the year to $115 and is likely due for a pullback to the $100 area. Fellow Seeking Alpha contributor Stock Croc offered what I thought was an excellent bearish case for the stock. In a recent article, the contributor said the following:
Goldman Sachs, despite reducing its long-term debt in the third quarter 2011, does not have a particularly strong balance sheet with a high debt-to-equity ratio of 3.3. This does not bode well for price stability or the company's future earnings if we were to see a double-dip recession eventuate or further economic headwinds from a prolonged European debt crisis or Chinese property bubble collapse.
Those are indeed extremely valid points. But I sense that these metrics are virtually interchangeable within the entire sector. To me, the stock has the potential to reach the $150 - $200 price target over the next two to three years. But in the near term, it is due for a pullback to $100.
Disclosure: I am long BAC.