Industria de Diseno Textil (Inditex) (OTCPK:IDEXY) is a Spanish apparel retailer founded in 1958 by Armancio Ortega, the main shareholder with a 59% stake. The company operates in the fashion market with eight different concepts, of which Zara is the best-known brand. It is a global retailer being present in 81 countries spread around the world, with around 5400 stores.
In the last 12 months the stock is up 35%, outperforming the European market, measured by the Dow Jones Eurostoxx 50 Index, that fell around 12% in the same period. This brilliant performance clearly demonstrates the value of the company, even in a very tough environment in Europe, and its global exposure. Its closest peer H&M (OTCPK:HMRZF) is up 20% in the last 12 months and GAP (NYSE:GPS) increased only 7.7%.
(Click chart to enlarge)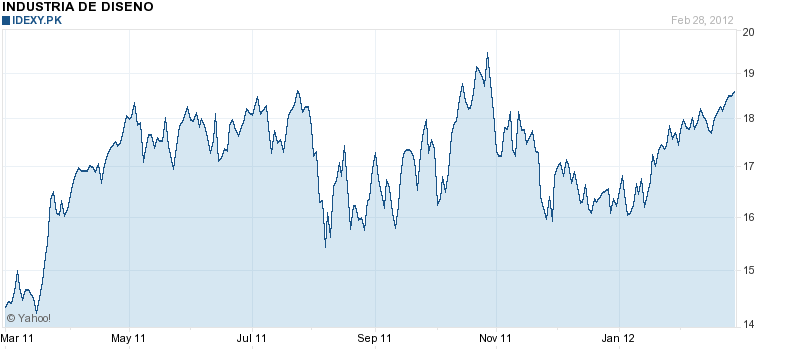 Click to enlarge
Source: Yahoo Finance.
In 2010, 45% of sales were done in Europe (ex-Spain), 15% in Asia & Others, 12% in Americas and 28% in Spain. The home market contribution to Inditex's sales fell considerably in the last 10 years, making nowadays the company a global retailer with a proven business model in different geographies. In 2011 (fiscal year ends in January 2012) the domestic sales should account only for 25% of the total, against 46% in 2002. In 2009, when retail sales in Spain drop by 5% the domestic performance of Inditex was flat sales growth, reflecting the power of its business model and strong brand image.
Unique Business Model
The company's distinguishing factor from its main competitors is the unique business model. It doesn't do traditional advertising even when entering new markets. It has attractive stores in prime locations and new collection items are in stores twice a week. The distribution is fully centralized in Spain, with shipments to all stores worldwide twice a week. By this way, each store manager can adapt the offer for the local customer preference.
The suppliers are manly based in Spain, Portugal, and Morocco. This gives extra flexibility to change store offers quickly if sales disappoint. The company only commits to 60% of its product range at the beginning of each season, leaving 40% open to buy. This is approximately twice as much as the competition and directly benefits markdown costs and reduces fashion risk.
Additionally, having eight different formats it has less fashion risk and allows clients to move up through the formats as they become older. This is a competitive advantage compared with mainly single format apparel retailers like H&M.
Growth Drivers
Inditex is one of the best quality companies with higher growth in the retail sector. Between 2001, and 2010, the annual sales growth was, on average, 16%. This strong performance should continue in the next years based on organic growth. Inditex plans to open 400 to 500 stores every year, which means 8% to 10% space growth.
Around 95% of this new space is in international markets and most of that in emerging markets, where its market share is still low. In 2010, Asia accounted for 15% of group sales, Russia and China together account for 5%-6% of sales. Both of these countries are growing strongly and are key areas of expansion for the group.
In late 2010, its main brand Zara launched internet sales in six European countries. This new distribution format should be complementary to sales in stores, mainly in countries where the physical presence is low. Last September, all brands started to offer online sales for European markets. It also launched online sales for Zara in the United States since September 2011. With the addition of more countries in the next years, it will also be a significant benefit for organic sales growth.
Profitability & Valuation
Inditex is a very profitable company with gross margins near 60% and EBIT margin of 18% in 2010. The ROE was around 30%. In the last five years, the company achieved sales growth in all, with an average annual growth of 11.2%. The EBIT margin dropped from 17.5% in 2007, but stayed above 15% in 2008 and 2009, recovering 300 bps last year to a new record high. This strong performance is even brighter taking into account the huge recession that occurred in the developed countries during the financial crisis of 2008-09.
In 2010, the company had €12.5bn ($16.9bn) of sales with net income of €1.7bn ($2.3bn), meaning a 13.6% profit margin. In the first nine months of 2011, sales have grown 4% on like stores but with a slight margin contraction (-29 bps gross margin). This performance is much better than that of its main competitor H&M, which has seen same-store sales slump in recent months (-1% in 2011) and a much higher gross margin slump (-280 bps gross margin). Both were hit by raw materials price increases last year (especially cotton), but H&M also had negative currency headwinds (Swedish kroner appreciation) and its strategy of price perception also resulted in a much more pronounced drop in gross margins.
The company generates annually a strong free cash flow, which also results in a strong balance sheet. At the end of October 2011, it had €3.9bn ($5.3bn) of net cash on its balance sheet. This supports the current dividend yield (around 3%) and also allows financing the store expansion with internal funds.
The company has a payout target of 50% but has a cash-rich company distributed a bonus dividend in 2010 and 2009 of €0.20 and €0.10, respectively. The company almost doubled the dividend from €0.84 ($1.14) in 2006 to €1.60 ($2.16) in 2010, with 2008 the only year that the dividend didn't increase. This shows the strong resilience of the business model and its capability to perform well even in tough years.
The growth, high margins and flexibility of the business model underpin the stock's high multiples. The current and forward P/E are 22.5x and 20.1x, respectively, trading at the bottom of the usual range 20-25x fwd P/E. H&M trades with, current and forward, P/E of 24.9x and 22x. The EPS of Inditex is expected to grow 11.6% in 2012 (to €3.43 - $4.63) and 13.5% in 2013 (to €3.89 - $5.25$).
Conclusion
Inditex's stock performance in the last year is proof that very good companies exist in Europe that investors shouldn't ignore just because of the location of the headquarters. As a blue-chip European stock (market capitalization of €40bn - $54bn) and from a peripheral country, probably it would be under the radar of most U.S. investors, but the stock performance clearly indicates that is a wrong strategy. This company shouldn't be ignored by investors even in this consensus environment of avoiding Europe.
The company offers a unique combination of profitability, defensive business model, sustainable dividends and exposure to high-growth emerging markets. The risk of a deep recession in Europe, and particularly in Spain, isn't completely off the table but the company has proven it can manage downturns very well. In the case that Europe resolves the sovereign debt crisis and Inditex returns to a P/E of 25x, the upside is more than 25% from current levels taking into account the EPS expected for 2012.
Disclosure: I am long OTCPK:IDEXY.