With the market in long term rally mode, bargains are getting harder to come by for the average investor. One strategy I am employing here is to look at stocks that have had significant selloffs that seem unwarranted. One stock that seems to have been oversold that has reasonable valuations and insider buying is GeoEye (NASDAQ:GEOY). Given who is buying the stock, I think it easily could make a good acquisition target or LBO.
GeoEye - "GeoEye, Inc., together with its subsidiaries, provides earth imagery and imagery information products, as well as image processing services to the United States and foreign government defense and intelligence organizations, domestic federal and foreign civil agencies, and commercial customers. It owns and operates two earth-imaging satellites, which include GeoEye-1 and IKONOS; and three airplanes with high-resolution imagery collection capabilities" (Business Description from Yahoo Finance).
7 Reasons to pick up GeoEye at under $20 a share:

The median analysts' price target for the 7 analysts that cover GeoEye is $31.50, almost 50% above the current price.
It is selling at the very bottom of its historical valuation range based on P/B, P/CF, P/E and P/S.
Insiders have accumulated almost $20mm in new shares over the last few months. Stephen Feinberg (Beneficial Owner) has been particularly active. Cerberus also recently signed agreement that allows it to raised it stake to 30%.
It has a very low five year projected PEG (.59) sells at just 92% of book value.
GeoEye is showing some earnings improvement. The company made $1.99 in FY2010, it is expected to earn $2.02 in FY2011 and analysts project $2.225 in earnings for FY2012.
The stock is priced right at long term technical support (See Chart)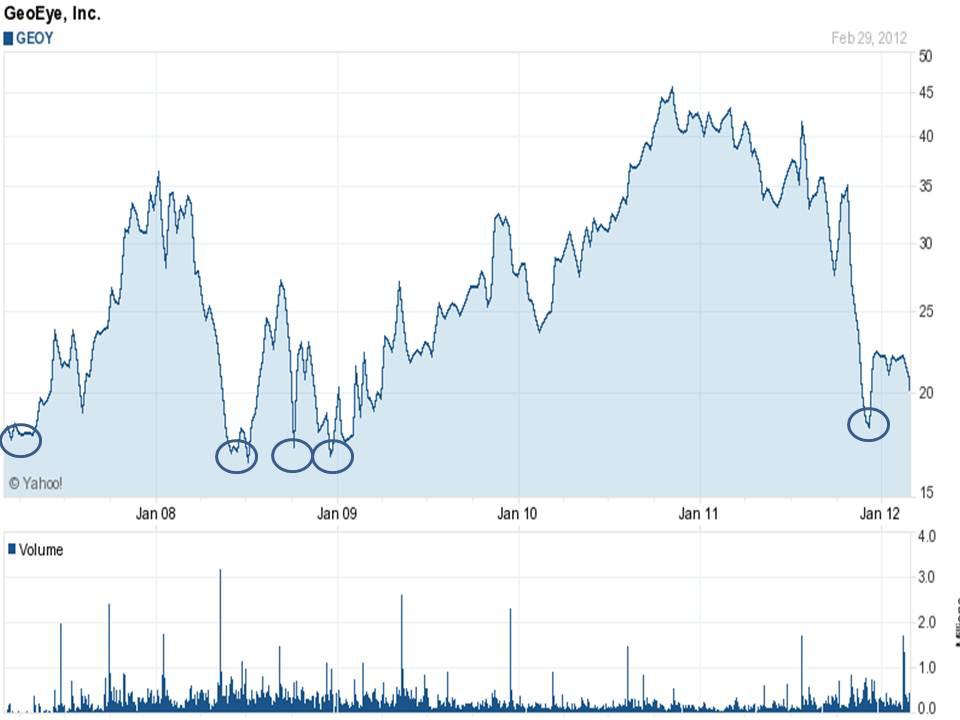 Click to enlarge
The stock has sold off over 50% in recent months on fears of cutbacks in U.S. government spending. However, I believe the pullback is way over done as sales are still expected to increase in FY2012 and the company is signing contracts with other countries such as Russia.
Disclosure: I have no positions in any stocks mentioned, but may initiate a long position in GEOY over the next 72 hours.