PROLOR Biotech (NYSEMKT:PBTH) is developing long-acting versions of existing therapeutic proteins using a CTP technology that the company licensed from Washington University. CTP stands for Carboxyl Terminal Peptide - an amino acid sequence that attaches to a wide variety of proteins to stabilize and prolong its useful life. This CTP technology allows the company to take a routine injection of human growth hormone - administered to hormone deficient patients - and reduce the number of needed injections from once-daily to once-weekly, or better. The diagram below details the known market of various therapies that PROLOR is enhancing.
Merck & Co. (NYSE:MRK) first licensed the same CTP technology from Washington University for use in Follicle Stimulating Hormone (FSH), an injection aimed at increasing the chances of pregnancy in hormone-deficient women. However, big pharma left behind the rights to a number of billion-dollar markets, as shown (refer to the diagram, above). Merck only owns the rights to use CTP in four applications including FSH, which could make PROLOR's pipeline and IP the envy of a large pharmaceutical company. Merck's development of a CTP-modified version of FSH is both validating and encouraging for a small biotechnology company building a pipeline of improved drugs based on the same platform technology.
Growth Disorders / hGH - CTP
PROLOR is planning on launching a Phase III study of CTP in growth hormone deficient adults this year. The trial will aim to prove the drug's efficacy as safety has already been demonstrated in earlier trials. Positive data from this study could be the catalyst that makes PROLOR an attractive takeover target for both its IP and, a then-commercial stage ready product for a $3 Billion market.
Hemophilia / Factor VIIa - CTP
Positive results were noted in a recent comparative study of PROLOR's hemophilia drug Factor VIIa-CTP: higher survivor rate and significant in vivo recovery in a treatment of bleeding episodes in hemophilia A or B patients as well as hemophilic mice. In vivo recovery is a pharmacokinetic parameter that is used by researchers that compares actual clotting to anticipated clotting activity. The early-stage study showed positive results in the commercial viability of Factor VIIa with superior and longer lasting generation of thrombin, which is a key pro-clotting enzyme.
Type II Diabetes / GLP-1 Glucagon
Type II diabetes is the most common form of diabetes, accounting for roughly 90% to 95% of diagnosed diabetes cases worldwide. According to National Diabetes Information Clearinghouse, it afflicts more than 20 million U.S. citizens at an estimated $132 billion annual cost. Diabetes is a condition where the body either does not produce enough insulin or its cells ignore the produced insulin. Insulin is required to transport glucose from the blood into the cells. When the body doesn't perform this function, glucose accumulates in the blood instead of entering the cells, meanwhile starving the body cells for energy, injuring the eyes, kidneys and even the heart.
PROLOR's success in GLP-1 dual receptor derives from a long lasting version of a therapeutic peptide that occurs naturally in the human body. Its unique feature is the receptor developed by RevPEG technology that crosses the blood-brain barrier in conjugation of the peptide or small molecule to a PEG chain via a hydrolysable linker. While this product is in pre-clinical development it adds depth to the company's product pipeline.
Financial Front
PROLOR Biotech stock has been picking up strength in the last few days as momentum has pushed the PPS forward. Normally I yawn when technical analysis terms and psychological key numbers are thrown around by analysts, but what I do pay attention to is a healthy balance sheet with low debt levels.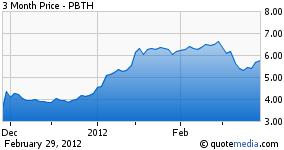 With almost $18 million in cash, this is an automatic translation to the adaptability, strength, and ability to persevere during clinical development of pipeline product. The company has enough financial resources to propagate clinical development without needing additional capital in 2012, according to an analyst at Morgan Joseph who rates the company a buy with a $16 price target.
Bullish Scenario
CTP can readily be attached to a wide array of existing therapeutic proteins, stabilizing the therapeutic protein in the bloodstream and greatly extending its life span without additional toxicity or loss of desired biological activity. Moreover they can be manufactured using established recombinant DNA techniques in widely used mammalian protein expression systems.
PROLOR's License Agreement is exclusive for human therapeutics, with the right to sub-license for all therapeutic proteins and peptides, except the ones previously licensed by Merck & Co.
CTP technology has distinct competitive advantages over other methods used to extend the life of therapeutic proteins. PROLOR's solution is mainly based on a naturally occurring human peptide that may be utilized for any therapeutic protein without producing any toxicity.
Bypassing Potential Risks
The creation of a successful, non-toxic long lasting therapeutic protein is a very "tricky" process. The more changes that are made in an effort to increase persistence, the more likely these differences will introduce an unintended toxicity. Of particular concern is the fact that the body may recognize this altered protein as a foreign substance that it should fight off, and develop an immune response against the molecule, rendering it useless.
In my humble opinion, with executive chairman Dr. Phillip Frost's 21% stake ownership, the company's presence at a recent Citi Global Health Care Conference and a string of successful studies, other biotech players are paying heed to PROLOR Biotech. Dr. Frost, who is also the Chairman of Teva Pharmaceutical Industries (NYSE:TEVA), sits on the board of a company that has traditionally grown by acquiring novel assets. Large pharmaceutical companies are eyeing unabated biotechnology companies that can replace portfolios of best-selling drugs soon to lose patent protection. With PROLOR Biotech's pipeline positioned to enhance therapies garnered by large patient populations, anyone from Merck & Co. to Teva Pharmaceuticals is probably more than just watching, even as I write.
Disclosure: I have no positions in any stocks mentioned, and no plans to initiate any positions within the next 72 hours.