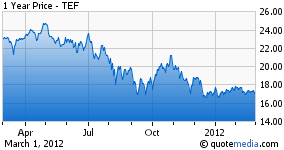 There's plenty of things to dislike about Telefonica (NYSE:TEF) lately.
December 2011, the eurozone's largest telecoms company announced that it would cut its 2012 pay-out from a forecasted €1.75 per share, to €1.50. The first time in a decade it had cut.
November 2011 reported its first quarterly loss in nine years.
Feb 24th the company announced that 2011 profit margins fell from 42.4% to 32.2%
Stripping out all one-off impacts, growth in net profit fell in 2011 to 16.6% year-on-year.
Aug 2011 S&P cut its debt rating to BBB+
In addition, Telefonica missed earnings estimates in eight of the past nine quarters and has a debt ratio of nearly 2.5. Spain's largest company with a market cap of €58B has seen its market share of both broadband and cellular decline in 2011. Telefonica's domestic broadband market share dropped to 49.64 percent in October-falling below 50 percent for the first time as customers switched to cheaper rivals. According to CMT, Spain's telecommunications market regulator, Telefonica SA's mobile-phone market share in Spain fell to 40.47 in late 2011 as cheaper 'virtual carriers' undercut Telefonica. With Europe's highest unemployment rate at 23%, Spanish consumers are understandably very price sensitive. Jose Maria Alvarez-Pallete, head of European operations warned investors on Nov. 11 that he doesn't expect any short-term improvement in Telefónica's domestic market as it will continue to face pressure from competitors. Needless to say short term sentiment is very negative. That is already in the price. The question is does it represent value and therefore opportunity at these levels, or is it a value trap with substantial downside risk? The answer might depend on how you look it.
Spanish Telco or Global Telco?
Although Telefonica is listed in Spain, it is really a global Telco. It operates in 25 countries, with 72% of consolidated revenue and 67% of Group OIBDA generated outside of Spain last year. The most important market being Latin America, which contributed 47% of total revenue for 2011. But Telefónica's Spanish unit is where the problems are, and right now this is what the market is choosing to focus on. Revenues decreased by 7.6% in 2011, and its operating income was reduced by 54.2%, mainly due to a €2.7 billion restructuring charge as it lays off 6500 of its Spanish workforce through 2013. Because the market is focusing on TEF's Spanish problems, its near term outlook will be closely linked to the wider Spanish economy, which is expected to enter into recession in 2012. But in contrast to last year, 2012 starts with TEF's management recognising the seriousness of problems in their home market. They have:
Invested close to €3 billion in Spain in 2011, with the deployment of high speed broadband networks along with the acquisition of high quality spectrum in the cellular market.
Recently awarded Alcatel-Lucent (ALU) an order to build a nationwide high-speed cellular network in Spain to win back customers of data-hungry devices lost to rival operators.
Reduced head count, frozen major M&A, sold non-core assetts and reduced the dividend payout by 14%
Launched bundled/unbundled 10-megabit ADSL product in Q4. Competitively priced at €24.9/19.9 a month, retail broadband saw positive net additions in December for the first time since April.
Despite intense competition in its home market in 2011, Telefónica España still managed a total of 47.1 million accesses (-1%), almost flat year-on-year.
These are the green shoots of stabilization only, and it remains to be seen if a revamped Telefónica España's attempts to regain market share will gain traction in 2012. It should be noted that all major carriers lost ground in the Spanish market in 2011 - Vodafone (NASDAQ:VOD), France Telecom SA (FTE) included. In fact, many of the large European Telco's are also facing pressure on their margins. Austria Telekom (OTCPK:TKAGY) cut their dividend in half for 2011/12 last year. France Telecom lowered their dividend forecast for 2012 'by as much as 14%' on Feb 22nd. Telecom Italia (NYSE:TI) cut theirs by 25% two days later. Belgacom, Portugal Telecom and KPN are slated to follow. Despite Q4 losses, Deutsche Telekom (NYSE:DTE) have maintained their dividend forecast for 2012.
Outside Spain
Telefonica's strength is its earning power outside its home market. This seems set to grow. Despite Spain, Telefónica Europe's total customer base grew 3% yoy. European OIBDA totalled €4.233 billion in 2011, a growth of 3.8% yoy. In Germany, Europe's biggest market, Telefonica were the operator with the highest growth rate in 2011 -where the total access base grew 6% yoy.
Latin American growth look sets to continue, particularly in Brazil, which is responsible for 49% of its revenue in the region, and the most profitable unit. Sales in Latin America climbed 13.5% in 2011, although in reported terms OIBDA for the region fell by 20.2%, due to booking of non-recurrent items. These included buying the remaining 37.7% stake in Brazilian carrier Vivo that it didn't already own($5.5b), cellular network build outs and spectrum purchases in Brazil and Costa Rica. There are signs that Telefonica's investment in cellular infrastructure in the region is already paying off. In Brazil alone, net cellular additions in Q4 amounted to 5.5 million accesses - a record quarterly figure for the last 3 years. Cellular accesses in Brazil increased 19% yoy. Vivo's plans to increase its 3G coverage to 85% of the population by end-2012 will see 3G subscriptions grow this year. Further growth drivers in Latin America for 2012 include a mobile payments joint-venture with MasterCard across all 12 of TEF's Latin American operations. It is reasonable to assume Latin America's contribution to OIBDA income will comfortably exceed 50% of total income for the first time in 2012.
China Wild Card
Through its recently created unit, Telefonica Digital, expanded its strategic alliance with Chinese operator China Unicom in 2011. China Unicom is China's No. 2 carrier. Telefonica now holds a 9.7% stake in its Chinese partner, while China Unicom owns 1.4% of the Spanish firm. Although did not break out revenues from the alliance in its 2011 results, its strategic value is entrance to the world's fastest growing cellular market. As the best-performing stock on the benchmark Hang Seng Index last year, with a 47 percent increase, China Unicom has proven to be a good investment so far. The alliance will strengthen the global footprint for both parties by sharing the use of Points of Presence (PoPs) on their international networks. Telefónica will be able to use PoPs on China Unicom's network in Hong Kong, Japan, Singapore, Australia, France, and Sweden. Part of the agreement is to promote the development of Machine-to-Machine(M2m) technologies, as well as services for multinationals, wholesale services, and roaming technology. Both companies will participate jointly in purchasing, testing and market analysis processes. It is expected that the results of this joint collaboration will lever capabilities at both companies. Although major strategic M&A is currently on hold at Telefonica, other partnership agreements are likely in the future as Telefonica expands in Asia.
Is the Risk worth the Reward?
I have given an outline of Telefonica's businesses over the past 12 months, and what measures have been taken to fix problems and grow revenue. But does an income investor say yes to that 11.7% yield, and buy at these levels? Telefonica's business is complex and its geographical footprint large, so it defies an easy answer, but I think it can be reduced to three thrusts: variables(risk), the predictive, and the dividend.
Variable (Risk)
Telefonica has to contain customer defections in its home market - in particular the low end of the cellular market, where mobile virtual network operators (MVNO) are undercutting them. Otherwise, "churn" in the pre-paid market will mean continued customer defection if the Spanish economy deteriorates further. Cellular subscription customer retention should continue to be positive. Simplified customer tariffs introduced in Q4 have been well received. Also, the improved capacity of the LTE network upgrade will go a long way to improve the browsing experience for cell customers. Once upgraded, each cell will comfortably support 30 people browsing simultaneously, with average speeds of 30Mbps. Trials of LTE in the 2.6GHz band have already been rolled out in Barcelona. Telefonica now need to maximize their investment in LTE with a rapid roll out to the Spanish market. Faster connection speeds will do much to stabilize cellular subscription customer satisfaction. Retail broadband also has to build on gains made in Q4. Telefonica's new sales approach resulted in 72,000 net additions across all product groups in Q4, which reversed the trend of the three previous quarters. However, stabilization in this market cannot be separated from the general health of the Spanish economy in 2012.
Predictive
The most predictive outlook for Telefonica is continued growth in Latin America. Investments and new revenue generators made in 2011 should see growth accelerate in 2012. Although Brazil's booming economy will remain the main engine of growth, solid aggregate growth can be expected across all of the 16 countries operates in this region.
Dividend
April 13 2011 Telefonica announced: "The company reiterates its commitment to pay a dividend of €1.75 per share in 2012." Lets presume you had bought the day of the announcement - and they had paid 1.75 in 2012. Your yield on cost(yoc) would be 9.7% (1.75/17.985*100). As I write, the stock is trading at 12.82 in Madrid, and the dividend is €1.5 - giving a current yield of 11.7%.* Looking at Telefonica as a pure yield play, you are being offered better value now - even with the cut. Had an investor bought last April, their yoc would have been reduced to 8.3%. I should add that at €1.75 or €1.50, the payouts never represented a 100% cash payment as Telefonica divide shareholder remuneration between cash and buy backs. The 2012 payout will be split as follows: 1.30 cash/.30 buyback. Telefonica have stated: "For the year 2013 the minimum total shareholder remuneration per share will be similar to the one for the year 2012." Given one off restructuring charges in 2011, and discounting any serious deterioration in the Spanish economy, I believe the reduced payout is secure at these levels.
Telefonica is now resting on long term support at around 13 - levels not seen since 2008. EPS has fallen 16.4% yoy, but the stock has fallen more(28%), pushing current yields close to 12%. As a long term investment for the income investor Telefonica should be accumulated at these levels. Remember, value rarely looks pretty. To buy you also have to believe we are at (or close to) the bottom of the cycle. Bear in mind Telefonica's problems in the Spanish market are similar to the challenges many of the European large cap Telco's are also facing in their home markets. Structurally, the company has realigned its business in Spain to make it more competitive at this stage of the cycle. There were signs already in Q4 that customer defections were stabilizing in this market. Where Telefonica stands apart from other Telco's is its global earnings power. Only Vodafone derives more income outside its home market. Despite the short term negativity the company still forecasts sales growth of > 1% for 2012. "This is something you don't see for the rest of the industry," commented Andres Bolumburu, a Madrid-based analyst at Banco Sabadell.
*minus 19% Spanish withholding tax = 9.4%
Disclosure: I am long TEF.