Today Apple Inc. (NASDAQ:AAPL) officially joined the very select list of six companies who have had their market capitalization break the $500 billion mark.

Click to enlarge
(Click to enlarge)
Market Cap is short for "Market capitalization" and it is defined as the number of shares outstanding multiplied by the selling price per share. According to the most recent quarterly report, Apple has 932.37 million shares outstanding. At today's highest price so far of $547.61 Apple had a peaked market cap of $510.6 Billion!
$547.61/share x 932.37 million shares = $510.575 Billion
More Apple Charts
According to CNN Money and The Wall Street Journal, the first five to break into this exclusive list are Microsoft, Cisco Systems, Intel, GE and Exxon Mobil.
ExxonMobil broke the $500B mark in 2007 when the price of oil soared to $147 per barrel. The others reached this mark during between 1999 and 2000 during the technology bubble.
None of the others who made the $500B Market Cap List have held on to this market cap. They all have reasonable valuations too.
Will Apple be the first to stay above the $500B market cap?
Apple needs to hold $536.27 to keep this distinction.
$500 Billion / 932.37 million shares = $536.27/share
Current Market Cap & Valuation Table
| Company | Market Cap | PE Ratio |
| --- | --- | --- |
| Apple (AAPL) | $506.02 B | 15.2 |
| Cisco (NASDAQ:CSCO) | $107.61 B | 15.7 |
| General Electric (NYSE:GE) | $202.58 B | 15.6 |
| Intel (NASDAQ:INTC) | $134.84 B | 11.4 |
| Microsoft (NASDAQ:MSFT) | $266.32 B | 11.6 |
| Exxon (NYSE:XOM) | $408.49 B | 10.3 |

Click to enlarge
(Click to enlarge)

Click to enlarge
(Click to enlarge)


Click to enlarge
(Click to enlarge)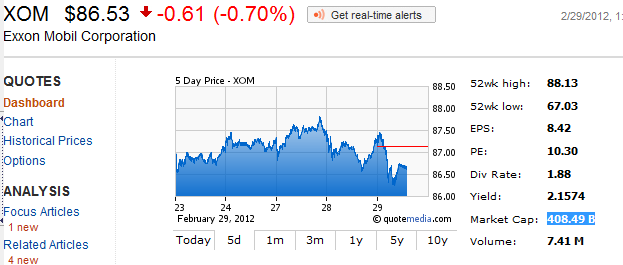 Click to enlarge
(Click to enlarge)
You might be surprised how much Apple you own even if you don't have an individual position in the company. It is now the largest holding in most S&P500 and Total U.S. Market index funds and ETFs.
I own all these stocks with rather large positions in index mutual funds and my large SPY position. I also own individual positions in GE, MSFT and INTC.
Here is the weighting for the top holdings as of Jan 31, 2012 according to Yahoo! Finance.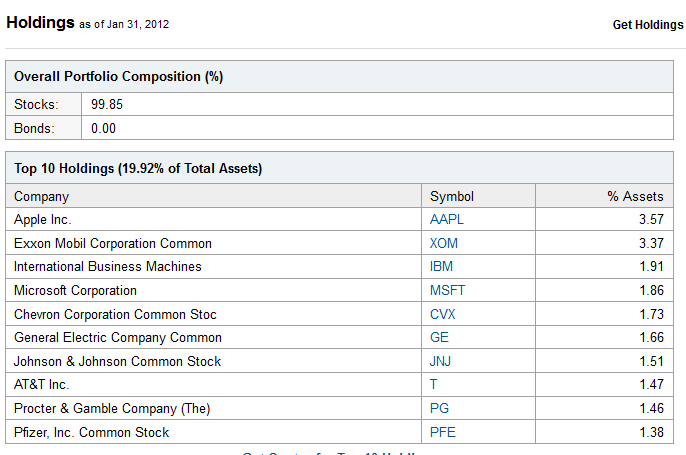 Click to enlarge
(Click to enlarge)