Although they may no longer be the biggest demographic in the United States, the baby boomers still lead the nation with their spending power. Many businesses have capitalized on this, but few more so than recreational vehicle manufacturer Thor Industries (NYSE:THO). Whilst sales of RVs have been growing strongly for many years now, with many baby boomers either early into retirement or preparing to retire, we think there is still plenty left in the tank for Thor. Especially considering that their penchant for travel means they spent a massive $120 billion on leisure travel last year.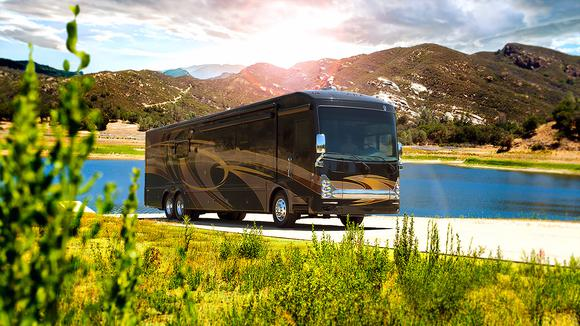 When it comes to baby boomers a lot of investors will focus on the healthcare sector. This is by no means a surprise. After all, according to research by Kantar Retail, baby boomers are easily outspending Millennials and Gen-Xers on healthcare spending. Demand for prescription medications, vitamins, and health-related services are all on the rise. But there are numerous other areas of the economy that are benefiting. Pet care, for example, is another one with an estimated 45% of all pet spending coming from the wallets of the baby boomers. And then of course there is the recreational vehicle industry. Their love of travel and the freedom RVs provide means the industry has grown at an incredible rate in the last few years. The good news here is that the industry's key demographic (55 to 74 year olds) is forecast to grow 15% to 79 million by 2025 according to the Recreational Vehicle Industry Association.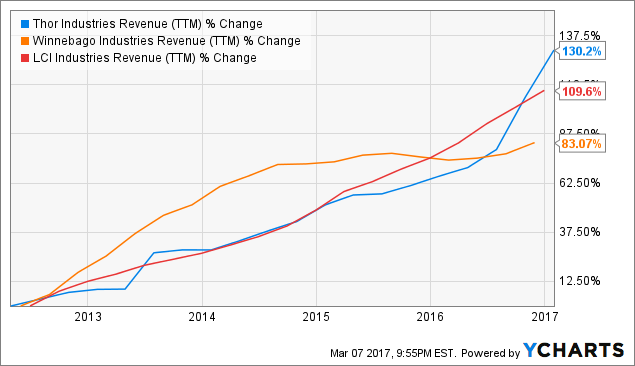 As shown above, Thor Industries has delivered huge revenue growth during the last few years, even outperforming its peers by a decent margin. Whilst a big jump in mid-2016 came from the acquisition of Jayco for the princely sum of $576 million, a large portion of its growth has come organically.

Source: Company 10K
We believe this acquisition has not only been a significant boost to revenue, but also diversified its product offerings and put the company in an even stronger position to profit from the incredible demand for recreational vehicles. Proof of this demand can be seen in the staggering number of backlog orders the company possesses. As of the end of the most recent quarter, Thor's backlog increased to $2 billion. Pleasingly, the backlog is not a result of the company being unable to fulfil orders, but rather from rampant demand. Its Jayco acquisition has had a big impact on its backlogs, as has the introduction of a new affordable range. But the good news is that the company has announced its plans to expand facilities and its production capabilities. At this stage, we think it's safe to assume Thor hasn't bitten off more than it can chew.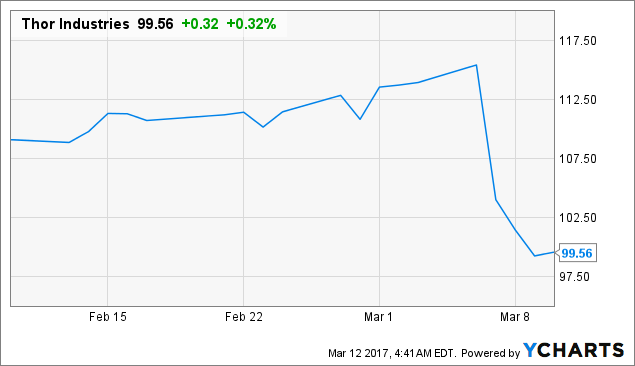 So if everything is so rosy, why did Thor's share price plunge recently? Despite beating on both the top and bottom line in the second quarter, its share price has fallen almost 13% since the release. Concerns over the potential impact that rising gas prices and higher interest rates (for financing) appear to be behind the move. We feel this was an overreaction and think this selloff is a buying opportunity for investors.
Whilst OPEC may be aiming to cut production to drive up oil prices, so far we have yet to be convinced that the cartel will follow through on its promises in full. Early progress has been made, but it is far weaker than we expected. Furthermore, there is no sign that the agreement will be extended when it expires in May. So, with U.S. production growing strongly, we see little reason to believe that OPEC will be able to make a meaningful impact on the current surplus. For this reason, we agree with Commerzbank's view that oil prices could fall as low as $40 a barrel this year.
We expect at least three interest rate rises this year in the United States. Although this will make financing more expensive for consumers, we expect it will be a long time until rates return to levels between 2% and 3%. Furthermore, having a lifetime of savings to back them up, we believe baby boomers have the ability to either absorb higher financing costs or pay for vehicles outright. All in all, we don't believe either of the two concerns will impact the company, meaning business as usual in the years ahead.
Valuation
In the first half of FY 2017, thanks largely to the Jayco acquisition, Thor has seen sales rise 64.4% on the prior corresponding period. Although we expect to see full-year revenue growth slow slightly as the year goes on due to the timing of the Jayco acquisition (June 30, 2016), for the full year, we have forecast revenue of $7 billion, an increase of 53% on a year earlier. We expect this to then grow by approximately 7% to $7.5 billion in FY 2018 if oil prices remain in the $40 to $50 a barrel range. Both of these estimates are a touch higher than what the market is pricing in.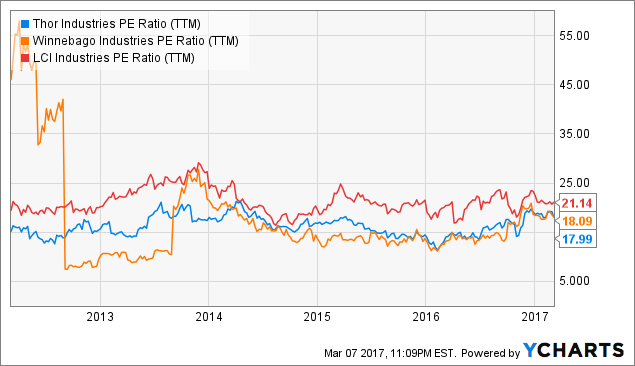 Due to margin pressures from acquisition-related dilution, we expect earnings per share to grow at a slightly slower rate this year. In FY 2017, we have forecast full-year earnings of $6.50 per share, up 32% on last year. We then expect this to rise in line with revenue to $6.96 in FY 2018.
As you can see above, Thor has a tendency to trade at around 17x earnings. We feel this is more than reasonable for its level of growth and the steady long-term growth potential of the industry. Based on this and the average of our earnings forecasts, we have a 12-month price target of $114.41 on Thor's shares. This would be a return in excess of 15% from the current share price.
All in all, thanks to the post-earnings selloff, we think there is an opportunity for investment here, and one that we expect to be very rewarding.
Disclosure: I am/we are long THO.
I wrote this article myself, and it expresses my own opinions. I am not receiving compensation for it (other than from Seeking Alpha). I have no business relationship with any company whose stock is mentioned in this article.