Hiding in Plain Sight
Searching for stocks is a challenging endeavor. An investor is left to research competitors of known companies, allocate a budget among stock selection services, and browse through online articles of new investment ideas. Considering the amount of time and effort that one dedicates to the process, it's a wonder how certain companies manage to slip completely under the radar despite being in plain view.
Among the plethora of quarterly earnings reports, a phrase similar to the following one is usually found: "Texas Roadhouse (NASDAQ:TXRH) reports earnings of $0.30 per share, below FactSet consensus estimate of $0.37." After innumerable readings, the question inevitably arose: "What is FactSet anyway?" The answer reveals an intriguing opportunity. FactSet Research Systems (NYSE:FDS) provides data aggregation software to the financial services industry, including the portfolio managers, analysts, investment bankers, and researchers that make up that marketplace.
Since its founding 39 years ago, the company has nestled into a solid niche, achieving revenue growth in 36 consecutive years and earnings growth in 20 consecutive years. The advent of the 401(k) in the 1980s, exponential growth of mutual funds, the emergence of the internet, and the growing needs of institutional investors have clearly done wonders for FactSet's business over the last thirty-plus years.
The Virtuous Cycle
Within the investment community, there is a myriad of data providers offering financial data, economic statistics, earnings estimates, and other information vital to the operation of investment firms. While the data from any single provider may be inadequate on its own, acquiring this information from all relevant providers could prove to be time-consuming and prohibitively costly for a standalone firm.
That is precisely where FactSet finds its niche. The company contracts with more than 220 data suppliers, 115 news sources, and 85 securities exchanges on behalf of its clients. From there, it delivers this information through proprietary software which aggregates data from the various sources. Clients benefit through superior data mining capabilities and improved research and analytical outcomes.
A targeted analysis of FactSet's primary stakeholder groups provides further insight into the business, including the company values and some of the key factors of its past success:
Management - Three of the top executives have twenty years of history with FactSet. Although they have only recently been appointed to their current positions, this prior experience gives them a thorough understanding of the business, including the organizational knowledge and values needed to sustain the superior company culture, which is so vital to its success.
Employees - This cultural advantage enables FactSet to benefit from a highly engaged workforce. Employees enjoy being involved in a company that has been named to Fortune's "100 Best Companies to Work For" eight times in the past nine years. In addition, 78% would recommend it to a friend and 91% approve of the company CEO, according to surveys on Glassdoor.
Customers - Most employees begin work as consultants, who are assigned to specific clients to gain familiarity with users' needs and assist them in using the system more productively. Clients total 3,092, with 66,000 users worldwide. FactSet consultants made 45,000 client visits last year. This averages out to nearly 15 visits per client, ensuring that each one receives lots of hands-on service. The results of this client-focused business strategy are clear: 97% of clients have indicated they are satisfied with the service, and the current customer retention rate is 94%.
Shareholders - Investors have benefited through 169% share price appreciation in ten years, plus eleven consecutive years of dividend increases in excess of 10%. The total and annualized stock price appreciation for the past 1-, 3-, 5-, and 10-year periods are presented in the following table:
| | | | | |
| --- | --- | --- | --- | --- |
| FDS Price Appreciation | 1 Year | 3 Years | 5 Years | 10 Years |
| Total Return | 15% | 68% | 96% | 169% |
| Annualized Return | 15% | 18.8% | 14.3% | 10.4% |
In summary, a management team with vast experience in the business sets objectives and maintains the values and strategic focus that have made the company so successful. And the superior work culture motivates its employees to perpetuate the quality customer service valued by clients - a cycle which has repeated itself over time for 36 years.
While clients enjoy the superior service of FactSet, the primary reason they do business is to gain access to the valuable analytical and decision making tools made available through the company's online, subscription-based platform. The compilation of data from various sources all available at a single point of access provides clients a highly useful tool for market intelligence, investment selection, and risk management.
While it hasn't reached the level of ERP systems, robust software like FactSet's does come with inherent customer switching costs. That's because changing systems is a costly and risky proposition for customers, particularly after a current system has become embedded in existing work processes.
In its premium service, Morningstar has pointed out that FactSet's relationship with data providers and its proprietary software also make for an imposing defense against would-be challengers who likely will find it difficult to obtain the same volume of information in a cost-effective manner and organize it in a way that is useful for clients.
The company achieves a virtuous cycle through the culmination of the natural customer switching costs and barriers against new market entrants. Both of these provide the firm with a self-reinforcing competitive advantage in its industry. The business has multiple hallmarks of outstanding long-term stock selections which provide valuable services, sustain quality business practices, and compound its intrinsic value over a long time horizon. The question prospective investors must ask themselves is whether such an increase in the intrinsic value of the business will translate to an increase in the market value and, therefore, a satisfactory return.
Sensitivity Analysis of Expected Returns
Now that we have a solid understanding of the business, let's begin to construct a future expected rate of return that FDS stock will provide under various scenarios. We'll develop a five-year forecast using the stock's current valuation and assumptions for its annual earnings growth and future price-to-earnings (P/E) ratio.
Analysts project FactSet's fiscal-year earnings to total $7.28 per share, which puts its forward earnings multiple at 24.4 based on Friday's closing price. We'll project earnings growth during the period anywhere from negative 2% to 16%, which will give us a bull and bear case, with analysts' five-year expected earnings growth ranging from 7.3% to 10.7% according to Zacks, Morningstar, and Yahoo Finance. Applying a P/E ratio of 10 to 26 at the end of this period and tacking on 1% per year for the dividend yield, we can see the following possible results for an investment in FDS stock.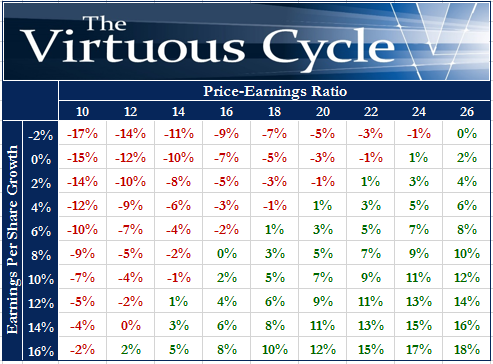 FDS 5-Year Annualized Return Under Various Scenarios
Since FactSet trades at a moderate premium to the broader market, the worst-case scenario of negative earnings growth and a rerating to a lower multiple would have dire consequences for holders of the stock, as can be seen from the 17% annualized loss in the top left-hand corner of the chart.
Alternatively, if the company achieves its projected 10% earnings growth and also maintains its P/E of 24, it will return 11% annually to shareholders in the next five years. The most optimistic scenario presented is an 18% annualized return assuming 16% earnings growth and a 26 P/E multiple, as shown in the bottom right-hand corner.
Initiation Price Target
With those scenarios in mind, let's refine the method to determine the price at which we would need to purchase FDS stock in order to achieve a target rate of return from capital appreciation under a given set of assumptions. We'll assume an earnings growth rate of 10% and a P/E ratio of 18 to make our base initiation price target more conservative than the present valuation and to account for future uncertainty. We'll throw in 5% and 15% growth scenarios for good measure, with the earnings multiple valuation reflecting the lower or higher growth rate under each assumption. The results of this analysis are summarized below:
| | | | |
| --- | --- | --- | --- |
| Initiation Price Target | $74 | $120 | $183 |
| Premium (Discount) to Current Price | -58% | -32% | 3% |
| Assumptions: | | | |
| 5-Year Earnings Growth Rate | 5% | 10% | 15% |
| Price-to-Earnings Ratio | 14 | 18 | 22 |
| Target Annualized Price Appreciation | 12% | 12% | 12% |
We can see that to achieve stock price appreciation of 12%, FactSet would have to decline from its current market price by 32% before it reaches a price where new buyers would achieve a 12% annualized return under the assumptions presented in the middle column. Under the most optimistic assumption presented, with 15% growth and a 22 P/E, FactSet stock remains undervalued by 3% based on the 12% return rate targeted for this analysis.
Decision Time
As with any stock, the analysis is a helpful one and can enable an investor to replace tendencies toward emotional trading with a sound decision making process. After developing an understanding of the company, current valuation, future prospects, and expected return under various scenarios, my own decision is that an investment in FDS stock is a risk not worth taking at the present time. This decision is due to some of the risks facing the company, while also taking into account current valuation.
Some of the primary risks affecting a decision whether to invest in the stock include the secular shift to passive investing, the prospect of a decline in equity markets in the case of a recession or bear market, and the moderate premium for which it currently trades. Despite the fact that the most optimistic scenario indicates FactSet to be mildly undervalued, that scenario assumes two key factors: earnings growth will be robust, and each of the primary risk factors will resolve favorably. Such a set of assumptions does not offer much margin of safety to the investment thesis.
In contrast, the other scenarios indicate significant downside risk. Reducing or eliminating such risks would seem to be a prudent and wise decision for investors under current market conditions. Although not on my buy list right now, FDS makes for an excellent watchlist addition. And by evaluating the underlying business and potential return under a given set of assumptions, investors can know with confidence the price which they should pay to initiate a position in the stock, should the market offer us such an opportunity in the future.
Author's Note: Investors who valued this analysis and wish to receive future articles and ideas from The Virtuous Cycle can do so by clicking the "Follow" button at the top of the article and selecting real-time alerts.
Disclosure: I/we have no positions in any stocks mentioned, and no plans to initiate any positions within the next 72 hours.
I wrote this article myself, and it expresses my own opinions. I am not receiving compensation for it. I have no business relationship with any company whose stock is mentioned in this article.
Additional disclosure: All investments involve risks. This article is only general analysis, and is neither financial or investment advice nor a recommendation to buy or sell any security based on an individual's specific investment goals or financial situation. Individuals are encouraged to do their own due diligence and determine how each investment fits into their own investment and financial plans prior to making their own investment decisions.