With Intel's (NASDAQ:INTC) recent acquisition of Mobileye (NYSE:MBLY), there seems to be a lot of attention on companies in the automotive supplier industry, especially players in the autonomous space. I think one unseen company that could potentially benefit from these good tidings is VOXX International Corp (NASDAQ:VOXX)
For investors willing to stomach a bit of risk, VOXX is one of my favorite plays in the automotive industry. VOXX is a manufacturer and distributor of automotive technologies including entertainment, satellite radio (Sirius XM (NASDAQ:SIRI) is booming lately), remote start technologies, and collision avoidance systems (Potential ADAS play).
The Hardships
VOXX has struggled in recent years with profitability and cash flow. After a wildly unprofitable year in 2014, VOXX continued to struggle through fiscal 2015 and 2016 before just recently breaking positive in 2017 with one more quarter to go.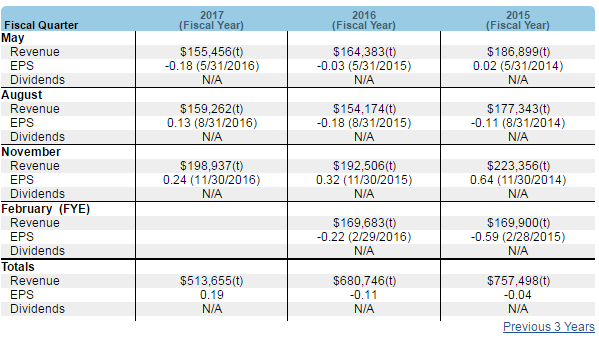 Source: Nasdaq
After a very According to PR Newswire, In fiscal 2015 VOXX was hampered by poor sales, a temporary OEM shutdown and product distribution suspension as well as poor euro conversions
After adjustments for the Euro conversion, net sales were down 5%
In fiscal 2016, VOXX posted disappointing drops across all sectors. Total net sales ended up dropping significantly.

Source: VOXX 10K Filing
The end of fiscal 2016 saw a 3.7% 5-year sales decline from numbers posted in fiscal 2012. All the while VOXX share prices were continually punished dropping as low as $2.50 in late 2016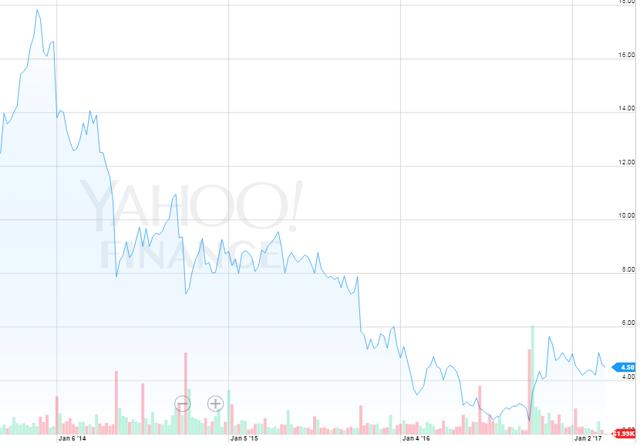 Source: Yahoo Finance
The Turnaround
The good news for VOXX was that through these relatively stagnant and unprofitable times, the company still had little debt to begin with and what debt they did have was easily managed through their financial hardships.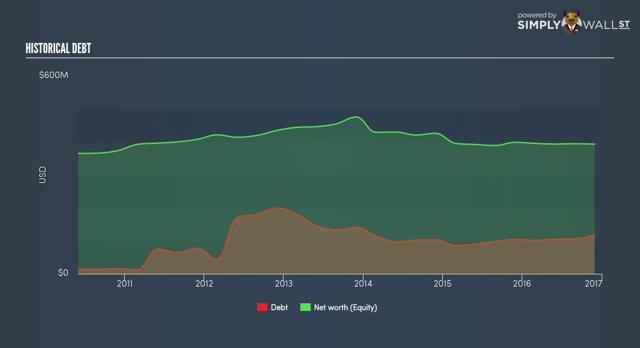 Source: simplywall.st
Recently, things have been turning around for VOXX.
Unadjusted earnings for 2017 have already exceeded the loss for the past 2 fiscal years in the last 2 quarters at $0.13 and $0.24 respectively. The company is once again turning a profit and growth prospects look good.
In Q3 2017 VOXX reported improvements in net sales, gross margins, operating expenses, and operating income. VOX is now operating at near to breakeven (down $600,000) even with associated cost of $8.7M due to Eyelock versus an operating loss of $4.1M the prior year.
Growth Catalysts
Recent OEM Awards:
New Automotive Contracts
According to last quarter's earnings, VOXX has won significant OEM contracts that will drive revenue over the next few years.
"Within our OEM group, we won an additional $16 million in new awards. And over the past year or so, we have won awards for approximately $400 million with most contracts stretching over a 3 to 5-year span. With many starting in fiscal 2018 and 2019, this bodes well for our OEM sales over the coming years. These most recent awards were from Daimler, Audi, Porsche, Renault and Skoda."
These contracts should bring significantly more business to VOXX over the next few years. With the automotive industry in a cyclical downturn after automotive sales recently "peaked" in the US. (I'm not convinced.) These contracts will give VOXX nice staying power and earning potential over the next few years.
Innovative Automotive Technology
VOXX was also awarded at CES for their innovative Advent Blind Spot Technology, which is an aftermarket microwave-based detection system that can be used to add blind spot detection features to modernize older vehicles.
VOXX also announced a partnership with Gentex to market full display mirrors and radar-related sensor products which could give VOXX some well needed exposure to the ADAS sensor market.
The X Factor - A Semiconductor Conspiracy Theory
One of the biggest reasons however that I am a VOXX long is the 360Fly 4K action camera. VOXX owns a major portion of the 360fly panoramic video camera. The 360 fly is an amazing 360 degree, 4K camera that captures live action video. The GoPro (NASDAQ:GPRO) of the future in my opinion, the 360fly is a triumph of vision technology that deserves a second look.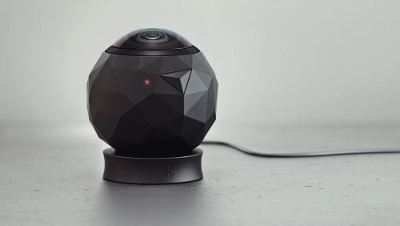 One of the largest challenges in building an autonomous vehicle is vision systems. Vision is incredibly complex and very difficult to do well. With experience in automotive technology and preexisting relationships with OEMs, I think the logical step for VOXX to take would be to leverage the existing vision system of the 360fly to create their own suite of vision sensors to compete in the ADAS sector against the king of them all, Mobileye. However, with Mobileye having recently been acquired by Intel for an incredibly generous premium, I question the true synergistic benefits of the acquisition and believe that the transition will become difficult for Mobileye and Intel as they face mounting competition from startups and established competitors alike. VOXX could step up and capture significant market share if they move quickly on leveraging their existing technology.
The chances of VOXX accomplishing this feat alone I feel are relatively small but not if VOXX were to acquire a strategic partner. Interestingly enough, VOXX wouldn't have to look far. In August 2014, 360fly closed a $17.8M Series B financing round. Who else would join the ranks of 360fly ownership but Qualcomm (NASDAQ:QCOM)? It is well known that as direct competitors, Qualcomm and Intel have been duking it out for market share in the semiconductor business as Intel has threatened QCOM's mobile segment and Apple (NASDAQ:AAPL) partnership with new mobile chip technology. That is a front that QCOM has long dominated while QCOM, with the help of Microsoft (NASDAQ:MSFT), has made significant advances in their server chip technology - a segment in which Intel has held the lion's share for as long as I can remember. As Intel attempts to finalize and integrate their Mobileye purchase, it will be strategically valuable for QCOM to turn to their assets against Intel once again. With the ongoing acquisition of NXP (NASDAQ:NXPI) on the horizon, turning to 360fly and VOXX could be the next logical strike for QCOM to take.
Conclusion
While a QCOM partnership doesn't seem impossible, all the signs point to a significant turnaround in the core business of VOXX. With little debt to speak of, established industry experience, and a growing portfolio of OEM partnerships, automotive contracts, and strategic acquisitions, VOXX is well positioned for a run to once again return to its former glory.
Disclosure: I am/we are long VOXX, QCOM.
I wrote this article myself, and it expresses my own opinions. I am not receiving compensation for it (other than from Seeking Alpha). I have no business relationship with any company whose stock is mentioned in this article.