There is a reason clothing retailers such as Gap (NYSE:GPS) and Abercrombie & Fitch (NYSE:ANF) along with several department stores are struggling - and no, it's not just because of Amazon (NASDAQ:AMZN). There has been a new fashion trend that has been taking a big bite out of regular apparel retailers, and it's called the athleisure trend. Whether the trend will slow down or fade away is a topic of debate and far more complicated than it sounds, but I will get into that later. Apparel retailers are trying to keep up with the athleisure trend by offering their own line of fashionable athleticwear, such as Gap's Athleta brand. Department stores are also trying to keep up by bringing in brands, such as Kohl's (NYSE:KSS) partnering with Under Armour (NYSE:UAA). But out of all the apparel stores, brands, and department stores, I believe Skechers (NYSE:SKX) is the best positioned for the future of athleticwear. So, let's jump right into this company and explain why they are probably the best value play in their industry.
The Business
Skechers is one of the largest footwear companies in the United States. The new athleisure trend has become a growing piece of the footwear and athleticwear industry, yet they are different in many ways. A way in which Skechers has adapted to the athleisure trend but minimized risk, is by creating licensing agreements so that they can use their name to capitalize on the sale of a variety of products outside of just footwear. This enhances their brand image and boosts revenue.
While Skechers is committed to offering affordable products, they have created a variety of products across several brands that reach both men and women who are either the stylish athleisure trendy types, or the serious athlete/fitness enthusiast. To reach both markets, Skechers has signed endorsement agreements with celebrities and athletes, such as Demi Lovato, Meghan Trainor, Brooke Burke-Charvet, Kelly Brook, Joe Montana, Sugar Ray Leonard, Ozzie Smith, and Ringo Starr. The differences between their everyday stylish products and serious athletic footwear are often seen separated in their lifestyle brands and performance brands. Their distribution channels consist of domestic wholesale, international wholesale, and retail and e-commerce.
Still Growing
Skechers' Q4 2016 results showed an increase in revenue of 5.8% to $764 million, which beat analysts' estimates of $726.2 million. For the year 2016, Skechers' total revenue was $3.56 billion; or an increase of 13.2%. This represents a 3- year CAGR of 24.33%. That slightly trails their high growth competitor, Under Armour, who has a 3-year CAGR of 27.43%, and significantly beats the footwear and accessories industry average of 6.4%.
It's not just their top-line that is growing, but their bottom-line numbers are improving as well. Over the last 19 years, Skechers has only taken a net loss twice. For 2016 they had net income of $243.49 million; an increase of 5% from the year prior, and a 3-year CAGR of 64.41%. Their operating margin dropped slightly due to an increase in general and administrative costs, which was associated with supporting their long-term global growth. Overall investors should be very happy with Skechers' growth across their top and bottom lines.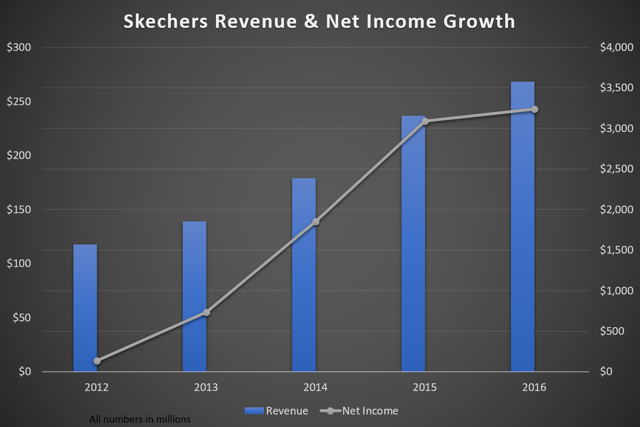 Source: Author
Outlook
If Skechers' performance wasn't good enough to motivate investors, then perhaps their outlook should be. The first quarter of 2016 was a record quarter for Skechers' with $981 million in sales, and now the company is expecting to break that. Combining an increase in international business as well as company owned retail stores with a flat to slight increase in domestic wholesale, Skechers is projecting revenue of $1.050 - $1.075 billion, which would be an increase of more than 7%.
The industry itself is growing and Skechers has proved that they can compete at the highest level in terms of growth rate. The chart below shows Morgan Stanley's projections for global activewear sales, which shows more than $350 billion by 2020.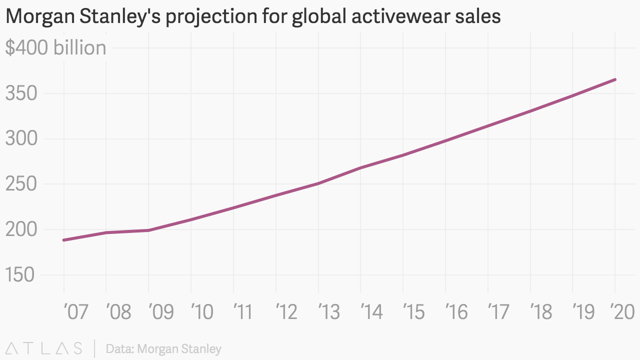 Skechers Is One of The Best Positioned in Their Industry
Companies like Under Armour and Lululemon (NASDAQ:LULU) were best positioned to capitalize on the athleisure trend - that's true. Nike was best positioned to gain some smaller top-line momentum from the athleisure trend, but remain much less volatile than its competitors. However, Skechers is now better positioned than most of the high growth capitalizers of the athleisure trend. While Skechers posted some serious top-line numbers in response to the new fashion movement, they didn't have to convert their business to a high-end luxury fashion brand. Under Armour and Lululemon rely on their customers to pay a premium for their products because their brand is marketed as luxurious fashionable athleticwear. Skechers is a different beast and will not be as adversely affected as the high-end athleisure companies. The chart below shows the YoY decline in prices of activewear tights and capris. This is something that can adversely affect Skechers' high-end competitors, but open the door to more opportunity for the more reasonably priced Skechers brand.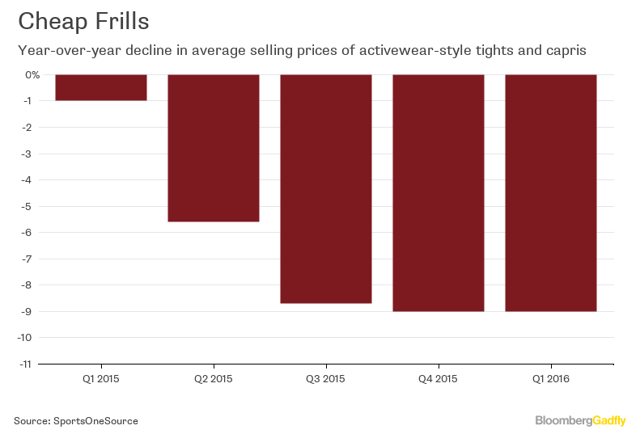 If the athleisure trend starts to fade (and at some point, it will), Under Armour and Lululemon will feel the pain as the demand for high-end fashionable athletic apparel will decline. However, Skechers would be better positioned to compete due to a significantly more affordable pricing strategy. Simply put, Skechers would be more immune to a downturn in the athleisure trend so long as activewear doesn't die out, which it most likely won't. When the trend does fade, companies like Under Armour and Lululemon may have a harder time finding their edge when competing in the activewear market.
Valuation
You would have a hard time trying to spin this stock as overvalued. All signs point to a strong value play here. Some highlights to back the long value thesis:
$719 million in cash vs. $67 million in long-term debt.
PE of 16.9 vs. industry average of 22.9
A PS of 1.1 compared to the industry average of 2.
A 3-year revenue growth rate nearly 4X the industry average.
Their operating margin could be stronger in comparison to the industry, however given their growth rate in comparison to the industry, it is still more than fair. Below I have outlined my DCF for Skechers.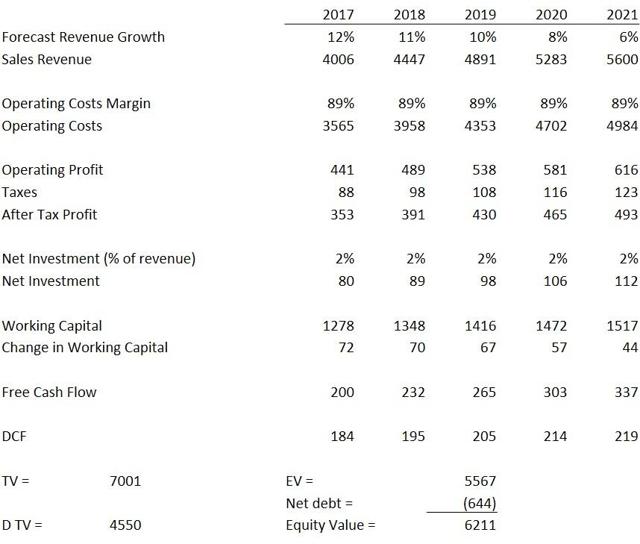 Source: Author
As you can see, I have Skechers' equity valued at more than $6.2 billion; an increase of 48% or an increase $12.60 per share. For the model, I used a 9% discount rate, which is tied almost exclusively to their cost of equity since they have such little debt. The forward 3-year CAGR I used is more than 50% below their current 3-year growth rate, and I used a 4% terminal growth rate. I used a flat 11% operating margin, which is in line with the industry average.
I believe Skechers is significantly undervalued no matter how we look at this. Based on my DCF model and public comparable companies I see this trading at a big discount, especially given their growth rate. The graph below shows Skechers' growing revenue and decline PE ratio.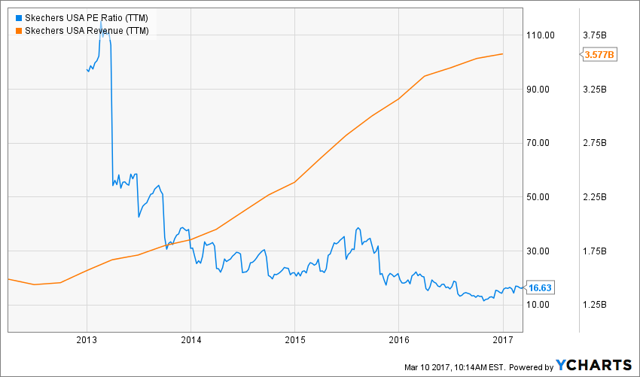 Source: YCharts
The Bear Case
The market has just not realized this discount in Skechers stock… so what gives? I know I am very bullish on Skechers, however there is a bearish case for this stock and it goes as follows:
They have too much cash. Yep, you read that right. Skechers actually has too much cash. In 2016, Skechers increased their cash and cash equivalents by more than 41.4% to almost $719 million. This has led to a cash ratio of nearly 1.2. This means that they have enough cash to cover all their short-term liabilities and then still have almost $97 million leftover in cash. Skechers' cash just keeps growing and investors aren't getting any return on it. Investors are likely wanting to see this money either begin to be distributed to the shareholders or be invested into the company for a better return. It is also consistently sinking their return on assets margin. $285 million in net income is great and a strong improvement, however their assets are outgrowing their bottom line, which has led to an ROA that is now below 12%. Assets are great, but for now that growing pile of cash is just looking more like poor asset utilization. The graph below illustrates that Skechers has historically held on to their cash. The quarterly graph shows that over the last 10 years Skechers has not let their cash ratio ever fall to 0.55, and has mostly been above their current liabilities.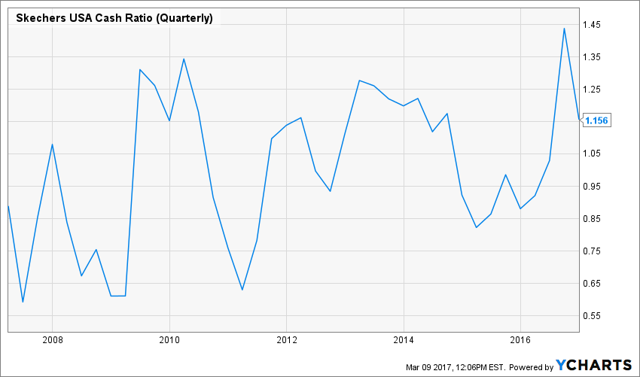 Source: YCharts
The athleisure trend can slow down. It may not seem like it can, but the athleisure trend is just that; a trend. And like any other trend, the athleisure trend can die off. This is a big fear for investors because it would most likely imply a significant slowdown or possibly stunted growth for athleisure companies.
Possible Catalysts
Skechers is frustrating because they continue to post solid numbers, but their stock remains sluggish. They may see a 20% bump after an earnings report just to see the stock slowly fall back down to its original price. We know that the stock itself is undervalued, however there has been no real catalyst to move investors' attention away from their competitors and towards Skechers. While investors may not be seeing a return on Skechers' cash quite yet, it does increase the chances of either of these two potential catalysts:
Acquisition Target. Why wouldn't someone want to acquire Skechers? A huge pile of cash with barely any debt, a clean operating history with a strong revenue stream, and the ability to expand margins with a proper merger providing good synergies. Now throw in the fact that Skechers is trading dirt cheap in comparison to public comparable companies and I don't think anyone would not be surprised to see someone make a move on this company.
Stock repurchase program. If there is something Skechers can do with the cash sitting on their balance sheet it is to buy back shares. Like I've said before, a turnoff of this stock is that investors are not getting a return on the company's cash. An easy way to increase shareholder value would be to start buying back shares. And the stock is so undervalued, which makes it an ideal time to institute a share repurchase program.
Conclusion
Skechers' poor asset utilization may be what's hurting investor opinion here. However, we should note that the company is far outgrowing the footwear and accessories industry, and therefore that cash may be a useful tool in the future. Whether it would be used for a strategic acquisition or as an increase in sales and marketing, it can be very useful for supporting their future growth in athleticwear. Nevertheless, the money is sitting there and has been sitting there for quite some time. Skechers has a history of carrying around unnecessarily high amounts of cash, and now that is just increasing by more. At some point, that cash needs to be used to increase shareholder value, whether it be used to fund growth initiatives or as part of a share repurchase program. Another option is for Skechers to declare a dividend and start distributing some of those profits back to the shareholders. Either way, the poor utilization of their cash may be discouraging investors.
As far as Skechers' business model and their prospects are concerned - it couldn't look much better. While some people are concerned about companies like Under Armour's entrance into the footwear market eating up Skechers' market share - don't be. There is still plenty of opportunity across multiple areas within this industry. The activewear market is growing at an incredible rate, while the selling price of activewear apparel is likely to continue falling. This can really ramp up Skechers competitive advantage in the future.
Disclosure: I/we have no positions in any stocks mentioned, but may initiate a long position in SKX over the next 72 hours.
I wrote this article myself, and it expresses my own opinions. I am not receiving compensation for it (other than from Seeking Alpha). I have no business relationship with any company whose stock is mentioned in this article.