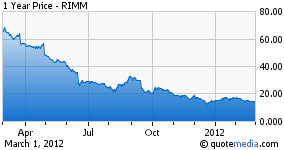 Research in Motion (RIMM) shares opened higher today (along with most of the market) on a rumor that it was going to get acquired. The rumor was not very substantial; this is the only mention that I can find of it on Yahoo! Finance.
It's getting more difficult to buy into the idea that Research in Motion, the maker of BlackBerrys, will be acquired. In fact, despite shares being historically cheap, I think that chances are lower than ever. The reason? Every strategic buyer has little (or no) use for Research in Motion at this point. The following are companies that may have been interested at one point, but are less likely to be keen on an acquisition now, and my the reasons why potential interest has decreased.
Apple (NASDAQ:AAPL) clearly has no need for RIM today - Apple makes the world's most popular smartphone! However, not so long ago, a purchase may have made sense. Just a few years ago, BlackBerrys were the most popular smartphones. Even as the iPhone began to win over consumers, BlackBerry's strangle on the enterprise business remained dominant, due to many reasons including Research in Motion's robust security, email delivery system, and the reluctance for corporate IT departments to support multiple devices. However, today, most large corporations offer workers a choice between BlackBerrys, iPhones, or even Android phones, and some IT departments (such as Halliburton) are dropping BlackBerry completely. If there was ever a possibility that Apple was interested in buying RIM, it is long gone.
Google (NASDAQ:GOOG) may have been another interested party in the past. While Google's open-source Android model is very dissimilar to Research in Motion's business model, Google could have snapped up RIM to quickly become a major player in the smartphone industry instead of spending time and using resources to start from scratch. (After all, Google's main goal is just to get its ads in front of mobile users.) But today, more smartphones ship with Android than any other software, so it seems like Google didn't miss out on anything by not buying RIM at a much higher valuation years ago.
Motorola Mobility (NYSE:MMI) is another entity that might have merged or partnered with RIM in the past. Motorola Mobility bet its future on Android phones and struggled to inch toward profitability before the Google made a successful offer to purchase MMI in 2011. But in a different universe, cutting-edge Motorola Mobility hardware (as seen in the Droid RAZR) might have kept BlackBerry fresh and relevant as the iPhone and Android phones leapfrogged BlackBerry's offerings.
Microsoft (NASDAQ:MSFT) may have been the most logical suitor at one point. Microsoft has struggled in the smartphone business for as long as it's been in the smartphone business, and it has never really held a significant share of the market. As would have been the case for Google, buying Research in Motion could have given Microsoft an instant dominant (or at least competitive) position from which it could have attempted to build the business. But Microsoft chose a different route - they went back to the proverbial drawing board and created Windows Phone 7 & 7.5, and then partnered with struggling Nokia (NYSE:NOK) to make sure that it would be featured on impressive devices. Such phones are now beginning to hit the market, and Microsoft and Nokia seem ready for a long battle in hopes of organically increasing market share.
I don't think there are many other strategic buyers out there who are large enough or relevant enough to acquire Research in Motion. But there is still a scenario in which RIM may cease to be an independent, publicly-traded entity.
I think that a buyout by private equity seems possible. Research in Motion's capitalization at the close on February 29th was $7.3 billion; a private equity firm might be able to take the company private with a $10 billion offer. (While that is a pretty large dollar amount, it's not even close to the biggest deals that have gotten done in the past.) Management may even actively work to seek a suitor if they cannot increase shareholder value through business performance in the coming quarters.
As long as the acquirer could keep the RIM from completely crashing and burning for a few years, it would likely enjoy a great return on its investment. If the PE firm could keep earnings somewhat stable for a few years (at recent levels of $1.5-2b/year), it could then liquidate the company (net tangible assets of about $7b plus potential for higher intellectual property valuations) and end up with significantly more than its purchase price. However, there is certainly great risk involved for the acquiring firm (which is probably why this hasn't happened yet), and private equity's general cost-cutting focus may only exacerbate the problems (lack of compelling products) that are currently plaguing RIM.
Research in Motion's rock-bottom valuation and the associated potential for a non-strategic buyer to place a bid are reasons why shorting the stock at these levels just isn't worth it. Yes, Research in Motion's business still looks very broken, and the promise of BlackBerry 10 isn't enough to fend off phones running iOS and Android. But it seems like the risk/reward ratio is unfavorable for shorts at this point. Even if RIM continues to struggle, shares should hit a floor not far below current prices due to the value of RIM's assets; if RIM turns around its business, or if there is an acquisition, the upside potential seems much larger.
For most investors, Research in Motion might be a stock that is best to simply stay away from - there's just too much uncertainty, and even the investors who will be right eventually may get burned first. However, I'm a sucker for buyout potential and turnaround stories, so I have started to acquire some RIMM calls, though I can also understand a pessimistic investment opinion. For bears or bulls, options may be the best way to bet on the coming price movements without losing too much money if one picks the wrong direction.
Disclosure: I am long RIMM via RIMM calls.