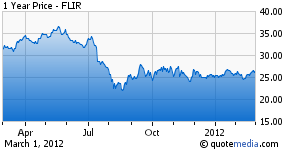 FLIR (NASDAQ:FLIR) is one of the leading developers and manufacturers of Forward Looking Infrared Sensors for use by the military, law enforcement and an expanding civil market. For most of its history it has relied on the U.S. Air Force and Army as its traditional customers but with the predicted cuts to defense spending upcoming the company is trying to broaden its market base.
In early February the company reported earnings that were above analysts by 4 cents at 49 a share compared to the consensus 45 cents. Like many defense contractors it did this with declining revenue which fell to $405 million for the quarter a drop of $29 million compared to last year. This is the second quarter in a row that earnings have been above predictions. For the year FLIR had sales of just over $1.5 billion below guidance but above 2010's performance.
FLIR is experiencing the same trends as many defense contractors, large and small, with improving earnings on declining revenues. Much of this has been done through cost cutting but only so much of this may be done. For 2012 management is expecting potential further contraction in government spending and contracts which could cause it to be "challenging". The company also increased its dividend to 7 cents a share which is a vote of confidence in itself.
The company continues to win contracts and be part of many different defense and homeland security programs. For instance it is a key component of the U.S. Coast Guard's HC-144A maritime patrol aircraft. This is a modified Airbus CN235-300 aircraft from Spain. 13 HC-144A aircraft have been provided to the U.S. and they are now buying them for use by the Mexican Navy to support counter-drug and law enforcement missions.
FLIR products are increasingly supporting homeland security, surveillance and other missions for law enforcement and other Federal, state and local government. They are also introducing products for such things as environmental monitoring and other enforcement actions. This expansion has led to steady increases in non-military sales.
The expected increased demand for Unmanned Aerial Systems which can conduct all sorts of Intelligence, Surveillance and Reconnaissance missions will also increase requirements for sensors. This provides an opportunity for FLIR and other suppliers of such systems.
Even though the company has produced earnings beyond expectations there has been some discussion of it as a possible take over target. It can be expected if the U.S. does significantly decrease spending that there will be an increase in activity in M&A with defense and security contractors. The declining market may force contraction in certain areas reducing demand and the ability to support multiple vendors for those areas.
FLIR is facing more competition. L-3 Communications (NYSE:LLL) through its Wescam family of sensor balls is finding increasing acceptance in the U.S. and Europe which could cause fewer opportunities for FLIR. This should only increase if the markets from the military declines as vendors chase fewer contracts which will have more impact on their revenue and earnings.
FLIR like many other medium-to-smaller defense contractors will have a challenging few years. It would not be surprising if several companies disappeared either through M&A or exiting the market as what happened in the Nineties the last time that U.S. defense spending saw significant cuts. There is also now the expectation that revenue will not grow much for these companies and this should eventually affect earnings. Cost reduction can only get you so far and eventually there is little left to cut. At that time dividends and profit will suffer.
Disclosure: I have no positions in any stocks mentioned, and no plans to initiate any positions within the next 72 hours.