Publicly-traded companies in the business of fresh water divide into at least four categories for investment purposes:
Public utilities
Corporate owners of freshwater sources
Innovators/producers/distributors of potable water
Water creation and conservation companies through technology some using graphene for water filtration and forward osmosis for desalination to reducing fouling and save energy
The growth potential for profit from the worldwide fresh water shortage caused by droughts and mismanagement of resources means there are profits to be made; this is no less heartless than profiting from investments in pharmaceutical companies whose drugs bring comfort, prevent and cure diseases. An investment in any water segment is likely to be safe and experience growth among well-managed companies.
A Man Walks Into A Bar
My friends went to Dubai. In the hotel bar, they ordered drinks averaging about $13 each. In the restaurant, they each asked the waiter for bottled water, having been warned beforehand not to drink glasses-filled "fresh" water almost anywhere in the Middle East. Price per bottle: $20.
Fresh water - who owns it, who pays for it, and what happens when there is not enough to go around? Companies from the U.S., Malaysia, the U.K., China, and the U.A.E are on a tear buying land around fresh water sources across the world. For example, in Ontario, Canada, Nestlé (OTCPK:NSRGY) last year outbid a small municipality for fresh water well for its bottled water enterprise. The company draws 3.6m liters of water a day in the midst of a severe drought. Other bottle water companies own rights in Canadian provinces to millions of liters of spring water, because these leases contribute much needed funding to municipalities' budgets.
A Race To The Finish
Water is the fastest growing commercialized drink on the planet. It's a $157B industry on a skyrocket toward $280B by the end of this decade. National Geographic's perspective: 70% of the earth is covered by water. 2.5% is fresh water for drinking, cooking, bathing, and agriculture. Glaciers and snowfields trap 1.5%, so about one percent remains for the world's 7B people and animals. Nestlé Corporation's chairman argues the private sector works better than government preserving diminishing fresh water resources, efficiently distributing fresh water, producing more through innovative technology, and ensuring security of drinking water collectors and efficiently managing water treatment systems. His scary claim, "We will run out of safe, clean water before we run out of oil," yet our resources are diverted to driverless cars.
He is right. Fear, greed, feckless humans, and internecine community - government kerfuffles - are reasons enough to invest:
Crumbling big cities like Chicago, "mine" Lake Michigan water selling it to residents and collar communities, but as far back as 1967, there was a pollution alert threatening Lake Michigan's fresh water supply.
The 1969 Cuyahoga River that flows into Cleveland's Lake Erie with scary images of water bursting into flames reaching five stories high.
Detroit's water delivery system serves 40% of Michigan's population, but is so beset by alleged mismanagement and delinquent bills collections, there is a threat to privatize the operation to multinational corporations.
40M residents in western states are served fresh water by the Colorado River. Decades-long drought, run-off, climate change, and population explosion cut river volume. It's running dry. Conservation groups call it our nation's most endangered fresh water resource.
About the same time an official was assuring the public the Detroit River is safe, two ducks flew into the water, paddled around, chocked, keeled over and died in front of everyone.
The 2016 news about lead poisoning in Flint, Michigan's water stirred violent emotions leading to criminal investigations.
The UN's warning that nearly two billion people live in water-scarce areas and estimates that 3.4 million people die each year from diseases caused by dirty water.
A clean water advocacy NGO warning, "Lack of access to clean water and sanitation kills children at a rate equivalent of a jumbo jet crashing every four hours," and "more people have a mobile phone than a toilet."
China's social stability and industrial growth is threatened from depleted fresh water rivers once numbering 50,000, but down to about 23,000.
Buy Into Every Sector
Utilities
SJW Corp. (NYSE:SJW) is a holding company with four wholly-owned subsidiaries. It is a public utility that provides water service, owns and operates parking facilities and engages in the sale and rental of equipment. It is a good, long-term investment for two reasons. First, the impending crisis will garner priority considerations from President Trump's infrastructure redevelopment program. This is likely to be a pass-through program of grants to state and local governments under pressure to fix water systems. SJW's rental equipment business will benefit from the uptick in infrastructure construction. Also, water utilities are going to benefit from Trump's penchant for deregulation.
Second, hedge funds and insiders (29% is held by them) are committed to SJW with significant investment in the company. Darlene McCollum reports, Renaissance Technologies LLC increased its stake by 17.6% during the fourth quarter. "Renaissance Technologies LLC owned approximately 1.53% of SJW Group worth $17,561,000…. BlackRock Inc. now owns 14,807 shares of the company's stock valued at $647,000 after buying an additional 10,654 shares during the period."
SJW's Q4 reported last month its EPS of 67 cents beat expectations by two cents. Though revenue was down to under $80M (-9.5% Y/Y), SJW beat expectations by $4.3M. The share price is down to $46.83 from a 52-week high of $56.93, and a dividend yield of 1.86%; that's close enough to 2% that I like for income investors.
I believe the drop in share price factored in a rise in interest rates that will affect the cost of SJW's debt repayment, which is largely long term. Over time, the demand for the company's services including drawing water, purchasing, storing, purifying, distributing, and selling water wholesale and to consumers will spur the stock price increase into the mid-$50s. The company has yielded more than 18% earnings per share growth and 7.3% revenue growth over the past five years. There are no surprises with a $1B market cap stock like SJW in a time of so many political and economic unknowns and unease in an industry crucial to survival.
Bottled Water
The health-kick among millennials, rising soda and sugar taxes and outright soda bans bode well for long-term sales growth among bottled water sellers. National Beverage's (NASDAQ:FIZZ) stock is on a hot-hot streak. FIZZ is selling at around $76 near its 52-week high. National Bev's quarterly report this month reveals a 20% jump in revenues to $195M, and EPS at 52 cents vs. 24 cents last year.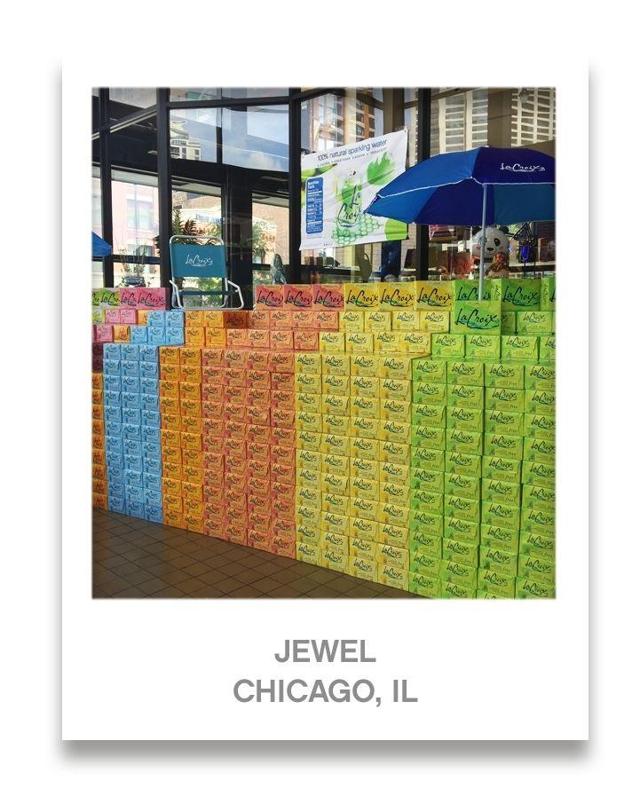 FIZZ's share price has plenty of room to grow. Its price rose 36% since August 2016. It's a darling of investors like Mario Gabelli (NYSE:GBL) who cites FIZZ's sparkling water LaCroix as a market sensation. I like FIZZ's products are flavor-full, sugarless, sans artificial sweeteners, appeal to millennials, more affordable than many competitors, and the company is well managed. FIZZ owns other top brand name drinks as well including Shasta, Crystal Bay, Asanté Vitamin drinks, Rip It Energy drinks, Everfresh Juice drinks, and Mega Sport.
The company's real value might be as a takeover target by a multinational corporation looking to enhance its position in the bottled water market. Any one of them will enhance FIZZ's brands with their powerhouse distribution. My notion the best candidates are Coca-Cola (NYSE:KO), PepsiCo (NYSE:PEP), Nestlé, and Kraft Heinz (NASDAQ:KHC). Don't be surprised if a beer industry leader has its eye on National Bev with beer industry sales dropping.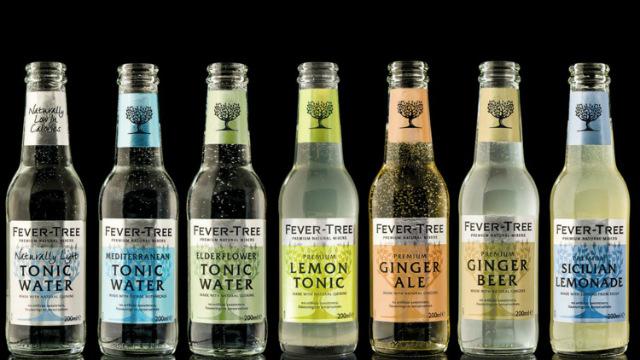 A lot less expensive entree into this market is Fevertree Drinks Plc (OTCPK:FQVTF) (on the London Exchange as FEVR), which sells for almost $19 per share. It positions itself as all about taste and quality ingredients in carbonated mixers and exotic beer flavors. A 16.9oz bottle of Fever-Tree Premium Club Soda sells at discount for $43.15. My wife and I drink tonic water with quinine, a major product of Fevertree, straight to preclude nocturnal leg cramps.
Its value is up 550% since listing in 2014. It is on par with the dramatic rise in consumption of premium wines and craft beers. In 2016, sales rose nearly 70% in the first six months and EBITDA 72% y/y. Management is fixed on building brand reputation, awareness and global sales. Its 2016 operating margin exceeded 29%. FQVTF is reportedly holding more than $30M in cash and enjoys a quality earnings growth, touching 83% y/y, giving management the ammunition it needs for continued expansion.
Final Thought
Small investors can hardly go wrong investing in any sector of the water industry. Of enormous interest to space scientists, is there water on Mars? Every living creature and vegetation has the demand for water in common. Nothing survives without water. A bit of research and due diligence by an investor and determining one's risk threshold are determinants in the choice of companies. Keep in mind too what Dr. Seuss had to say, because he was one of the first to define the market size for water: "Think! Think and wonder. Wonder and think. How much water can 55 elephants drink?"
Disclosure: I/we have no positions in any stocks mentioned, and no plans to initiate any positions within the next 72 hours.
I wrote this article myself, and it expresses my own opinions. I am not receiving compensation for it (other than from Seeking Alpha). I have no business relationship with any company whose stock is mentioned in this article.
Editor's Note: This article discusses one or more securities that do not trade on a major U.S. exchange. Please be aware of the risks associated with these stocks.