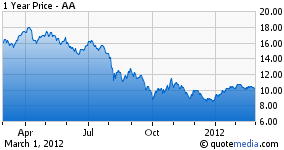 Despite macro uncertainty, aluminum producers Alcoa (NYSE:AA) and Century Aluminum (NASDAQ:CENX) have soared right past the bears, gaining 17.6% and 15.3%, respectively. Based on my review of the fundamentals and multiples analysis, I find room for significant upside especially in the context of industry-wide consolidation.
From a multiples perspective, Alcoa is attractive. It trades at 19.2x past earnings but only 10.6x forward earnings. Century trades at 35.1x forward earnings off of expectations for dramatic bottom-line growth as operations reboot. In my view, one of these two companies will consider taking over Ormet Corp (OTC:ORMT), which trades at only 0.9x past earnings. Ormet was once a billion dollar company and has the potential, as well as the fundamentals, to significantly gain back value.
At the fourth quarter earnings call, Century's management expressed uncertainty that has been reflected in plant challenges:
"I guess, I could just suffice to say in summary now at this point, we're prepared for the volatile conditions in the marketplace to continue for some reason over a period of time, and we're going to continue to manage the company in that context.

Okay. Let's take a quick review of 2011. At Hawesville … the upset conditions in the plant last year cost us $50 million in last profits. This is a combination on the one hand of unabsorbed fixed costs, did in lower volume and number two, due to higher spending both on materials and outside contractors".
The fourth quarter was roughly in-line with expectations. Volumes are expected to be above rated capacity in 2012 as operations start returning to normalcy. Hawesville is improving operating levels while Ravenswood may retort sooner than expected. In regard to the former, the company has express how issues have been more due to managerial issues than operational ones. ROIC is set to explode to 13.8% in 2013 as management makes progress in setting up long-term power contracts in Iceland. The process is expected to be completed by the end of 2012.
Consensus estimates for Alcoa's EPS forecast that it will nearly quintuple to $0.84 in 2013 and then grow 51.2% in the following two years. These figures are too uncertain to extrapolate a price target off of.
As the largest producer of alumina, Alcoa may have more visibility, but there is still likely going to be volatility over earnings. Management has vertically integrated operations, which allows for greater operating flexibility. Management, for example, has closed 240K tons of capacity in Europe to address industrial uncertainty in the region. At the same time, aluminum prices are trending better than what some expected and management is guiding for a 7% in consumption for 2012.
Consensus estimates for Alcoa's EPS forecast that it will decline by 25% to $0.54 in 212 and then grow by 77.8% and 27.1% in the following two years. Assuming a multiple of 16x and a conservative 2013 EPS of $0.93, the rough intrinsic value of the stock is $14.88, implying 46.3% upside.
Disclosure: I have no positions in any stocks mentioned, and no plans to initiate any positions within the next 72 hours.
Disclaimer: We seek IR business from all of the firms in our coverage, but research covered in this note is independent and for prospective clients. The distributor of this research report, Gould Partners, manages Takeover Analyst and is not a licensed investment adviser or broker dealer. Investors are cautioned to perform their own due diligence. Always discuss investments with a licensed professional before making any financial decision. Statements made within this report may include "forward-looking statements" as stipulated under Section 27A of the Securities Act of 1933, Section 21E of the Securities Act of 1934, and the Private Securities Litigation Reform Act of 1995. Since these statements are uncertain, actual results may be materially different from those expected.