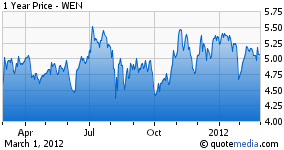 Wendy's (NYSE:WEN) earnings call today was an eye opener. For investors willing to buy in now while the stock price hovers around $5 per share, Wendy's offers a compelling opportunity. Wendy's is currently kicking off a three year turnaround plan that got underway last fall with its new Hot 'N Juicy burgers and a new addition to the burger lineup called the W.
The turnaround strategy is a comprehensive one, calling for not only a revamping of stores from the inside out, but a total image makeover involving retraining from top to bottom and ensuring that all employees have a smiling face and a can-do attitude starting with top management. If franchisees do not wish to go along, Wendy's may just opt to buy them out or hook marginal franchises up with winners that believe in the turnaround story. Top management today noted that they have a considerable number of top notch franchise owners willing to expand their ownership of the brand.
For a look at the sharp new restaurant facelift, click here. Wendy's has developed four different visual concepts to test and determine what works best in what market. The concepts are designed to better engage the customer and enhance their in store experience. Phoenix has been a test market for some of the new stores and Wendy's top brass noted that franchisees having been ringing the phone off the wall asking as to when they will be able to buy-in to the concept. This year, Wendy's intends to reimage 50 stores and is currently working to line up financing for its franchisees. All the new stores, reimaged stores, and all franchisee stores in general are also receiving updated POS systems that should produce incremental savings to the bottom line over time and reduce everyday worker frustration with customer service delivery.
Wendy's is also adding breakfast to its menu and is currently working through the concept in test markets in the northeast. One of the concerns noted by management and one analyst on the conference call was the time it takes to deliver the product to morning customers that are always in a hurry. Delivering a freshly cooked product takes time, but management noted they are working through this issue.
One of the more interesting questions was regarding the value menu. Its seems the menu is almost too good to be true, and thus management may consider trimming back some items being made available. From a personal point of view, I concur with management on this one, for Wendy's currently has the best darned dollar cheeseburger on the planet that is served up with a slice of red onion, tomato, lettuce, and pickles along with the standard sauces.
Matter of fact, this is where I personally believe Wendy's is leaving a pile of money on the table.
Prior to the launch of this burger, I used to go with a Wendy's single meal deal. Now I can purchase a small premium cheeseburger which agrees with my high cholesterol and my doctor, a dollar coke, and a dollar fry for three bucks. Thanks Wendy's.
I like what I see. And given a share price that has been trading sideways for a couple of years now, this is a great time to get in prior to the fruits of Wendy's efforts filtering down to the bottom line. Wendy's earnings per share in the fourth quarter were in line with expectations, or a penny per share. And they are currently paying a 2 cent dividend per quarter.
Look for a new Wendy's ad campaign to kick off this spring which should boost share growth. According to a recent article in Advertising Age, it was noted that Wendy's surpassed Burger King to take the number two burger selling spot in America, and according to Advertising Age, taking share away in a tough market such as burgers is no a small feat.
Wendy's is a stock long-term investors may wish to begin accumulating. Should the turnaround strategy succeed, it won't be long before the shares are hitting the $10 range and beyond. I am personally looking for a minimum of a 25% return on this stock over the next 12 months. Another plus is that Wendy's only has 389 million shares outstanding after completing a major buyback program over the past couple of years. And finally, some pretty major analysts are following this stock, so I will be looking for a few upgrades over the next year or so.
Disclosure: I am long WEN.