Berkshire Hathaway: Determining Intrinsic Value
Over the weekend, Warren Buffett published Berkshire Hathaway's highly informative annual letter to shareholders, 10K and annual report. It's always great reading, and not only have I read his stuff religiously over the past decade, but I have also been a shareholder off and on for years. On the surface, earnings last year were quite good. Berkshire Hathaway (NYSE:BRK.B) increased its per-share investments by 4% (better than the S&P's return), and pre-tax earnings from non-insurance/non-investments also increased by 18%.
Intrinsic Value and Share Buybacks
Berkshire announced a share buyback last September 26, and it appears it managed to repurchase a meager $67mm of stock. The buyback level limit is easily determined - it is 110% of stated book value. It's important to understand that Buffett wants to buy back his stock, at a price that is below intrinsic value. The implication is that 110% of book value (or $73.23 on the B shares) is well below intrinsic value.
"Charlie and I have mixed emotions when Berkshire shares sell well below intrinsic value. We like making money for continuing shareholders, and there is no surer way to do that than by buying an asset - our own stock - that we know to be worth at least x for less than that - for .9x, .8x or even lower."
So, the obvious takeaway is that Buffett believes that $73.23 per share is 10%, 20% or perhaps 30% below intrinsic value. So, with book at $66.57 per B share, the simple range of equity values is:

This shows that Buffett likely views his stock as worth somewhere between $81 and $95 per B share. With such a buy back in place, there is good support for Berkshire equity at $73 or lower. And good reason to own it around $79.
In total Buffett is authorized to use up to $17BB of cash ($37BB total cash today less a $20BB limit) to repurchase stock. That could sop up almost 10% of the shares outstanding at $73. Note that above I also added in the cash that will be earned over 2012, to get a one-year target range of $85 to $100 per B share.
One of my simplistic measures of intrinsic value is to use a FCF yield on his stock. If $12BB in cash and dividends is rolling into Omaha, every year, then taking that on a per share basis (approximately $5.00 per B share) implies that the stock trades at a 6.3% FCF yield. Given the growth in earnings of 16% last year, this is a better than the S&P 500's EPS growth last year, and at the same price (ie same P/E multiple).
In fact, if you strip out the capex spending in excess of its depreciation, then 2011 FCF looks like $20.5BB less $4.7BB = $15.8BB, or $6.38 per share. At current stock prices, that is an 8.0% FCF yield. I think 7% on this is pretty close to where a lot of blue-chip companies trade, which implies $91 per share as another means of looking at intrinsic value. This 8% that you are essentially getting today for owning this stock is quite attractive (especially with treasuries at 2%). Especially on what I deem as somewhat depressed earnings. More on that below.
Succession Planning
Buffett has finally named a CEO to replace him. At age 82, one of the biggest overhangs on the stock is his age and his as yet unidentified replacement. Plenty of headlines made the rounds here. I would add that recent hires Todd Combs and Ted Weschler each will manage around $1.75BB of the float for now, and likely to assist the new CEO in making business acquisitions given their "excellent minds." I think they had a lot to do with Berkshire buying Mastercard (NYSE:MA) and IBM for example, as well as encouraging the buyback.
Other Means of Valuing Berkshire
Between 2002 and 2008, Berkshire Hathaway historically traded at a fairly large multiple, averaging 1.6x book value. Since 2009 however, the stock has fallen to a steady level of 1.2 to 1.3x book. Put differently, BRK has actually underperformed the S&P 500 (NYSEARCA:SPY) over the past 3 years. Lots of things going against the company can be cited:
Housing has continued to be a drag on Berkshire earnings, with the company's five housing related businesses contributing only $513mm of earnings last year, well down from the $1.8BB generated in 2006. As Buffett points out, housing starts are below new household formations, meaning this level cannot persist for too long.
Insurance underwriting continues to worsen almost every year. In fact, the company's four primary insurance company's pretax earnings since 2006 have been:
| | |
| --- | --- |
| 2006 | $3.8BB |
| 2007 | $3.4BB |
| 2008 | $2.8BB |
| 2009 | $1.6BB |
| 2010 | $2.0BB |
| 2011 | $0.2BB |
Concerns of succession as well as the David Sokol scandal last year. Nothing highlighted to me Buffett's shortcomings more than his inability to grasp the magnitude of Sokol's highly unethical trading in Lubrizol (LZ) stock. His public posture that Sokol did nothing wrong seemed like his judgment was beyond impaired. Blunder aside, the stock at these levels gives Buffett no credit for being one of best money managers and CEO's in history.
But breaking Berkshire down, giving no turnaround credit to housing, and assuming a five-year average underwriting profit at a conservative 10x multiple, gives me a valuation of $88 today. I would further add $5.00 to that, based on the cash that the company will generate in 2012 (as I did above). Overall, Berkshire could easily trade higher than $90 in 12 months barring another 2008 meltdown.
Here is the math: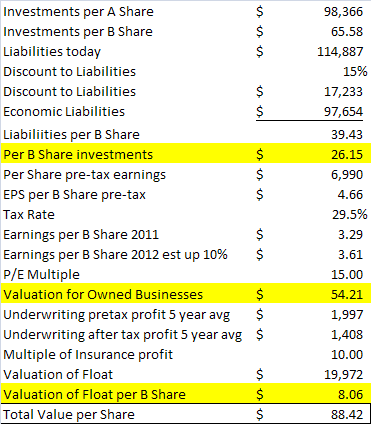 Note: I discounted the insurance liabilities (float) of $115BB by 15%, based on a Buffett's impressive track record of generating underwriting profits. As he says in the letter:
"So how does this attractive float affect intrinsic value calculations? Our float is deducted in full as a liability in calculating Berkshire's book value, just as if we had to pay it out tomorrow and were unable to replenish it. But that's an incorrect way to view float, which should instead be viewed as a revolving fund. If float is both costless and long-enduring, the true value of this liability is far lower than the accounting liability"
He further suggests that his goodwill value should be discounted against his assets. He paid $15.5BB in excess of book for this float, so really there isn't $15.5BB of assets here, it is less.
However, in prior letters, Buffett goes so far as to suggest that since 1) his float is almost perpetual, and 2) will likely never decline, and 3) is basically zero cost financing, you can therefore almost entirely exclude this as a liability. Well, I respect Berkshire's talents (not just Warren), but the continued erosion in underwriting profit, and the simple fact that float is a liability, seems to suggest you need to include some portion of it.
I decided not to over analyze this one, erring on the very conservative side. So, I assumed a 15% discount to what in essence is zero percent interest rate financing over a very long period of time. While 20-year zero coupon bonds at a 4% discount rate would trade at, surprise, 45 cents on the dollar, I felt that that kind of discount (65%) seemed extreme. I should point out that a middle of the road 40% discount to the float (instead of $15%) would add a whopping $12 per B Share to the valuation above, taking you to $100 a share.
Conclusion
Berkshire probably is 10% too cheap relative to history. It's not without its problems in insurance and housing, but the market is probably over-penalizing the stock right now. One really good year on the insurance side for example, could see $248mm in 2011 underwriting profit turn into $3BB to $4BB in underwriting profit. That would mean at least $1 in EPS growth compared with 2012, i.e. $3.29 in EPS last year could jump to $4.29 or higher. Housing I am not a believer in near term, but there is no doubt some free optionality here too.
You also have to admire the market's ability to pay peak multiples at peak earnings. (And trough multiples on trough earnings). In Berkshire's case, the stock traded at 1.8x book value in 2007, when underwriting profits were $3.7BB and housing profits $1.8BB. Combined they generated a miniscule $0.7BB in pretax profit last year, a decline of $4.8BB.
Recapturing that $4.8BB would increase profits by 25%. It's actually quite a testament to Berkshire Hathaway that with this decline in pretax, total operating business pretax earnings have only fallen by $3BB (from $20BB in 2007 to $17BB in 2011).
I bought stock between $72 and $75 last year, and generally believe that there is a nice floor on the equity at $73 or so given the huge buyback arsenal available to Buffett. You can read my original thesis for more details.
While there is a recession downside scenario, it's important to realize that Berkshire's book value fell only 9.6% in 2008, compared with a market decline of 37%. That is very good downside protection. And on the flip side, if the market ever decided to give a 1.5x multiple of book value again to BRK, then upside would equate $100 a share.
Here is the link (pdf) to the company's annual report for 2011, which includes the letter:
Disclosure: I am long BRK.B.