Market Recap: It was an interesting reversal of fortunes for the market that signaled just how strong this market rally is right now. Yesterday, we got a solid slate of economic data and news that led to a pullback. Whereas today, we got more bad news it appeared than good news, yet we went higher.
To recap, on the plus side the market received some good news from initial jobless claims as they came in at 351K vs. 355K expectations, continuing a solid downtrend in unemployment claims. Car sales were also strong with Chrysler leading the way with a 40% jump while Ford (NYSE:F) was able to add a 14% gain. Yet, a lot of the news was bleak. ISM Index came in well below expectations just north of 50. Construction spending came in negative at -0.1% vs. 1.0% expectations. Issues in Greece are also flaring up.
Despite all of that news, the S&P 500 (NYSEARCA:SPY) continued to plug toward 1,400, but the Dow (NYSEARCA:DIA) could not hold onto the 13,000 level. Tomorrow, we actually have no data, which may set up for a quiet finish to the week. So, moving into next week, here are two trading ideas we like:

First, we are bullish on Panera Bread (NASDAQ:PNRA). We have a $170 price target and Buy rating on the company, and we believe that $170 is a very conservative estimate for this company. They look solid, and we recommended buying it today to our clients. The stock formed a nice bottom around earnings, is bouncing higher, and has not broken its 50-day MA in four months. We like the upside and recommend a buy of the stock as well as adding a 155/160 bull call spread for Apr20 expiration.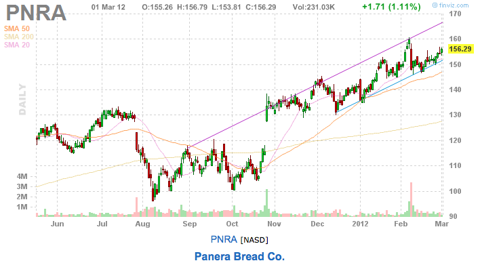 Additionally, we are a fan of Lululemon (NASDAQ:LULU). The company has only moved down 2/10 reports from two weeks prior to the day before earnings, and we believe that this one will continue to build. Its last earnings report showed some of the weakness of LULU, but we believe this stock continues higher. We see it moving above $70 before earnings, and we like going long the stock.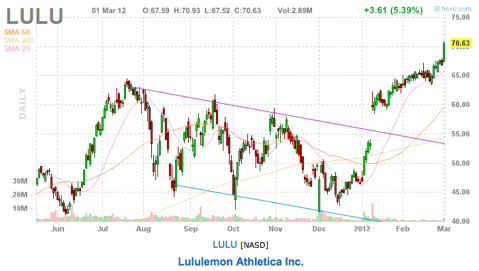 Tomorrow's Outlook
Tomorrow may be a quiet day for the market. There is not much in the way of earnings for tomorrow, and there is no major U.S. economic data to be released. We may see some profit taking before the weekend, but it will be insignificant. Probably the most important item for the U.S. markets is China non-manufacturing PMI, which hopefully will reverse the reports we got out today that were a bit weak for China's manufacturing. We get the eurozone PPI as well as German retail sales numbers. Finally, we have Canada GDP out tomorrow. We will definitely be interested in iShares Canada (NYSEARCA:EWC) as it is a holding in our long-term portfolio, extended value portfolio.
Analyst Action
We did some interesting analyst action from today. One of the big upgrades included Ford (F) getting upgraded by Standpoint Research to Buy with $17 PT. We have a Hold rating on F with $12 price target. There were limited upgrades. We did see a downgrade of Wendy's (NYSE:WEN) to Neutral from Buy. We have a Buy rating on WEN and like the action today to move towards fast-casual.
Commodity Talk
We continue to like shorting oil and United States Oil Fund (NYSEARCA:USO). This oil move is completely based on fluff and tough talk from Iran. If we look at the real fundamentals, demand is limited for oil. Supplies continue to rise, and our economy could be hurt a lot by continued higher prices in oil. We see lots of reasons to drop including those mentioned as well as the White House releasing oil reserves for spike down as well as weakening markets. The drop in gold means this rally may be done as well, and we would be selling bear call spreads on gold right now via SPDR Gold (NYSEARCA:GLD).
Oxen Group Moves
We had a solid day here as we were able to exit several positions for a profit. We were able to get out of the second half of Marriott (NYSE:MAR) for a solid 2.2% gain. We also got out of a bull call spread we had in Discover Financial Services (NYSE:DFS) for a 50% for the 28/30 strike we have had for a few weeks. Further, we also got a 39% gain on a 55/60 bull call spread we have for Monster (NASDAQ:MNST) for Jun16 expiration. We are targeting 2.00 on DFS and 3.50 on MNST, so there is much more upside. We did have to take a 1.2% loss on Ultrashort Proshares Crude (NYSEARCA:SCO) that we entered yesterday. We added a long in Panera as well as a short in Vail (NYSE:MTN). We like shorting MTN into earnings as they should miss estimates due to lack of snow.
We have the following positions. In our Short-Term Equity Portfolio we are long Panera and short HMSY. In our Options Portfolio, we are long PACCAR (NASDAQ:PCAR), McDonald's (NYSE:MCD), Apple (NASDAQ:AAPL), Panera Bread , Bed, Bath, and Beyond (NASDAQ:BBBY), and Discover Financial. We are short Amazon.com (NASDAQ:AMZN). In our Earnings Portfolio, we are long FedEx (NYSE:FDX), Priceline.com (NASDAQ:PCLN), Activision Blizzard (NASDAQ:ATVI), Monster Beverage , and Joy Global (NYSE:JOY). We are short MTN.
Chart courtesy of finviz.com.
Disclosure: I am long PNRA.