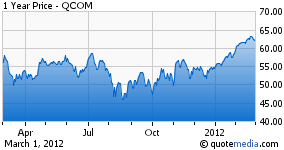 At Mobile World Congress this week, Qualcomm (NASDAQ:QCOM) rolled out its next generation baseband chips. The multi-band chips support 4G LTE, and are backwards compatible to both UMTS 3G, used by AT&T (NYSE:T), and CDMA HSPA and EV-DO 3G, used by Verizon (NYSE:VZ). Clearly, Qualcomm recognizes device makers want a one stop shop for chips which work seamlessly across global networks, allowing them to deliver new products more quickly.
Apple's impact remains positive.
This is especially important for Qualcomm customer Apple Computer (NASDAQ:AAPL), which hopes to find itself on all of China's carriers sooner rather than later. Qualcomm's next generation chip removes a design hurdle for Apple, allowing its phones to work on China Mobile's 650 million subscriber network as easily as any other. But, it's equally important for Apple's competitor's too, as all of them angle for their share of rapid emerging market smart phone demand. Despite mid double digit global growth in smart phone sales in 2011 from 2010, more than half of mobile users still don't own one. And, emerging market migration from 2G to 3G offers considerable growth, especially in China where 3G accounts for only a quarter of connections.
Qualcomm's previous attempts to build multi-band chipsets have been well received. Apple turned to Qualcomm for the baseband chip when it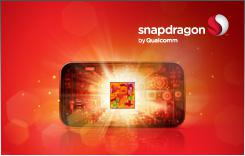 launched the iPhone 4 on Verizon's network and then swapped to Qualcomm for its AT&T phones with the launch of the 4S. With Qualcomm increasingly deep seated in Apple products, the company will likely find itself winning iPad 3 baseband slots this month. And, any roll out of additional iPad sizes - or over-air solutions integrated into a future Apple TV - would drive sales and earnings higher too.
Top selling smart phones and mobile Windows add momentum.
In addition to baseband chips, the iPhone 4S sports Qualcomm power management and RF transceiver chips. The Samsung Galaxy S2, which sold 20 million units since its launch last April, is also powered by Qualcomm. And, for those keeping score, Qualcomm's Snapdragon is also found on the top selling HTC EVO 4G. For Crack-berry users, the top selling Blackberry Curve 8530 was similarly powered by Qualcomm. And, with the 4S the third highest selling smart phone last year - despite only two months on the market - Qualcomm should expect continued volume and revenue growth this year.
Adding to the momentum, more marketing might is being put behind Microsoft's (NASDAQ:MSFT) mobile operating system. This will drive unit sales for device makers such as Nokia, whose Lumia series of phones use Snapdragon chips. The Lumia 800 uses the Snapdragon S2 and a Qualcomm power IC and RF transceiver. And, the newly launched Lumia 610, a low cost mass merchant windows smart phone, uses a Snapdragon S1.
Future device wins will drive positive news this year.
All these design wins might give investors pause thinking demand is peaking. But, strength is likely to continue further this year. Currently, there are 340 devices using Snapdragon and another 400 are in development. Its top tier Snapdragon S4 has 120 devices in design. And, wins last year - which pushed Snapdragon shipments 120% higher and generated record revenue and earnings - have prompted Qualcomm to boost 2012 guidance to 27-28% revenue growth.
Further, QCOM is benefiting from rising adoption of non-handset devices, which are expected to see shipments increase by 40% annually through 2015. In addition to tablets, there's a big opportunity ahead for Qualcomm as Internet TV goes mainstream. Qualcomm's acquisition of Atheros last year added Atheros Killer product line, giving Qualcomm an expanded presence in streaming video and gaming content to devices such as TV's. At CES in January, Lenovo's K91 smart TV relied on Snapdragon.
Finally, in case you think Qualcomm, which trades near its 52 week high, is too pricey, consider using next year's estimates. Shares are trading at the low end of their 5 year PE range. If Qualcomm investors value a dollar of earnings similarly next year as they do this year, investors could see another 20% upside.
Disclosure: I have no positions in any stocks mentioned, but may initiate a long position in QCOM over the next 72 hours.