Lakshman Achuthan, head of the Economic Cycle Research Institute (ECRI) hit the media circuit last week to discuss the ECRI's controversial recession call in late September 2011. As the unemployment picture has brightened and equity markets up year-to-date, the ECRI has received significant push back on their call for a recession. In short, Achuthan and the ECRI are still calling for a recession. Achuthan cites ECRI's proprietary index which is pointing to continued weakness, not strength. Achuthan stated that its index and data are weakening to a 21 month low as opposed to strengthening.
According to ECRI:
Job growth is a lagging indicator
Personal income, sales growth and GDP peaked in Q3 2010 and has been declining ever since. The economy has not reaccelerated.
Economies do not muddle along. In 50 years of following the data, economic growth has never declined this far without a recession.
ECRI Weekly Leading Indicator Index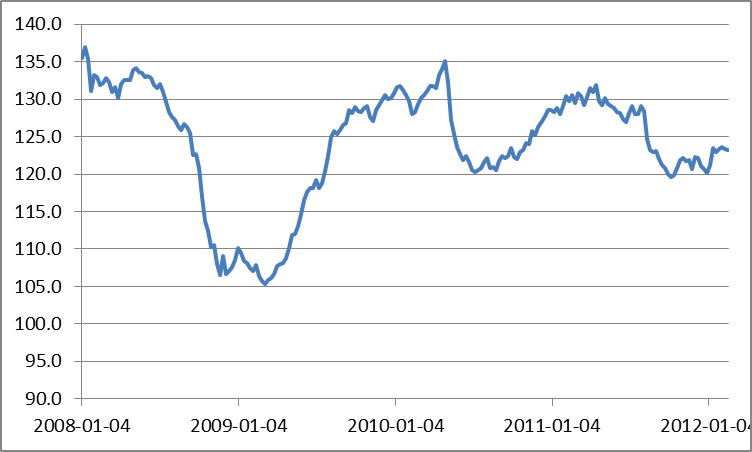 Given the potential for a slowdown, investors should focus on high quality equities to protect their portfolios against another slowdown. I think we will likely be entering into another slowdown and think investors should select equities with strong business models that will hold up during another recession or slowdown.
In picking companies that will hold up during a potential recession, investors should pick inexpensive, large capitalization equities that provide dividend yields.
Equity Screener:
Price to Earnings of less than 20.0x
Dividend Yield of greater than 2.0%
Market Capitalization of greater than $10.0 billion
Screen Rationale:
I am focused on large capitalization equities as they have scaled and durable business models. Large capitalization equities typically are not concentrated in terms of customers or products, thus reducing company-specific risks.
I am focused on dividends that are higher than the 10 year U.S. Treasury.
I am focused on equities with modest valuations.
BlackRock, Inc. (BLK)
Price to Earnings: 15.8x
Dividend Yield: 3.1%
Market Capitalization: $34.9 billion
Abbott Laboratories (ABT)
Price to Earnings: 18.9x
Dividend Yield: 3.6%
Market Capitalization: $89.4 billion
Waste Management, Inc. (WM)
Price to Earnings: 17.5x
Dividend Yield: 4.0%
Market Capitalization: $16.4 billion
Duke Energy Corporation (DUK)
Price to Earnings: 16.5x
Dividend Yield: 4.8%
Market Capitalization: $28.3 billion
CME Group Inc. (CME)
Price to Earnings: 10.7x
Dividend Yield: 3.1%
Market Capitalization: $19.4 billion