With networking equipment company Brocade (NASDAQ:BRCD), it's always something. Although this small-tech company still holds an attractive market share in storage networking, the inconsistencies and execution issues in the ethernet business continue to limit the upside. While this remains a stock with significant long-term potential, investors buying in today have to have a lot of faith in a management team that doesn't necessarily deserve it.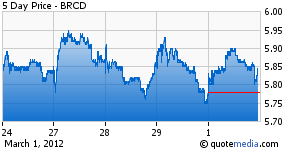 Surprising Solid Results In A Challenging Quarter
This was not a great quarter for Cisco (NASDAQ:CSCO), Juniper (NYSE:JNPR), or Hewlett-Packard (NYSE:HPQ), but Brocade did respectably well. Sequential growth of 2% was enough to drive a beat versus Wall Street analysts.
Growth was driven by solid single-digit sequential growth in storage, fueled in part by better adoption of 16G SAN products. Ethernet revenue was a disappointment, however, with a sizable sequential drop in sales fueled by weakness in enterprise customers. Although VDX (ethernet fabric) sales were strong (up 33%), they're comparatively tiny.
With better sales, Brocade also managed to deliver better-than-expected operating leverage. Gross margin picked up nicely (helped by service revenue and fabric), as did operating income and operating margin.
The Song Remains The Same
Unfortunately, while Brocade did post a solid revenue number and a good operating beat, that's arguably not what's going to leave the bigger impression with many institutional investors. Consistency has been a big problem with Brocade, and this quarter shows that reliable execution remains an issue.
Management claimed that Ethernet sales were hurt by the push-out of large orders and perhaps by the impending roll out of new campus switching products. That may be true, but the fact remains that Cisco and Juniper were barely down sequentially in ethernet, and it looks as though Brocade lost significant share momentum to Cisco, Juniper, and even HP.
Can The New New Thing Fix It?
Brocade now has a new sales model and stronger products in ethernet, particularly in its fabric offerings. Unfortunately, I have to wonder if Brocade has squandered much of its opportunity.
While the company is doing well in storage, the SAN market is widely regarded as a mature market with relatively little growth left in the tank. So although Brocade has a commanding share here versus Cisco, the Street isn't going to pay much for that. What's more, if Cisco gets its own 16G SAN product out there soon enough, it'll sap some of Brocade's momentum.
In ethernet, Brocade could have gained some ground while Cisco and HP were struggling to reorganize themselves and right the ship. Now Cisco (far and away the largest player in ethernet) seems to have its "stuff" together again and should be a more formidable competitor. David and Goliath stories are popular, but prospective Brocade investors should remember that that story stands out because David gets squashed in the vast majority of cases.
The Bottom Line
The story on Brocade for a while was one of good technology held back by inferior sales efforts. Now the sales structure seems better and the technology is still good. The question, though, is whether management can keep it all together and drive the business in a straight line without bits and pieces falling off from quarter to quarter.
If Brocade can put it all together, the underlying value of this stock could well be in the high single digits if not low teens. Unfortunately, that sort of projection gives some substantial benefits of the doubt to a company that has thus far not shown it deserves it. A more sober valuation analysis pegs fair value in the $6 to $7 region.
I have to admit a lingering fascination with this name and a certain optimism that goes against what I've written above. I can't provide a sound, well-reasoned thesis to buy or own this stock, but I do have to admit that the potential value of a well-run Brocade keeps me interested in this stock.
Disclosure: I have no positions in any stocks mentioned, and no plans to initiate any positions within the next 72 hours.