After the market closed Tuesday, First Solar (NASDAQ:FSLR) reported poor results yet again. The company posted a surprise loss of $4.78 per share in the fourth quarter due to a $393 million non-cash impairment charge, $164 million in excess warranty costs, and $60 million labeled as restructuring expenses. We think that all three of these items are red flags for long-term holders of the firm. Specifically, the first of these events signals that the firm overpaid for previous acquisitions and the third represents the possible need for a new strategy. We continue to expect the firm's shares to trade lower.
The second item, the $164 million worth of warranty charges, bothers us the most. We think such charges translate into the view that some of the firm's solar panels are failing or are defective. With lower-cost and more-efficient panels on the market, we think the last thing that First Solar needs at this time is poor product performance or poor quality perception. The outsize warranty charges in the period lead us to believe that sales may fall even lower than what consensus is expecting for the year.
First Solar's gross margin collapsed by nearly 28 percentage points, to 20.9%, in the period as a result of reduced selling prices. But even with continued weak margins and lower revenue guidance for 2012 (now $3.5 billion to $3.8 billion, was $3.7 billion to $4.0 billion), management maintained earnings per share guidance of $3.75 and $4.25 for the year. Interestingly, the firm reduced operating cash flow expectations by $200 million, suggesting to us that earnings quality will be poor for 2012 (even if the company hits its targeted numbers).
Although the quarter and year were not good, we are maintaining our fair value estimate range for the firm, with the high end of our estimated range coming in at about $30 per share (slightly lower than where the stock is currently trading). With an uncertain global economy, austerity measures in Europe, an uncertain political climate in the U.S., and tough competition from Chinese producers, we think the near term looks very challenging for First Solar.
We'd steer clear of the company's shares and continue to evaluate a put position in the market-beating portfolio of our newsletter. In the spirit of transparency, we make available the performance of our Best Ideas portfolio below: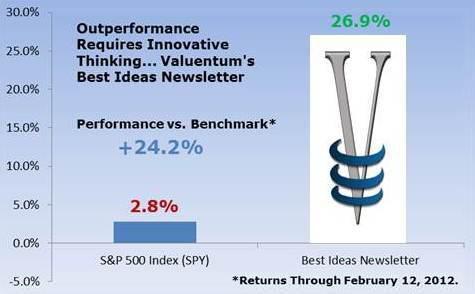 Disclosure: I have no positions in any stocks mentioned, and no plans to initiate any positions within the next 72 hours.